If you run a business and are looking for good and free accounting software for small businesses, then GnuCash is perfect for you. It is a free and open-source accounting software and comes with a double-entry book-keeping system. GnuCash is a part of the GNU Project and supports Windows, Mac OS X, and Linux operating systems.
Free accounting software for Small Business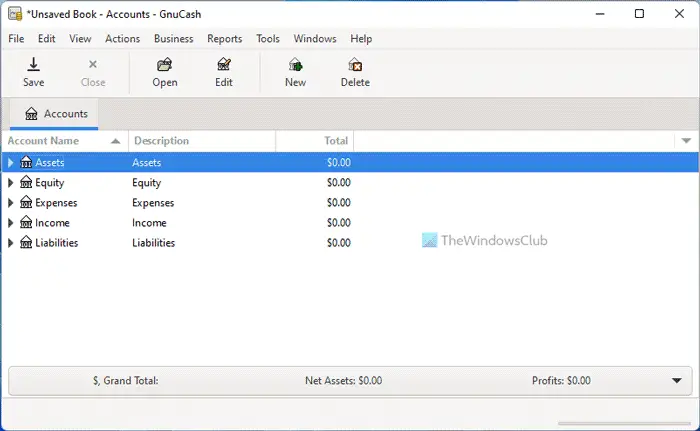 GnuCash for Windows 11/10
It offers:
Double-Entry Bookkeeping
HBCI support
Stock/Mutual Fund Portfolios
Budget
Bank and Credit Card reconciliation
SQL support
Scheduled Transactions
Transaction-Import Matching Support
Mortgage and Loan Repayment Assistant
Built-in and custom reports and charts
And Many More…
Small business accounting features include:
Invoicing
Accounts Receivable (A/R)
Accounts Payable (A/P) including bills due reminders
Employee expense voucher
Depreciation
Mapping to income tax schedules and TXF export for import into tax prep software (US)
Setting up tax tables and applying sales tax on invoices.
GnuCash is written in C and a small fraction in Scheme. The interface is quite good and user-friendly and you would never face problems regarding the interface.
GnuCash does accounting and transactions in a more transparent or visible manner, which makes it easier for students who are learning account, to learn the basics of double-entry bookkeeping.
So if you are looking out for free business accounting software for Windows 10, you should definitely check out GNUCash. Though the installer is a little big in size, remember that it will save you money that would have been spent on a paid application.
You can download GnuCash from here.
Is GnuCash good for small business?
Yes, if you need an accounting application for your small business or startup, you can opt for GnuCash. It comes with several handy features that are essential for all small business owners. It includes HBCI support, stock portfolios, budget management, scheduled transactions, and more. No matter whether you want to use it on Windows, Mac, or Linux, it is compatible with all the operating systems.
Does GnuCash work with Windows 11/10?
Yes, GnuCash is fully compatible with Windows 11 as well as Windows 10. It is a cross-platform application, which implies that you can install it on almost any operating system you use, including Linux. Talking about feature compatibility, you won't find any difference between those operating systems.
You may also want to check out some more free Personal Finance & Business Accounting Software.