If you're encountering DRIVER_PNP_WATCHDOG Blue Screen error on your device after upgrading to Windows 11 or the latest version/build of Windows 10, then this post is intended to help you with the solutions you can try to fix this issue.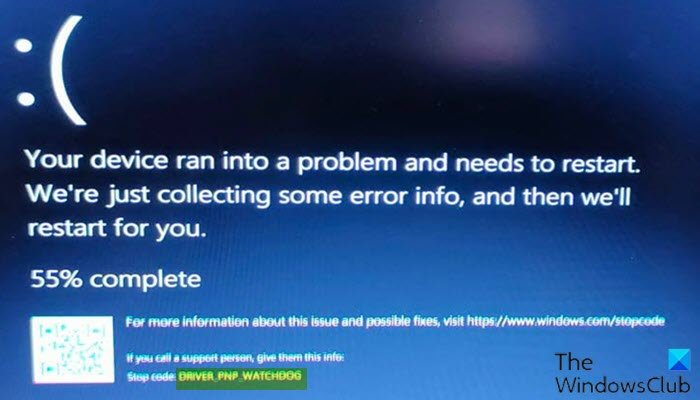 The DRIVER_PNP_WATCHDOG bug check has a value of 0x000001D5. This indicates that a driver has failed to complete a PnP operation within a specific time.
The most likely culprits to this error include;
Wrong SATA Controller Settings in BIOS.
Malware Infections.
Anti-Virus and Firewall Issues.
Volume Shadow Service.
Faulty System Services.
Corrupted System Files and Drives.
RAM Issues.
Faulty/Outdated Device Drivers.
Conflicting Update.
Problematic Windows Update.
Outdated OS.
Corrupt Windows Installation.
DRIVER_PNP_WATCHDOG Blue Screen error
If you're faced with this issue, you can try our recommended solutions below in no particular order and see if that helps to resolve the DRIVER PNP WATCHDOG Blue Screen of Death (BSOD) error on your Windows 11/10 PC.
Run the Blue Screen Online Troubleshooter
Change SATA Controller Settings in BIOS
Run SFC scan
Run CHKDSK
Update drivers
Check Volume Shadow Copy service
Run Automatic Repair
Perform System Restore
Reset PC
Let's take a look at the description of the process involved concerning each of the listed solutions.
If you can log in normally, good; else you will have to boot into Safe Mode, enter Advanced Startup options screen, or use the Installation Media to boot to be able to carry out these instructions.
1] Run the Blue Screen Online Troubleshooter
First thing you can try when troubleshooting BSOD errors on Windows 11/10 computer is to run the Blue Screen Online Troubleshooter from Microsoft. The wizard is designed to help beginners & novice users troubleshoot their Blue Screens and fix the stop errors like this DRIVER_PNP_WATCHDOG automatically.
2] Change SATA Controller Settings in BIOS
When the HDD controller mode is set to AHCI or RAID and the system lacks appropriate drivers, the system might encounter the error in Windows 11/10. In this case to fix the problem, the disk controller must be interchanged to SATA or ATA or IDE mode. To do this, you have to access the BIOS and make the required changes by following proper guidelines in the instruction manual of the motherboard supplied at the time of buying it or checking on the internet.
3] Run SFC scan
This solution requires you run SFC scan and see if that helps to resolve the issue at hand. If not, try the next solution.
4] Run CHKDSK
As already indicated, this BSOD issue possibly occurs due to system error or having bad sectors on the hard drive. In this case, you can run CHKDSK and see if that helps. Otherwise, proceed with the next solution.
5] Update drivers
If this BSOD error started to appear after you have connected a new device to the system, then you need to check the device compatibility with the version/build of Windows 11/10 that you're currently running. If the device is compatible, then you need to download the latest drivers from the official website of the device manufacturer and install them. However, if the latest drivers are installed, you can roll back the driver or download and install an earlier version of the drivers.
6] Check Volume Shadow Copy service
The Volume Shadow Copy Service in the Windows OS manages and implements Volume Shadow Copies used for backup and other purposes. If this service isn't running properly, it can cause the issue at hand. This solution requires you to check the Volume Shadow Copy service and make sure the service is started and running, also ensure the Startup type is set to Automatic.
Launch Services from the Start Menu, look for Volume Shadow Copy, double-click on it, and check the Service status. If it is stopped, click on the Start button. If it's running, restart it by clicking Stop > Start. For details, check this post on how to fix VSS Errors.
7] Run Automatic Repair
Automatic Repair helps fix problems that keep Windows from loading, including Blue Screen of Death errors. This solution requires you to run Automatic Repair on your Windows 11/10 device.
You can also try an automatic repair using the Windows 11/10 installation media. Here's how:
Contact the PC manufacturer (or refer to the manual that came with the PC) to know on how to change the boot order of the computer. You will have to change the boot device to a USB drive.
On any working PC, create (if you don't have one handy) a Windows 11/10 installation USB drive. You can create the Windows installation media on a Linux machine or Mac computer if that's what you have access to.
The Windows Setup dialog box will appear.
Set the Time and currency format, Keyboard or input method and the language to install.
Click Next.
Click on Repair your computer from the lower-left corner.
From the Choose an option screen, click on Troubleshoot.
Click Advanced Options in the Troubleshoot screen.
In the Advanced Options screen, click Automatic Repair.
Follow the on-screen instructions to complete the Automatic Repair.
When done, eject the installation media and reboot and see if the issue is resolved. If not, try the next solution.
8] Perform System Restore
In case your Windows 11/10 device is unable to boot after the error occurred, this solution requires you to perform System Restore when your PC won't boot to the desktop.
9] Reset PC
As a last resort, you can reset your Windows 11/10 PC to fix the BSOD error.
How do I fix the Blue Screen code on Windows?
For PC users that may encounter BSOD errors on their Windows device, the basic fixes for Stop Code errors include; Restart your computer. Run SFC and CHKDSK which are Windows system utilities you can use to fix a corrupt file system. If you Microsoft has already recognized a bug, they might have already rolled out an update. In that case, it is recommended to update your PC.
What does Preparing automatic repair mean?
Automatic Repair is a Windows built-in feature designed to fix boot-related issues when a startup problem arises automatically. Sometimes, when it fails to work, you may encounter the Automatic Repair loop error, making your computer reboot repeatedly. You can go through the aforementioned guide even if you get this error on your Windows 11/10 PC.
Related post: DPC WATCHDOG VIOLATION Blue Screen in Windows.