Some Windows 11/10 users have been reporting that they occasionally receive a DPC WATCHDOG VIOLATION Blue Screen, with a Bug Check code of 0x00000133, when working on their computer.
The DPC_WATCHDOG_VIOLATION bug check has a value of 0x00000133. This bug check indicates that the DPC watchdog executed, either because it detected a single long-running deferred procedure call (DPC), or because the system spent a prolonged time at an interrupt request level (IRQL) of DISPATCH_LEVEL or above.
DPC Watchdog protocol violation means that your PC's watchdog that monitors your system for unresponsive programs, has been overloaded, resulting in a Stop Error accompanied by a memory dump.
This stop code is caused by faulty driver code that under certain conditions, does not complete its work within the allotted time frame. Apparently, this issue occurs because of the iastor.sys driver, is not compatible with your version of Windows – but it could be caused by any other driver file too.
Fix DPC_WATCHDOG_VIOLATION Blue Screen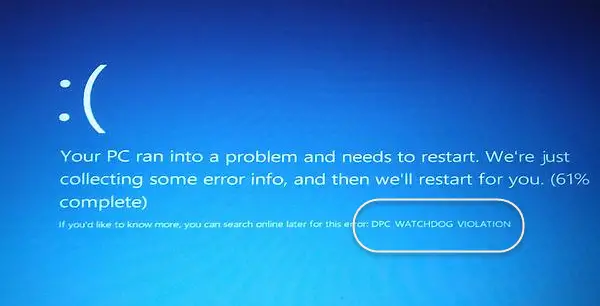 You need to replace the problematic driver file with the latest Microsoft iastor.sys driver.
If you cannot boot normally, we suggest you boot Windows in Safe Mode and then follow this procedure.
Right-click on the Start button to open the WinX Menu and select Device Manager. Expand IDE ATA/ATAPI controllers.
Select the controller with SATA AHCI in its name. 
To verify that you've selected the right controller, right-click the controller, select Properties, click the Driver tab, and then Driver Details. Verify that iastor.sys is a listed driver, and click OK.
Now, from the Driver tab, select Update Driver. Next, select Browse my computer for driver software.
Select Let me pick from a list of device drivers on my computer, and then finally select Standard SATA AHCI Controller.
Click on Next and follow the procedure to install the driver.
You may also check if there are any Optional Driver Updates available for your computer. If so,install them.
Restart your Windows 11/10 computer.
This should help!
If it does not, then you may want to restore your computer to a prior good point.
Read: How to fix SYSTEM_THREAD_EXCEPTION_NOT_HANDLED Blue Screen.
This post gives you additional tips on fixing Blue Screen of Death in Windows 11/10.