If you have experienced the following error saying VSSControl: 2147467259 Backup jobs failed. Cannot create a shadow copy of the volumes containing the writer's data. VSS asynchronous operation is not completed. Code: [0x8004231f]", then it could be because of insufficient storage on the related partition. However, there are some easy fixes for this problem that we are going to discuss in this article.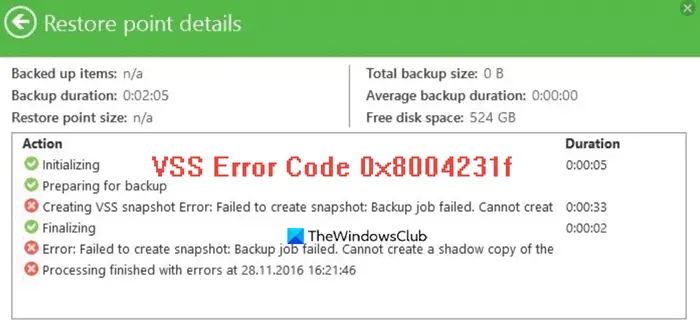 Fix VSS Error Code 0x8004231f on Windows 11/10
These are things you can do to fix Volume Shadow Copy Error Code 0x8004321f on Windows 11/10:
Check Volume Shadow Copy Services
Increase Shadow Storage Space
Let us talk about them in detail.
1] Check Volume Shadow Copy Services
Usually, the problem is because of insufficient storage and we will talk about that in the latter section, but sometimes, Volume Shadow Copy services can stop and cause this error as well. Therefore, we need to check that.
To do that, launch Services from the Start Menu, look for Volume Shadow Copy, double-click on it, and check the Service status. If it is stopped, click on the Start button. If it's running, restart it by clicking Stop > Start.
Fix: Volume Shadow Copy Service errors 0x0000007E, 0x80042306, 0x80070057.
2] Increase Shadow Storage Space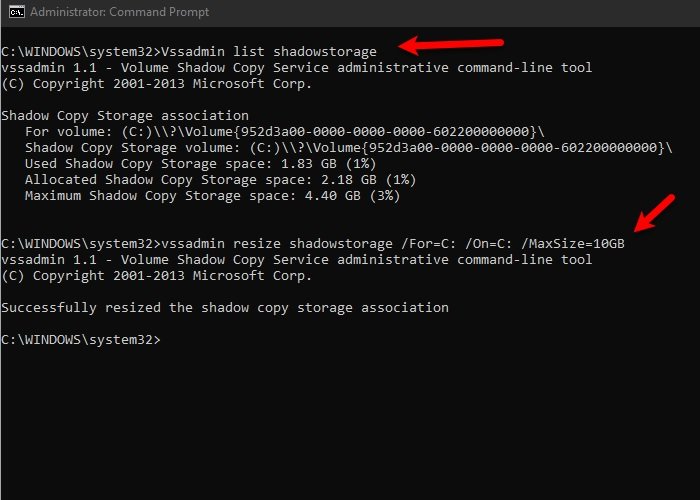 If the first fix didn't resolve the issue then you need to increase Shadow Storage Space. This solution will most probably resolve this issue because VSS Error Code 0x8004231f occurs due to lack of storage.
To do that, launch Command Prompt as an administrator by searching it out of the Start Menu. Now, type the following command to check your Shadow Storage Space.
vssadmin list shadowstorage
Now, type the following command to allocate more storage (you can change 10GB with the amount of space you want to allocate)
vssadmin resize shadowstorage /For=C: /On=C: /MaxSize=10GB
Hopefully, this will fix the issue.
Related: Fix Volume Shadow Copy Service error 0x81000202 or 0x81000203.