If you get the error prompt stating Disconnected from Steam when you try to launch or while playing Call of Duty: Modern Warfare II the game crashes on your Windows 11 or Windows 10 gaming rig, then this post is intended to help you with the most applicable fixes to this error. Affected gamers reported no other games on Steam had this issue except COD: MW2 and the error occurred multiple times per day.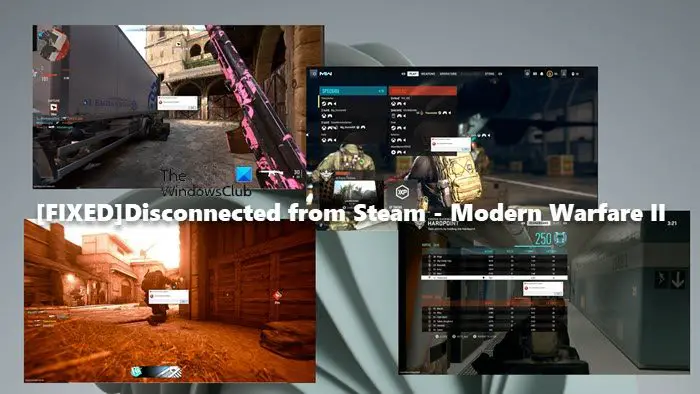 Why do I keep disconnecting from MW2?
You're likely to keep getting the disconnecting from Steam issue in Modern Warfare 2 on your Windows 11/10 gaming rig due to several reasons but mainly internet/network connectivity issues. So, to troubleshoot, you can check your Internet connection, and if possible, try a different connection — if connected to your internet device via Wi-Fi, try a wired (ethernet) connection. You can also make sure the game COD: MWII is allowed via your firewall.
Fix Disconnected from Steam COD MW2 error on Windows PC
If the game Call of Duty: Modern Warfare II fails to launch or crashes during gameplay and throws an error prompt with the message Disconnected from Steam, then our recommended fixes as provided below can be applied to have the issue resolved on your Windows 11/10 gaming computer.
Initial checklist
Check the Modern Warfare II server status for outage
Run the MWII game from Battle.net Launcher
Disconnect from VPN/GPN (if applicable)
Switch to a wired (Ethernet) connection
Let's look at the description of the process as it relates to each of the listed solutions.
1] Initial checklist
Before you proceed with the solutions properly, you can go through the following tasks and on completion of each see if the problem is solved.
Read: Steam won't go online and is stuck in offline mode
2] Check the Modern Warfare II server status for outage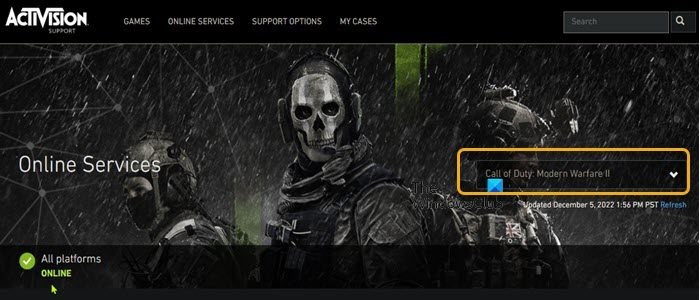 Activision server may be under maintenance, hence the Disconnected from Steam — Modern Warfare II issue you're currently experiencing. So, you can first check the current Modern Warfare 2 server status at support.activision.com/onlineservices — and if the game server is down, there's nothing much you can do at your end but wait a while for the game servers to be back up online before you can jump right back into your gameplay. On the other hand, if the servers are up and running but the issue persists, you can proceed with the next solution.
3] Run the MWII game from Battle.net Launcher
Some affected PC gamers reported they were able to work around the issue in focus by running the game from the Battle.net launcher. If the Battle.net app shows the Install button, but you have already installed the game, simply click on Locate the game below the Install button to select the folder where you installed the game. Once the correct folder is selected, the Install button will become the Play button.
So, you can give that a go and see if that works for you too! Otherwise, you can continue with the next fix.
4] Disconnect from VPN/GPN (if applicable)
Under normal circumstances, a VPN/GPN cannot speed up your internet connection — there's one exception which is if your Internet Service Provider (ISP) has set up some sort of block usually called a bandwidth throttle on the connection that artificially limits your connection speed. That said, in any other case, a VPN can only slow down your connection.
So, if you are getting disconnected from Steam while playing Call of Duty: Modern Warfare II on your Windows 11/10 gaming rig and you're behind a VPN, it could be due to several factors including distance, server load, and encryption – all of which with a few minor factors that have far less impact on the speed of a VPN connection is faster than that of an unprotected one. This is because of the nature of a VPN connection — normally, when you connect to the internet, you connect to your ISP server and then to the site you want to visit. When using a VPN, the connection is simply rerouted from your ISP's server to a VPN server and then to the site.
However, you can run a speed test with the VPN both disabled and enabled. Although the result isn't usually accurate because like any server, your ISP server can experience heavy load or something else that affects your speeds — if your first test with the VPN disabled was during one of those issues and your second test with the VPN enabled wasn't, it could very well be that it comes out higher.
Read: Steam keeps disconnecting and reconnecting
5] Switch to a wired (Ethernet) connection
In as much as the convenience that comes with the Wi-Fi connection, which is mobility amongst other factors, it can cost you some speed, especially if you connect multiple devices to the same network because wireless connections use a shared channel to transmit data to many computers, phones, gaming consoles in your home, which can slow down your speeds. In this case, at least for the duration of the gameplay, switching to a wired (Ethernet) connection can improve internet connectivity.
If for some reason you're currently connected via ethernet and experiencing this issue, you can use the WiFi interface instead and follow the tips below to improve your connection:
Place the wireless access point and device in the same room.
Stop or pause any current streams and downloads.
Disconnect any device that is not in use from the Wi-Fi network.
Make sure your internet device is not obstructed from your computer.
Ensure that channel selection is set to Automatic in the router admin settings (refer to the router manual).
Read: Fix Disconnected due to transmission error on Modern Warfare
Why does Steam say I'm disconnected?
You are most likely to get disconnected from Steam due to internet connectivity which is essential for the Steam client to operate properly on your gaming rig. In some cases, the Steam client may be disconnecting due to the Steam servers facing an outage in which case all you can do is wait for the Steam servers to be back online. If the outage is regional, you can use a VPN and see if that solves the problem.
Read: Fix Steam is having trouble connecting to Steam servers on Windows PC.