Your profile background on Steam is not ugly by any means, but not everyone wants to look at the same photo every day. The question is, can we replace what is there with something more unique? The answer to that is a massive yes.
Luckily, we know how to make changes to your Steam profile background to something more pleasing. However, we should point out that changing your background, while simple, is not as straightforward as you may expect.
How to change Steam profile background
OK, so it should be noted that changing your background is free; however, the backgrounds themselves are not. You will need to accumulate points by purchasing digital items via the Steam store. That can be video games, expansions, etc.
Here's the thing; 100 points are worth $1; therefore, if you spend $60, then you will gain 6000 points just like that. Now, we should point out that there are two types of backgrounds. They come in the form of Animated Profile Backgrounds and Still Profile Backgrounds. The costs are 500 points and 2000 points respectively. As we can see, then, a single Still Profile Background will require you to spend $5, which is quite inexpensive.
To change the profile background of your Steam account:
Go to your Steam profile
Navigate to Edit profile
Go to the Steam Points shop
Select the Background option
Add the background to your profile
Let us take a look at this from a more detailed perspective.
1] Go to your Steam profile
When it comes down to changing your background, you must first navigate to your Profile area. Do this by hovering over your name, then select Profile from the menu that appears.
2] Navigate to Edit profile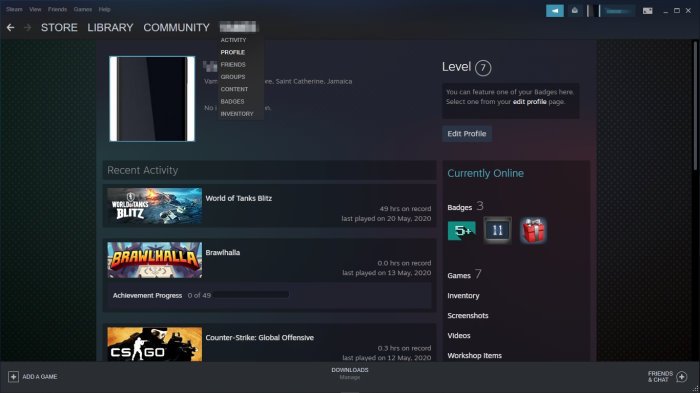 The next step is to seek out the section that reads, Edit Profile, and click on it. This can be found at the top below your Level number. It's a big blue button, so you won't be able to miss it at all.
3] Go to the Steam Points shop
Before you can change the background, you must first grab one or more images. Do this by clicking on the Steam Points Shop button at the bottom of the page, located from the left. Doing this will open a section where you will see a bunch of items for sale.
Fix: Steam stuck on Allocating disk space.
4] Select the Background option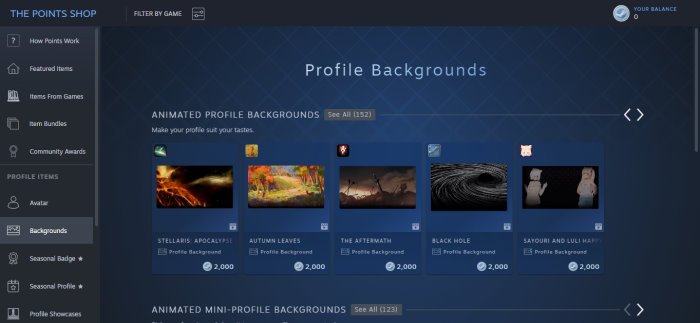 In order to view and purchase backgrounds, please click on Backgrounds from the left-pane. From there, select either an animated or still background for purchase. Make sure you have sufficient points in your account, or else you'll be out of luck until then.
Fix: Not enough disk space Steam error on Windows 10.
5] Add the background to your profile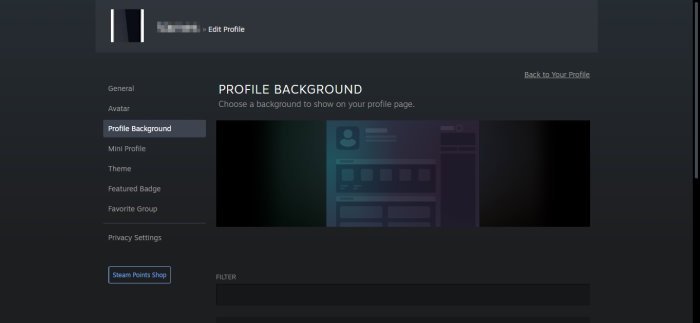 When it comes down to adding your recently purchase background to your Steam profile, please return to Profile, then make your way over to Edit Profile > Profile Background, then choose from your list of options.
Finally, hit the Save button, and that should do the trick.