All those who have been into PC gaming must know about Steam. Steam is a digital distribution platform that brings you the latest of games and their experience on your Windows computer. You can connect with other players around the globe and have a rich PC gaming experience. While you download and play games using Steam, one thing that may trouble you is the large amount of data left behind by Steam. If you are low on disk space, then that might be an issue. So how do you remove or delete Steam cache & the data left behind by gaming engines? You can do it via Steam Settings, Explorer, Command Prompt or Steam Cleaner.
How to clear Steam cache files on Windows PC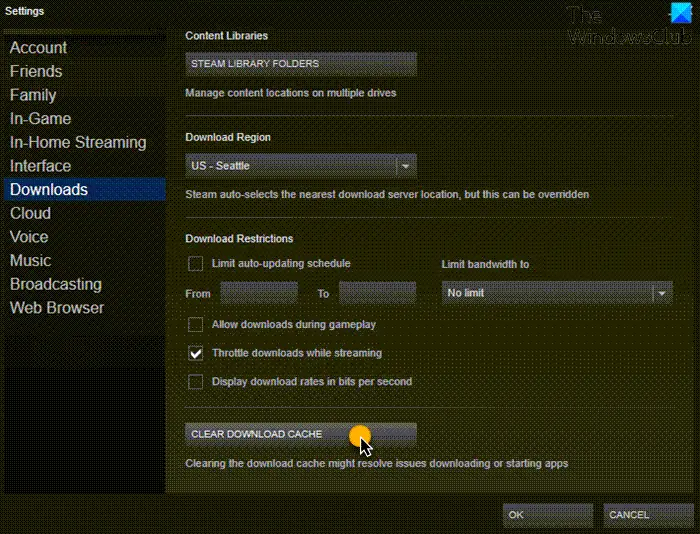 A corrupted cache associated with the Steam app might prevent it from being launched. Hence, in that case, you can clear the Steam app cache stored on your computer to fix the problem. Here are the steps to clear Steam cache files on Windows PC:
Open the Steam client
Sign into your Account
On the top-right corner, access the Steam menu
Select the Settings option in the drop-down menu
Click on Downloads
Click on CLEAR DOWNLOAD CACHE button you see on the bottom side.
That's it!
Delete Steam cache files using Explorer
Open the File Explorer using Win+E and move to the below location:
C:\Users\<Username>\AppData\Local\Steam
You need to replace <Username> with your PC's username in the abovementioned address.
After that, use the Ctrl+A hotkey to select all files and folders stored in the above location.
Now, press the Delete button to clear all the Steam cache.
When done, reboot your computer and try opening the Steam client to check if the problem is fixed or not.
Delete Steam cache using the command prompt
To flush the Steam cache, you can also run the following command in an elevated CMD:
steam://flushconfig
Use Steam Cleaner to remove Steam cache & the data left behind by gaming engines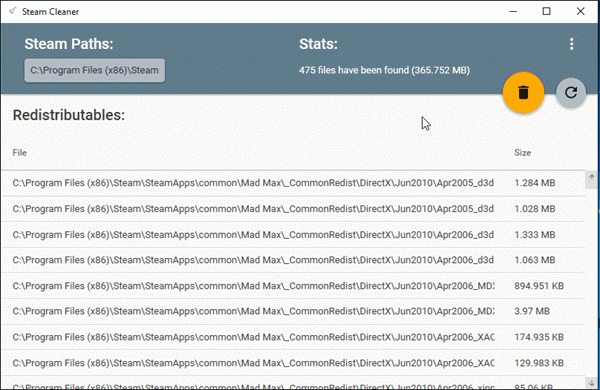 Steam Cleaner, as the name suggests, lets you clear all the data left behind by Steam and other popular gaming platforms. The freeware can clear a lot of unused and removable data and save up disk space in just seconds. You just need to run it and it will automatically detect the Steam path and will display the files that can be deleted and will also correspondingly display the size of those files. Just hit the Delete button and you are almost done. Steam Cleaner runs pretty fast on those files, as you can see them vanish in just seconds.
What kind of data is removed? This may be the first question that may come to your mind. Steam Cleaner may delete unused user profile files, leftover game files, old logs, etc and the original game files remain untouched. It may also delete the copies of DirectX and other such tools automatically downloaded when you install more than one game requiring the same thing. Redistributables that are downloaded with every game and are already available are also deleted. Also, when updates to particular games and tools are downloaded, there are a lot of waste (non-required) files generated, and using Steam Cleaner, all of such files can also be removed.
Other than Steam, this tool works for most of the popular PC gaming clients, namely Origin, Uplay, Battle.net, GoG and Nexon too!
Steam Cleaner is tiny in size, and its source code is also available if you want to implement the functionality of tool in any of your projects.
If you are a PC gamer and use any of the clients mentioned above, then this tool is a must-have for you. Click here to download Steam Cleaner.
Does clearing Steam cache delete games?
No, if you clear the Steam cache, it won't delete your games. It removes unnecessary junk files from your device. For your information, you can use the Steam Cleaner to delete Steam cache and data left behind by gaming engines. However, you need to log on to Steam after deleting the cache.
Read: How to clear Origin cache on Windows
How do I delete unnecessary files from Steam?
Steam Cleaner is a handy tool to delete unnecessary files from Steam. While downloading, installing, and playing games, your computer stores a lot of junk files. If you clear those up, you might get some free space. For that, you can use this utility to remove unnecessary Steam files from your PC.
You might want to take a look at Steam Library Manager too. It lets you back up, restore, and move Steam games. Also, take a look at this Steam Tips and Tricks post.