Steam is one of the most popular game stores which spans across platforms and offer one of the best experience to gamers. If Xbox One and PS 4 is for consoles, Steam is for Windows PC.
Steam Tips and Tricks
In this post, I am sharing some of the best tips, and tricks you should know when using Steam.
Add non-Steam games to your library
Categorize & Hide your Steam Games
Backup/Restore Steam Games
Enable Steam Guard to secure your Steam Account
Game sharing with family
Power-up with Enhanced Steam
Remote Download Games
Optimize Game Downloads
Keep your Drivers updated.
1] Add non-Steam games to your library
Click on the Add a game link on the bottom left of the game >Select Add a Non-Steam Game.
This will give you a list of the programs installed on your Windows 10 PC.
Select the one which is a game, or you can browse to find the EXE of the game, and select it.
Post this; you can launch the game from here.
2] Categorize & Hide your Steam Games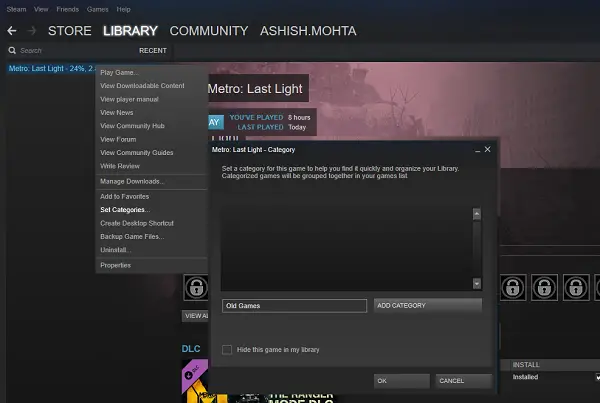 If you want your own set of categories for the games you downloaded from Steam Store, you can create them very easily. This comes in very handy when you have multiple versions of the games, and you can just put them together in one place.
Right-click on any of the game or select multiple games, and then choose Set Categories.
Here you can create a new category one or add to the existing ones.
Another bonus option here is to hide those games by selecting the checkbox which says Hide this game in the library.
3] Backup/Restore Steam Games
It's always a good idea to take a backup of the games you regularly play. They will not only save you from re-downloading them but also make sure that your progress is saved in case it doesn't save it online.
Open Game Library
Select one or multiple games, and then select backup.  You can also follow Steam > Backup / Restore and follow from there.
Steam backs up only those games which are updated and downloaded.
Next, select a destination for those games, and save.
The Restore is exactly the opposite of this. You need to point to the backup folder, and things are straightforward from there.
4] Enable Steam Guard to secure your Steam Account
If you are heavily invested in Steam with a lot of paid games, its time you enable the Steam Guard. This is a feature offered by Steam to make sure nobody accesses your account without your permission. A game with a lot of games can be sold for good money.
Go to  Settings > Account > Manage Steam Guard Account Security. This will take you to the website, and then you can set up the  Steam Guard. You can choose to use the 2-factor authentication using the Steam App installed on your phone or choose to get codes by email.  This will make sure your game is not getting used on any other PC.
Read: How to link YouTube to Steam
5] Game sharing with family
Stream offers a native solution to share games with family. It's at par with Windows 10 and Xbox Family settings, and at some places, even better. In the menu, Go to Settings > Family. Here you have two options
Manage Family View: This is used to restrict who can use the content, and access features with a PIN lock.
Family Library Sharing: This lets you share games installed on this PC with others on this computer. Once you have given access using Family View, others can download games that are available on your account and can play when you are not.
6] Power-up with Enhanced Steam
It is a browser extension that enhances your shopping experience. You get to see more, customized according to your wishlist, find you more discount, and so on. Below is the list.
Highlighting games you already own.
Highlighting games on your wishlist.
Correctly calculating bundle discounts based on games you already own.
Showing you how much money you've spent on Steam for the lifetime of your account.
Highlighting DLC you own on a game page.
Download the extension from enhancedsteam.com.
7] Remote Download Games
If your PC is turned on, you can initiate the download from anywhere. You can do it on another PC or using Steam App for your Phone.
Log into your Steam account online from your computer or mobile device.
Go to your Games list by clicking on your Steam persona at the top of the page, and then clicking Games in the secondary navigation bar.
You can use a filter to find out which games are yet to be installed.
Locate your game and tap the install button to initiate your remote download.
8] Optimize Game Downloads
Open Steam > Settings > Download.
Setup Multiple Folders: Steam allows you to download games to a different folder. This is useful if you are running out of storage space on a drive or external storage. Next time you download a game, it will let you choose the destination.
Manage Download Speed: You can set up restrictions when downloading games, setup auto update, and even throttle it. Useful when you have sometime else to do on the PC.
Download a game while playing another one: Most of the multiplayer games need bandwidth. So to make sure, they don't lag, whenever you play, any game which is downloading gets paused. However, if you have enough bandwidth to handle both the game and the download, you can always disable it.
Hover over View Menu > Settings > Downloads
Check the box which says Allow download during gameplay.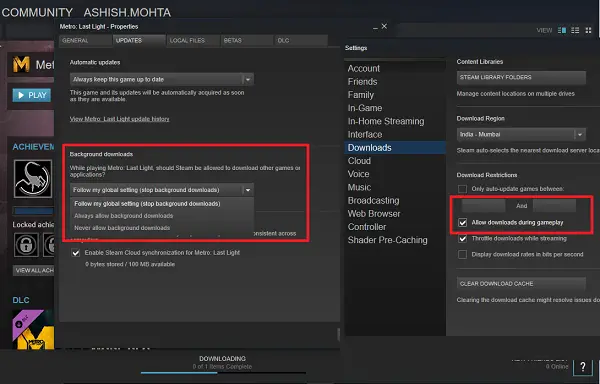 You can do this for on per-game basis as well. Go to the game page > right-click > Properties > Updates > Background downloads. Here you can choose to either follow the global settings or always allow or choose to never allow background downloads when playing this game.
TIP: Steam downloads slow?
9] Keep your Drivers updated
Steam can check if there are new drivers for your graphics card. In case you usually miss looking at the updates, Steam can do it for you, whenever you get one. In the menu, go to Steam > Check for Video driver updates. If there is something new, you will be prompted. [UPDATE: This appears to have been removed in the latest version of Steam].
These were some of the best ones I had used until now. I am sure you have your favorites too, so let us know in the comments.