.Microsoft OneDrive is one of the best cloud storage services that comes with a beautiful user interface, cross-platform support, and a lot of free storage to store your data. There are many Windows users, who do not use any other cloud storage since OneDrive is an inbuilt app for Windows 11/10 PC.
Best OneDrive Tips and Tricks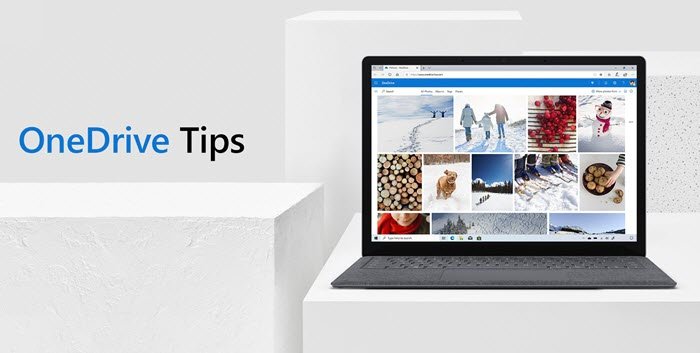 If you are new to OneDrive, you might want to first check out the OneDrive Tutorial for Beginners eBook made available by Microsoft. Having downloaded it, read on! Now some of these work only on the web version, but most work on the Windows desktop too.
You may know the basics of how to use OneDrive, but here are some Microsoft OneDrive tips and tricks you can use to maximize and get the best out of OneDrive storage:
Get more free storage
Embed file into a web page
Show Exif data of an image
Password protect OneDrive on mobile
Perform tasks in automation using IFTTT & Microsoft Flow
Directly upload Office files to OneDrive
Create a shared image album
Disable previous searches as suggested search terms
Choose a particular folder to synchronize with PC
Access your PC files from anywhere
1] Get more free storage
Microsoft 365 subscriptions include 1TB of OneDrive storage. You can get 5GB of storage with a free OneDrive account. For those, who rarely use cloud storage to store and synchronize files across multiple devices, this is more than enough. However, if you do use cloud storage or more specifically, OneDrive a lot, that 5GB of free storage may not be adequate for you. There are a few tasks you can perform to get more free storage. You can extend your free storage limit using these subsequent techniques,
Bing bonus
Samsung mobile bonus – Some Samsung mobiles come with the OneDrive app, and it lets users get 100GB of free storage for two years.
Camera roll bonus – If you have a Windows Phone, and you allowed OneDrive to store pictures, you would get 15GB more storage.
Referral bonus – every time you will get 0.5GB of free storage when your friend signs up through your link.
You can go to "Manage Storage" section to see all those options.
2] Embed file into a web page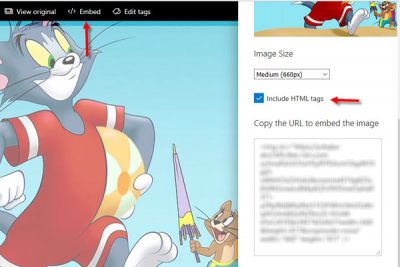 As OneDrive works smoothly with the web version of Word, Excel, etc. many people write notes, stories, create excel sheets, or even create presentations in PowerPoint. Now, if you want to embed the file or an image you just uploaded or created in OneDrive, you can get easily to it. This is possible with the help of the inbuilt option of OneDrive.
However, for that, you have to log into the web version of OneDrive, select a file > find the Embed button in the menu bar > Hit Generate button > Select size (if an image) > Select Include HTML tags > copy the code > Paste that into a page where you want to display it.
3] Show Exif data of an image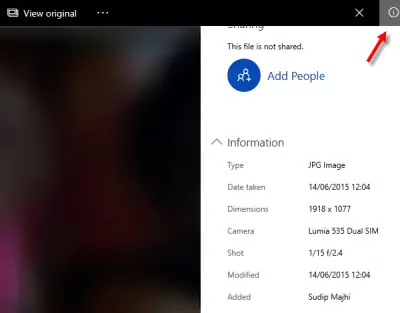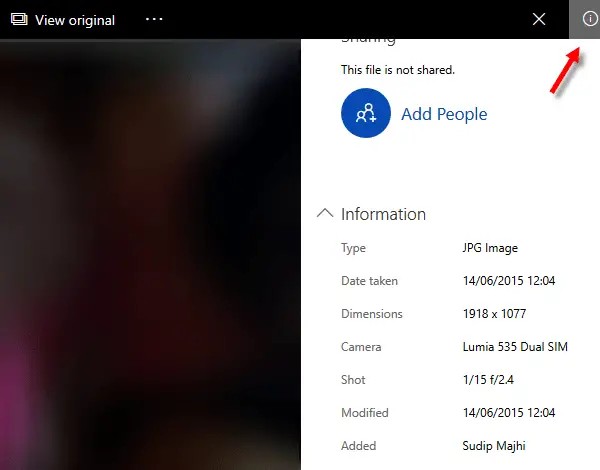 In simple words, Exif data or metadata shows everything about the background of an image. That means, you can find the date of a picture when it is taken, modification date (if any), geo-location, device, and more. This information is visible when someone captures the image using a digital camera or mobile. However, downloaded images may not show all that data. To show the Exif data of an image, open it in the web version of OneDrive > click on the Info icon visible in the top right corner.
4] Password protect OneDrive on mobile
Suppose, you often give your mobile to someone else, and your OneDrive has some confidential files. You can password protect your OneDrive storage without using any other third-party app since the OneDrive app has the option to do so. Unfortunately, the Windows Phone version has no such function whereas iOS and Android users can get the advantage.
Read: How to encrypt and secure OneDrive files
5] Perform tasks in automation using IFTTT & Microsoft Flow
IFTTT and Microsoft Flow both are good in terms of automating tasks. Both of them can be used with OneDrive. For example, you can use them to:
Save new email attachment to OneDrive
Move certain OneDrive files to Google Drive, Dropbox, Box.net
Save Instagram, Facebook, Twitter, Flickr images with different conditions
Save online videos to OneDrive
Save tweets and create an Excel sheet automatically in OneDrive
Open IFTTT and Microsoft Flow to find out the best recipe or flow and work with them. If you cannot find any, head over to this Microsoft Flow tutorial to learn how to create filters according to requirements.
6] Directly upload Office files to OneDrive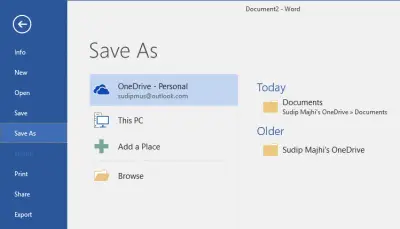 If you are using Microsoft Office, you might have already signed into the Microsoft account while using it. If so, you can directly upload Office files to OneDrive. In other words, it is possible to save files in OneDrive, and that means, you do not have to upload them manually. For doing this, open any Office product such as Word, Excel, PowerPoint, etc. on your Windows machine > go to File > Save > choose OneDrive instead of local drive (or, This PC) > choose a location in OneDrive to save the file.
You can also:
Share and collaborate on files, folders, and photos with colleagues, friends and family.
Use Personal Vault to add extra protection to sensitive photos and files
Use Mover to transfer the files from your school account to your OneDrive personal account.
Track down deleted files quickly in the recycle bin which is available only on OneDrive for web.
Turn on AutoSave on your Word, Excel and PPT files.
7] Create a shared image album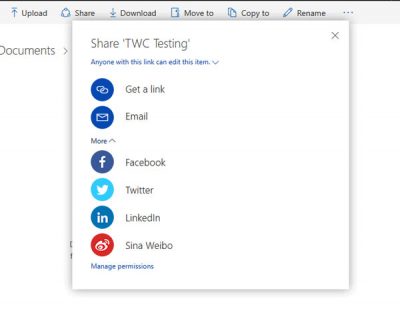 You can automatically backup your phone's camera roll to OneDrive to keep your favorite moments backed up, protected and all in one place.
Facebook allows multiple users to upload images to a single album, and this is called a Shared Album. The same thing can be, done in OneDrive as well. For that, you need to create a folder and invite people to upload their images.
Create a folder in your OneDrive storage and go into that folder. On the top right corner, you can find an Info button. Click on it and head over to the Sharing section. Click on Add People button and invite someone. You can get the direct link, email the link, or share it on different social network sites. The Manage Permissions section will let you strengthen your privacy.
Tip: This "Add People" function of OneDrive can assist you in creating a shared workspace as well.
8] Disable previous searches as suggested search terms
OneDrive has a useful search box that helps users search for different types of files and folders. OneDrive uses the searched terms as a suggestion when a user goes to use the search box for the second time. If you think that feature is useless, you can head over to this page and hit the Turn Off button.
Read: How to check OneDrive storage space.
9] Choose a particular folder to synchronize with Windows PC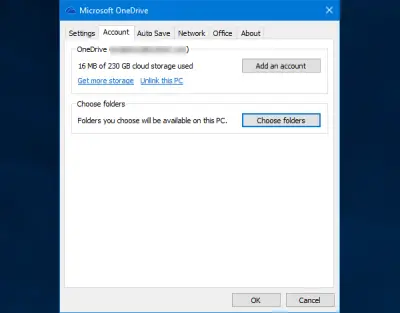 You can turn on PC folder backup to automatically sync your Windows Desktop, Documents, and Pictures folders to OneDrive.
If you are using the OneDrive app on your Windows computer, you might have seen that it synchronizes all the OneDrive folders right after signing into the account. However, if your OneDrive storage has any confidential file and you do not want to synchronize that with your PC, you can allow or block a certain folder to be synchronized. To do so, right-click on the OneDrive icon in your Windows system tray > select Settings > under Account tab, you can find Choose folders option that you need to click on > now select the folder that you want to synchronize and uncheck others. After hitting the OK button, OneDrive will sync only those selected folders.
If you wish, you can also stop or pause syncing in OneDrive.
10] Access your PC files from anywhere
Suppose, you have forgotten your laptop at home, but you need a file right away. If you have the OneDrive app installed on your office computer, you can easily get your file. But, for that, your PC should have an internet connection. Under the Settings tab check the option that says Let me use OneDrive to fetch any of my files on this PC.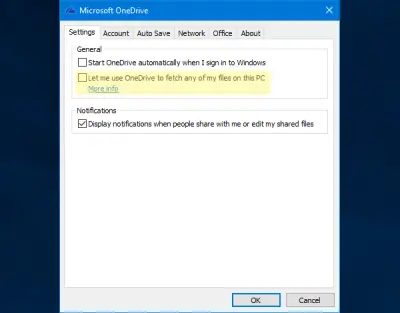 You may have to perform a security check, after which you would be able to fetch your PC files right from the PCs section in OneDrive. You will get all the files and folders including software, documents, images, etc.
You can also:
Use the OneDrive mobile app to access or share files and photos right from your mobile device.
Use the OneDrive app on your phone to scan and save multiple pages of printed documents.
Hope you find these Microsoft OneDrive tips & tricks useful.