Looking for a way to increase download speeds on Steam? Well, we have you covered! Gaming is a big part of Windows 11/10 for many users, and this has been so for all versions of the operating system. Now, the main way to game on Windows 11/10 is via Steam despite competition from the Microsoft Store and other competitors.
Why is Steam downloading so slow?
Because the Steam platform is the main entryway to high-quality video games on Windows 1/110, it's safe to say whenever a problem arises, it's pretty difficult for the entire Steam gaming community will not hear about it. The causes for slow Steam downloads usually are server-side issues, the speed of your internet connection, corrupted browser cache, etc. Therefore first change the download region and see if that helps.
Does playing a game slow download speed Steam?
With default settings on the Steam client, any download in progress is paused when you start playing a game. If that is not the case, then yes, your game download speed will be affected if you play a game as the bandwidth is shared for playing the game as well as continuing the background downloads.
Steam downloads slow
The latest issue is not the worst and it won't stop you from playing your games, but it's certainly annoying. You see, several users have come out to complain about the slow download of games they've just purchased, or those already in their library.
Speed up Steam game downloads
1] Check your network status
One of the main reasons why users experience slow downloads has a lot to do with a slow internet connection. We suggest making sure network cables if you're using a wire, is properly inserted in all ports.
If you're on a wireless connection, make sure there are no problems with the modem. If you feel there's an issue, simply restart or reset the modem and try again. Now, if the problem continues to persist, then contact your network provider for more information.
2] Clear the download cache
Clearing Steams download cache is another way of fixing most slow download problems, so let's look at what to do here.
Fire up the Steam client, then click on Steam from the top menu, then select Settings from the drop-down. Alternatively, you can right-click on the Steam icon via the Taskbar, then click on Settings.
After selecting the Settings option, move on and click on Downloads, and from there, click on the button that says CLEAR DOWNLOAD CACHE. A small window will pop up. You only need to click on OK and wait for the cleansing to happen.
Restart your computer, then log back into Steam and check if your game is downloading any faster than before.
TIP:  See this post if the Steam App Configuration is missing or not available.
3] Change Steam server location
If you're located in Asia, for example, then there's no point for you to use servers based outside of the region. It's best to change the server to one located in your country or one within your region.
We do this by clicking on Steam, then Settings, and finally, Downloads. Look for the option that says Download Region, and from there, select the server that is closest to your location. That the best Steam download server for you!
Click OK, restart your computer, launch Steam, and begin downloading your game again.
4] Change Steam bandwidth limit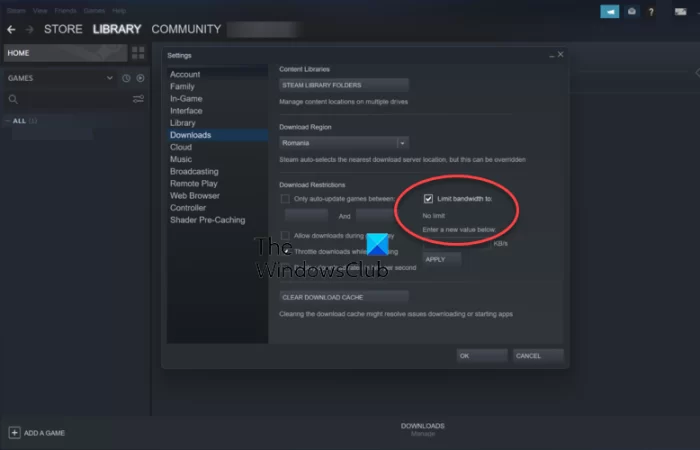 Change Steam bandwidth limit and see if that helps you. To do so:
Launch Steam
Click on Steam option on top left corner
Go to Settings
Choose Downloads from left side
Under Download Restrictions, you will see Limit bandwidth to
Set it to No Limit
Click OK.
5] Temporarily disable your VPN software
If you use a VPN, it might be a good idea to disable and then start downloading.
Now read: Best Steam tips and tricks.