Battle.net launcher is not working or opening on some of the Windows 11/10 computers and gamers are a little worried as they can't run Blizzard games anymore. If you are one of those gamers having this issue then this post can help you to resolve it. In this article, we are going to see some easy ways to fix the issue.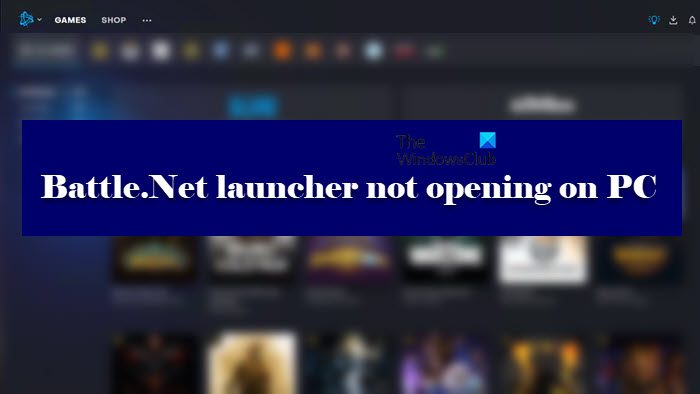 Why is Battle.Net not working?
Battle.Net not working means a lot of different things, and hence, can have a lot of different reasons. If it's not opening on your computer, then a very potent reason can be the lack of permissions. Sometimes, Battle.Net requires administrative privileges, you need to give it that in order to run the app. It can also fail to open because of some glitch or because of corrupted caches. If it's not connecting or the download speed is slow, you need to check your Internet connection. Your Internet should be reliable and must not fluctuate. You should check our detailed guide to resolve the connection issue in Battle.net.
Battle.Net launcher not opening or working on PC
Is Battle.Net launcher not opening on your computer?  If yes, then use these solutions to resolve the issue.
Run Battle.net launcher as admin
Clear Launcher's cache
Disable antivirus and firewall program
Troubleshoot in Clean Boot
Enable Secondary Logon service
Reset or Reinstall Battle.net launcher.
Starting with the first one.
1] Run Battle.net launcher as admin
Running Battle.net launcher as an administrator can surely help you to eradicate this issue. Doing so allow you to access games with administrative privileges. You can always right-click on the Battle.net shortcut and select Run as admin. But it is better to always open the app with these privileges. To do the same, the steps are as follows.
Right-click on the .exe file of Battle.net Launcher and then go to Properties.
Click on the Compatibility tab.
Tick Run this program as an administrator.
Now, click on Apply and then OK.
Restart Battle.net Launcher to see whether it is still not opening. Hopefully, this won't be a problem anymore.
2] Clear Launcher's cache
Corrupted cache files are one of the root causes for issues such as 'not opening', 'crashing', etc. What you can do is clear Launcher's cache and Tools folders.
First of all, open Task Manager, and end these processes.
Game process
Agent.exe or Blizzard Update Agent.exe
Blizzard Battle.net
Now, open Run and paste the following command.
C:ProgramData
Look for the Battle.net Launcher folder, right-click on it and then select Delete.
Relaunch the Launcher and see if the issue still persists or not.
3] Disable antivirus and firewall program
Some important files are not accessible due to third-party antivirus and firewall programs. Try disabling antivirus so that Battle.net Launcher will start without any trouble or you can also go for another option.
The 'another option' is allowing the Battle.net Launcher through the Firewall program. A very minimal and less time-consuming fix to get rid of the not opening issue.
If you have a third-party antivirus then you need to search how to whitelist in that specific antivirus, but if you are just using Windows Firewall, then see our guide to allow the app through firewall.
4] Troubleshoot in Clean Boot
The issue can be because a third-party antivirus interferes with the working of your app. To confirm this and to know which is that app that's causing the issue, you need to troubleshoot in Clean Boot. This way you can know the culprit and then decide what you want to do with it.
5] Enable Secondary Logon service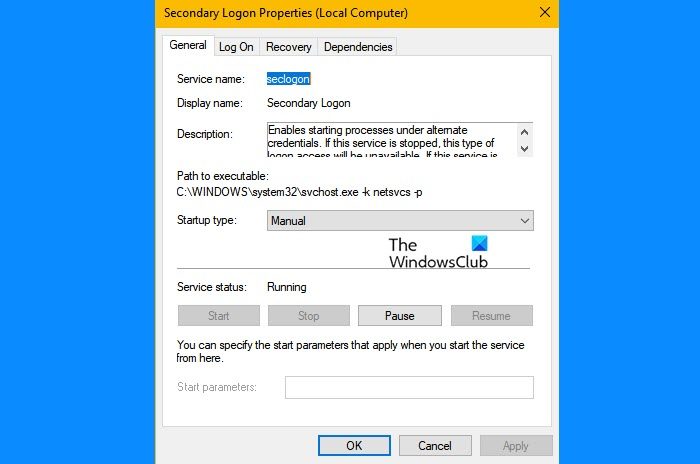 Blizard agent needs Secondary Logon service in order to run. So, you need to check and make sure that it's enabled if you are failing to launch Battle.net.
Open Services.
Look for Secondary Logon.
Right-click on it and select Properties.
Make sure that the Service Status is Running. If not, you need to click Start and make sure that the Startup type is Automatic.
If the service, is enabled, then try restarting it and see if the issue persists. Hopefully, this will resolve the problem.
6] Reset or Reinstall Battle.net launcher
The issue can occur if the app file itself is corrupted. You may reset Battle.net launcher or you may reinstall the game, by uninstalling it, downloading a fresh copy, and installing it on your system. Since you are installing a fresh copy, the app won't crash and will launch just fine.
Hopefully, you are able to enjoy games on Battle.Net.
How do I reset my Battle net launcher?
To reset your Battle.net Desktop App game settings:
Open the Battle.net Desktop App
Click the wheel next to the Play button
Select Game Settings.
Find the game you are having trouble with in the list
Click Reset In-Game Options.
Click Reset
Click Done
Relaunch the game.
How do I install Blizzard Launcher?
Battle.Net is Blizzard's launcher. To install it on your system, you first need to download it from battle.net. Then just click on the downloaded file, select a language of your choice, follow the on-screen instructions and you will be good to go.
That's it!
Also Check: