Windows look and feel have evolved. While it was all beautiful in Windows XP and Windows 7, Windows 10 offered more functionalities but not so much for the looks. Windows 11, on the contrary, mixes the look and feel of the older versions of Windows with a modern touch and offers more features than Windows 10. In this post, I touch upon how you can customize Windows backgrounds, colors, lock screen, and themes.
Customize Windows 11/10
Windows Personalization Settings are available under Settings > Personalization. It has the following specific settings: Background, Colours, Lockscreen, Themes,  Start, and Taskbar. In Windows 11, you have the Touch keyboard and Fonts as additional settings.
Background
Accent Color
Lock Screen
App Notifications on Lock Screen
Customize a Windows Theme
Start Menu Apps and Folders
Installing Fonts
Make sure to go through them to find out which features you like the most.
1] Putting up your favorite desktop wallpaper or background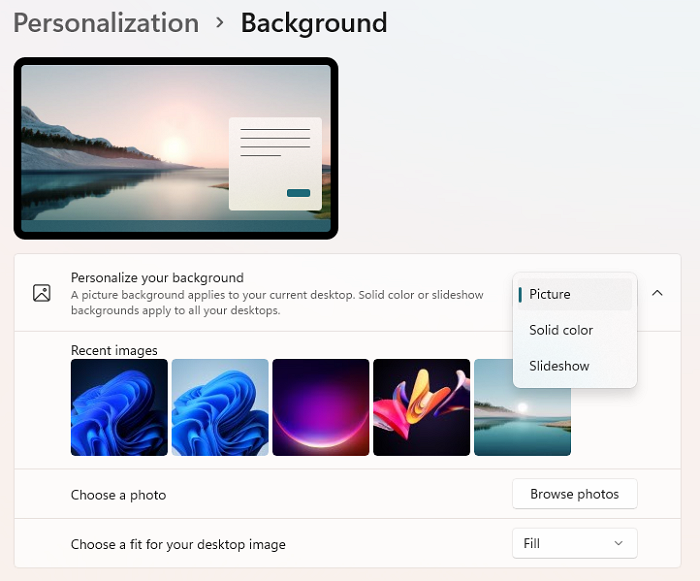 It is the first thing you will change when you log in to your PC. We all love to have our favorite wallpapers, and Windows 11/10 offers you many features. So here how you can change it
Select Background. Here you get to see a preview of how it will look like with the current wallpaper or the one you set up with.
You have three options here using the drop-down.

Picture: Select an image you want to use. You can then arrange right from being fit on the screen to span it across in the form of tiles.
Solid Colour: You can choose one from the color picker if you like it, plain and simple.
Slideshow: This option lets you select more than one picture of your choice and then keep changing it every few seconds.
Now, if you are using multiple monitors, you can extend it or have separate wallpapers. Read more about it here.
2] Choosing the color accent of your liking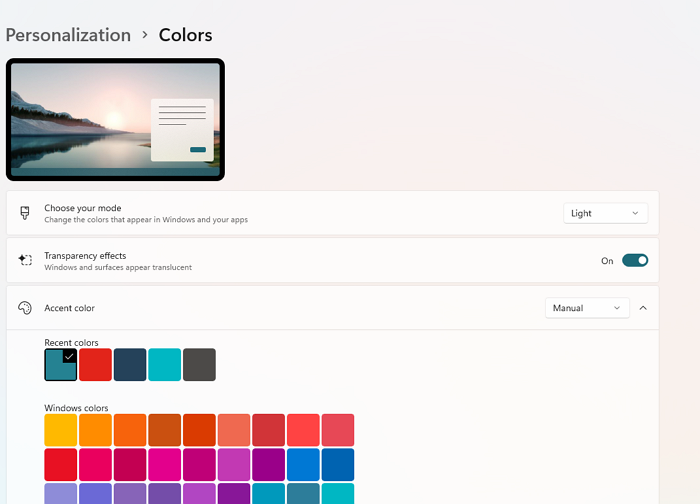 If you notice closely, there is a bit of color throughout the Windows experience. The default is set to blue. If you want to change it, use the Colors section. Here you can choose from the available standard colors or use the color picker. The color will be used everywhere, including Start, Taskbar, Action Center, and so on.
What I like is the option to change accent color based on background wallpaper. So every time the wallpaper changes, I get a new accent color, and it keeps the look fresh.
If you choose the automatic accent color option, you can skip showing accent color for Start, Taskbar, action center, and title bars. Also, I would suggest keeping the transparency effects turned on. Windows 11/10 comes with Fluent Design, and they look fantastic. Lastly, you can choose between Dark and Light themes for your apps.
3] Customize the Lock screen
Like Desktop Backgrounds, you can customize the Lock Screen to display a Picture or Slideshow or Windows Spotlight.
For those who aren't aware, Windows Spotlight is an option for the lock screen background that displays different background images and occasionally offers suggestions on the lock screen.  I would suggest you read about Windows Spotlight, also try this Windows Spotlight tool which saves them as wallpaper on your PC – but let's talk about the Cortana integration.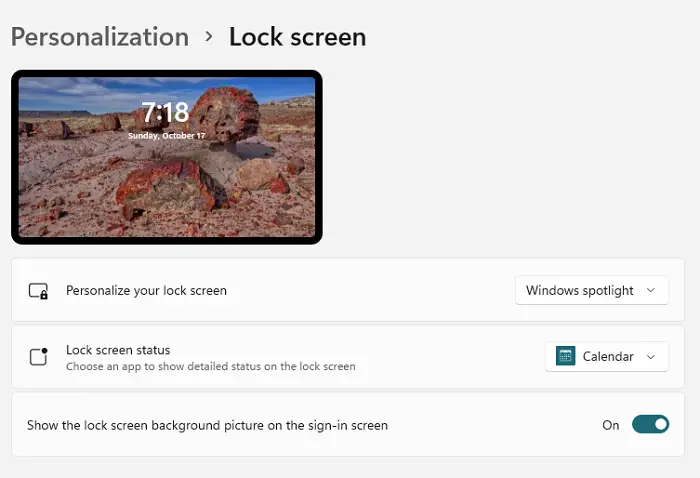 You can also configure the Lock Screen Status from Calendar and use the same wallpaper as the Lock Screen on the Login screen.
Pro Tip:
If you use Slideshow on LockScreen, you can choose it to display pictures of your Camera roll folders from OneDrive. Make sure you have all images available on your PC
The lock screen may display annoying advertisements. But you can disable the ads on the lock screen.
4] App Notifications on Lock Screen (Windows 10 Only)
While this is not new, but I highly recommend you to use it daily. Like how you get notifications and previews from apps on your phone, you can choose apps to display similar notifications on the lock screen to avoid missing what is essential.
Here you can choose up to seven apps to display notifications along with your calendar. So if you working on two different machines, just looking at this machine will give you a clear idea that you are not missing anything important.
5] How to apply, customize a Windows Theme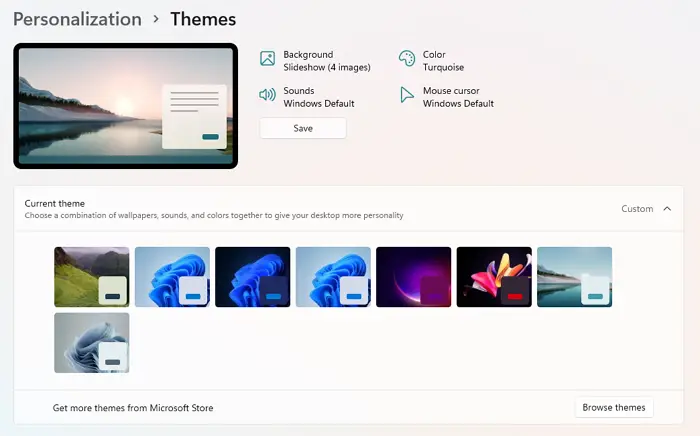 We have written extensive details on how you can save & use Windows 11/10 themes including custom themes. I suggest you read that tutorial, but I would like to share a few more things about it.
You can download themes directly from the Microsoft Store now. Instead of going to a website and downloading them, it's much safer and makes sure they stay updated. The link to download the themes is available right in the Themes sections of Personalization.
Once you are in the Themes section, you can also configure Color, Sound, Mouse Corusor, and Background from here. It is useful if you want to customize the existing Theme further.
6] Customizing Start with Apps and Folders
While we have a complete guide on the Start Menu and Taskbar, the personalization section offers the option to add folders and apps to it. Under Settings > Personalization > Start, you can choose the following:
The show recently added apps
Show most used apps
Show recently opened items in Start, Jump Lists, and File Explorer
Folders, i.e., Documents, Downloads, Music, and more.
7] Installing Fonts
The last part of this section is Fonts. You can add fonts, find fonts from Microsoft Store, and search in the list of the available fonts. You can also drag and drop the fonts to install them right away.
How do I customize Windows without activation?
You cannot. Windows strictly prohibit any personalization change unless you have activated Windows. You should also see a watermark on the Desktop asking to activate Windows. If you have installed Windows recently, and it is still not activated, then follow this guide to activate Windows.
How do I change the background on my unactivated Windows?
While you will not be able to access the personalization settings and change anything, you can certainly change it the other way. Right-click on any image, and choose to set it as the Desktop background.