If you have been Windows for a long time, you might know that Windows 7 had the custom theme functionality that helped people to customize the desktop or the whole computer according to their requirements. Although Microsoft removed that feature from Windows 8 and Windows 8.1, they have now included the same option in Windows 10.
Users can now create, save, delete, remove, and use themes in Windows 10. The best part is that you can download themes from the Windows Store – and Microsoft itself is developing lots of themes. If you think the default desktop background and the theme is getting boring and want to customize your PC's look you can download and use themes from the Windows Store.
Create, save, use Themes in Windows 10
Changing wallpaper is not that big a deal on Windows. Also, changing the color is very easy as well. However, combining color and wallpaper is quite difficult. But things become easy now.
Previously, users need to navigate to Control Panel > Appearance and Personalization > Personalization. However, now that setting is included in the Settings Panel.
To activate a theme on Windows 10 PC, you need to navigate to Settings > Personalization > Themes.
By default, you will find three different themes along with a synchronized theme. To apply a particular theme, click on the theme icon. That's all you need to do. However, as said before, you can download themes from Windows Store.
However, as I said before, you can download themes from Windows Store. To do so, click on the button that says Get more themes in the Store. It will lead you to the theme section in the Windows Store.
Choose and download a theme. After downloading, you will find a Launch button right on the Windows Store. If you want to activate the theme, hit the Launch button.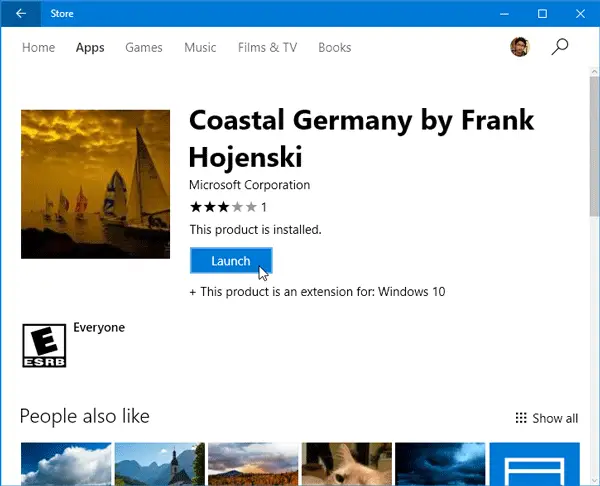 The other way is to come back to the Themes section in the Settings Panel. Here, you will find the same theme that you have installed. To activate the theme, click on it.
Now, there are many people who don't want to synchronize settings across multiple Windows 10 devices, but they want to use the same theme. If you are one of them, you can save the theme, and use it on another Windows 10 device.
Create a new theme in Windows 10
If you like the current configuration and want to save it, click on the Save theme button, name it, and select Save.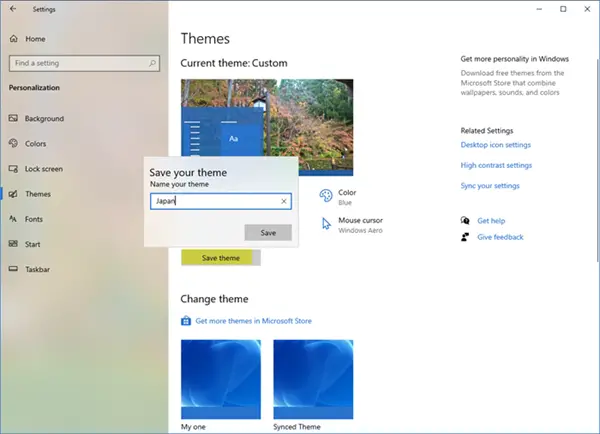 If you want to be able to share the theme, right-click on the theme, and choose Save theme for sharing.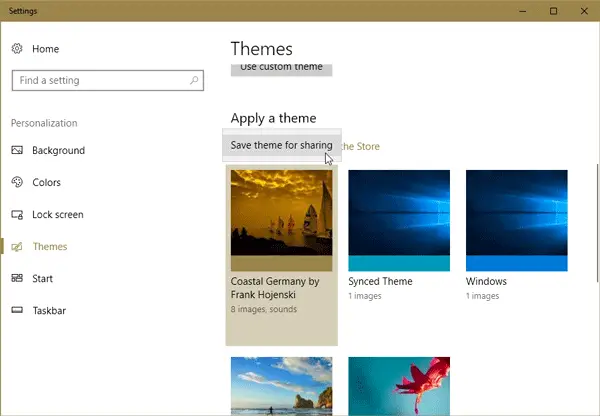 You will be able to save the theme on your local machine with a .deskthemepack extension.
You will find the Windows 10 Themes saved here.
To install that theme on another machine running Windows 10, move the theme to that computer, and double-click on it.
If you want to use that theme, but do not like the wallpaper or color combination, you can go to Background or Colors section in Settings > Personalization to change them.
Delete or uninstall Theme in Windows 10
In case you have installed a lot of themes, and want to delete some of them, you can do that as well. You have to go to Settings > Personalization > Themes section, right-click on a particular theme, and select the Delete option.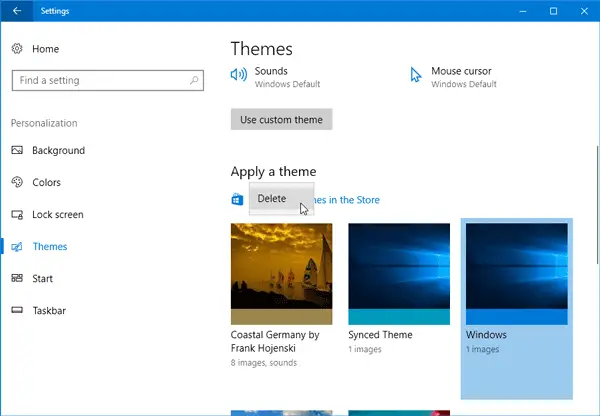 The theme will be deleted immediately.
Hope you like the new customization options in Windows 10.