In Windows 10, before you sign-in, you may get to see some advertisements, fun facts, and tips on your lock screen. This is a new feature that been introduced in the Anniversary Update. While many of you may find this interesting, some of you may want to disable these lock screen ads and tips. If you wish to, then this post will show you how to do it.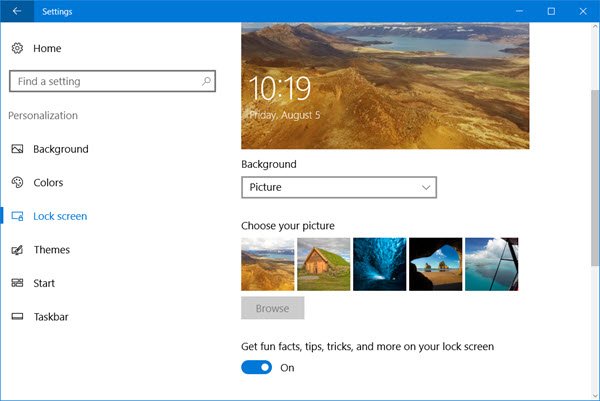 Disable Windows 10 Lock Screen Ads and Tips
Open the Start Menu and click open Settings.
Next click open the Personalization section and then select Lock screen in the left panel.
Here you will see a setting Get fun facts, tips, tricks, and more on your lock screen.
Toggle the switch to the Off position.
Once you have done this, you also have to disable the Spotlight feature.

Having done this, Windows 10 will now not display the Lock Screen ads and tips.
Microsoft has brought a few new things to the Windows 10 Lock Screen and the Sign-in screen. The sign-in screen now even displays the lock screen image, which is pretty cool in my opinion. But you can, if you wish, display a plain background on the sign-in screen too.
If you do not wish to show app icons & the number of new notifications in the Notification Center Taskbar icon, you can also disable them.
Now see how you can completely remove all Ads in Windows 10.