This post features solutions to fix COD Modern Warfare 2 Flickering and White Screen issue. Call of Duty Modern Warfare is a first-person multiplayer shooter video game developed by Infinity Ward and published by Activision. It is the sixth installment of the Call of Duty series. But recently, many users have complained about COD Modern Warfare 2 Flickering and White Screen. Fortunately, you can follow some simple methods to eliminate this issue.
What causes White Screen and Flickering in Call of Duty?
This can happen due to outdated graphics drivers, corrupted game files, poor system specs or a low refresh rate.
Fix COD Modern Warfare 2 Flickering and White Screen
Follow these suggestions to fix the Flickering and White Screen problem in COD Modern Warfare 2 on Windows PC:
Check System Requirements
Verify Integrity of Game Files
Increase Display Refresh Rate
Update Graphics Drivers
Reinstall COD Modern Warfare 2
Now let us see these in detail.
1] Check System Requirements
Before starting with different troubleshooting methods, check if your computer meets the minimum requirements to run the game. It's possible your PC doesn't meet the minimum requirements to run COD Modern Warfare 2. The minimum requirements are:
OS: Windows 10/11
Processor: Intel Core i3-6100 / Core i5-2500K or AMD Ryzen 3 1200
Memory: 8 GB RAM
Graphics: NVIDIA GeForce GTX 960 or AMD Radeon RX 470 – DirectX 12.0 compatible system
DirectX: Version 12
Network: Broadband Internet connection
Storage: 125 GB available space
2] Verify the Integrity of Game Files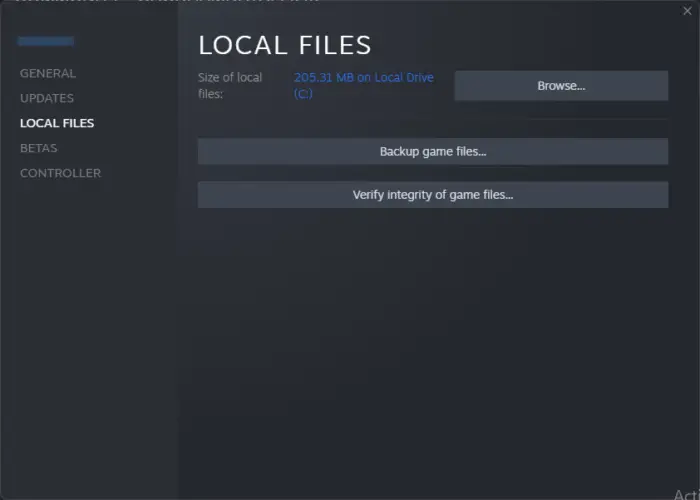 Sometimes game files can get corrupted due to a bug or a recent update. This could also be the reason why this issue is troubling you. Verify the integrity of game files on your PC using the Steam client and check if the problem is fixed. Here is how it's done:
Open Steam and click on Library.
Right-click on Call of Duty: Modern Warfare II from the list.
Select Properties > Local Files
Then click on Verify Integrity of Game Files.
3] Increase Display Refresh Rate
A display's refresh rate indicates the number of times the image refreshes per second on the screen. Increasing your device's Refresh rate can help fix flickering issues. Here's how:
Press the Windows key + I to open Settings.
Navigate to System > Display > Advanced display.
Next to Choose a refresh rate option, click on the dropdown menu to select your desired refresh rate.
4] Update Graphics Drivers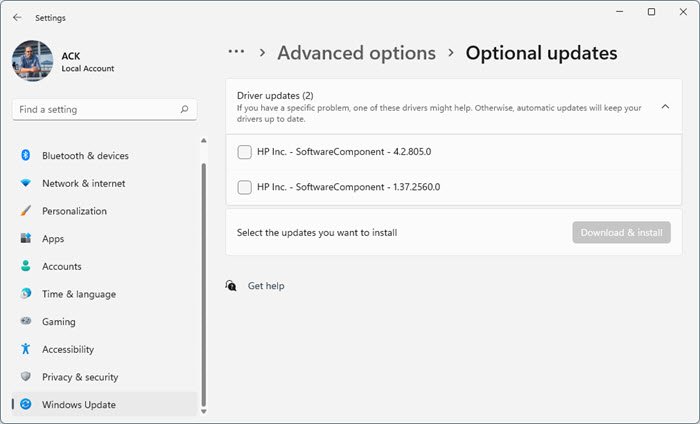 Outdated or corrupted graphics drivers can also be responsible why COD Modern Warfare flickers and shows a white screen. Update your device's Graphics drivers and check if the issue gets fixed. Here's how you can do it:
Open Settings and navigate to Settings > Update & Security > Windows Update.
Right under it, look for a clickable link—View optional updates.
Under Driver Updates, a list of updates will be available, which you can choose to install if you are facing an issue manually.
You can also search for driver downloads for your system on the internet and then search for the driver's name on the site. Visit your computer manufacturer's website, or you may visit the graphics hardware manufacturers' site.
You can also use free Driver Update software or tools like AMD Driver Autodetect, Intel Driver Update Utility or Dell Update utility to update your device drivers. NV Updater will keep NVIDIA Graphic Card Driver updated.
5] Reinstall COD Modern Warfare 2
If none of the above-mentioned workarounds were able to help you, the game's core files might be corrupted. To fix this, remove all files of COD Modern Warfare 2 from your system, and start installing it again.
Fix: COD Modern Warfare DEV ERROR 6068, 6065, 6165, 6071
Why does my MW2 flicker?
Call of Duty Modern Warfare 2 has a very common screen flickering bug that many users have reported. It usually indicates a problem with the device's graphics drivers. To fix this, check the settings of your dedicated graphics card application and make sure you have the latest drivers installed on your device.
How do you fix screen flickering in Modern Warfare 2?
If Call of Duty Modern Warfare 2 keeps crashing on your device, it's possible something is wrong with the graphics Driver. However, in many cases, users have claimed that increasing their device's refresh rate and verifying the integrity of game files has also worked.