If installing, starting, or using PhotoShop causes your Windows computer to crash with a Blue Screen, then this post may help you. Photoshop is one of the top image editing and photo manipulation software available. Photoshop, like any software, can develop problems. Let us see what we can do about this.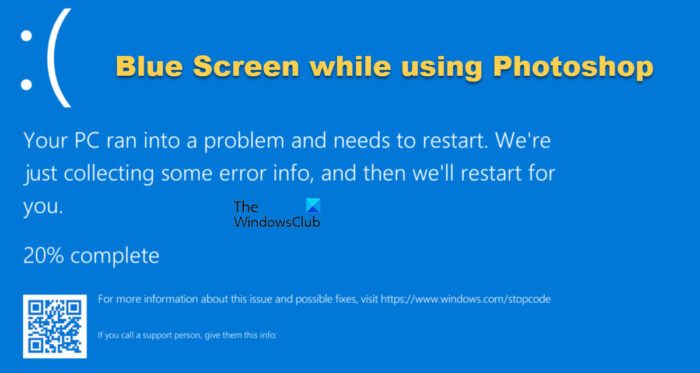 Fix Blue Screen while using Photoshop on Windows 11/10
The Kernel is the most basic part of an operating system. The kernel controls all other programs on the computer. When there is an issue with the Windows Kernel and Photoshop, it will cause the computer to have the Blue Screen of Death. Conflicts with other software, Graphics Driver problems or memory issues can also cause a BSOD.
The blue screen is Windows stopping to minimize any damage that may occur. During a BSOD, an Error Memory Dump File is written with information about the programs running before the crash. The dump file can be analyzed to find the cause of the crash. When a BSOD occurs, the user just needs to restart the computer and it will be back to normal – in most cases.
If you see a Blue Screen of Death (BSOD) error when opening or using Photoshop, here are solutions to resolve the issue:
Move sniffer.exe
Update or Rollback Graphics drivers
Use a dedicated graphic card with Photoshop
Disable Graphics processor
Run Memory Diagnostic Tool
1] Move sniffer.exe
Some users that have encountered the Blue Screen of Death (BSOD) error when using Photoshop, find that deleting or moving the sniffer.exe file to the desktop solved the problem. Sniffer.exe is used by Photoshop to access your graphic card.
The default location for sniffer.exe is C:\Program Files\Adobe\Adobe Photoshop. The file may be named sniffer.exe or sniffer_gpu.exe. The sniffer.exe or sniffer_gpu.exe will be recreated by Photoshop, so no need to worry about it.
2] Update or Rollback Graphics drivers
There are lots of cases where users fail to update their drivers and this can have negative effects on the computer. Old drivers can cause problems. Photoshop would have been updated to meet the requirements of new updated hardware and software. When drivers are not up to date, Photoshop will not be able to function properly.
So update NVIDIA, AMD and Intel Drivers and see if that helps.
If the problem started after you updated your drivers, then you can roll back the drivers and see if that helps.
Open Device manager and In the list of devices installed, look for Display adapters. Double click on Display adapters and the installed graphic adapters will show. Right-click on the graphic card that you want to roll back the driver. From the drop-down menu, choose Properties then from the window that appears click the Driver tab. You will see the Roll back driver button. You then give a reason why you want to roll back the driver then click Yes to confirm or No to cancel the changes.
3] Use a dedicated graphic card with Photoshop
Many users will have two graphic cards in their computers. The motherboard may have a graphic card built on and the user may have installed a high-performance graphics card. The built-in graphics card is called the integrated graphics card and the installed one is called the dedicated graphics card.
One way to fix the error with Photoshop, make sure that the dedicated graphics card is the one that is used for Photoshop and not the integrated graphics card. Another reason to use the dedicated graphics card is the fact that the integrated graphics card is less powerful. This will make it share RAM to make up for the needed power. This can cause problems when using resource-intensive software like photoshop and it can cause the BSOD.
4] Disable Graphics processor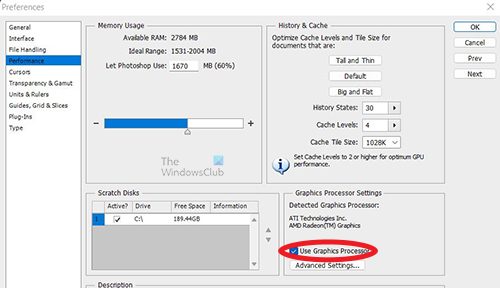 Disabling the graphics processor may cause Photoshop to render a bit slower since you would be disabling hardware acceleration. However, this may help fix the Blue Screen of Death (BSOD) error when Photoshop is used
Go to Photoshop's Preferences > Performance and uncheck Use Graphics Processor and restart Photoshop.
5] Run Memory Diagnostic Tool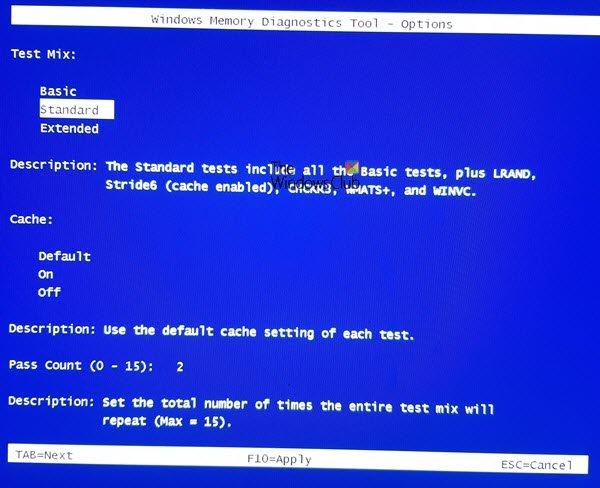 Run Memory Diagnostic Tool and see if it helps you further troubleshoot the issue.
Read: Adobe Photoshop not opening on Windows 11/10
Does Windows 11 work with Photoshop?
Yes, Photoshop and Windows 11 are fully compatible with each other. However, if you haven't updated the Adobe app for a very long time, it is highly recommended to update it. Otherwise, you may come across some compatibility issues while launching or opening Photoshop on your Windows 11 computer.
How do you Update drivers on Windows 11/10?
You can follow one of the methods below to install device drivers:
Can Photoshop cause blue screen?
Yes, Photoshop can cause Blue Screen error on your computer. BSOD mainly occurs due to faulty drivers. As Photoshop uses various drivers in the background to provide the best experience, if something goes wrong while using this app, it may end up with a BSOD. No matter whether you use Windows 11, Windows 10, or any other version, this problem may occur at times.
All the best.