Adobe Photoshop is one of the best graphic editing software available. Photoshop is used by both professionals and hobbyists to edit and manipulate images. Photoshop is very easy to use once you get the basics and there are a whole lot of things that can be done with Photoshop. The many things that can be done with photoshop are only limited by one's imagination and knowledge. However, the issue where Adobe Photoshop is not opening on your PC can be frustrating. With so many tools available in Photoshop. It is easy to mix and match to complete whatever you want.

Adobe Photoshop not opening on Windows 11/10
Photoshop not opening, can be caused by a few things. This problem is not very common however and can sometimes be easily fixed without any technical knowledge of computing. When troubleshooting any problems, whether you think that it is software or hardware related, it is best to start with the easiest fix first. Start with the easiest thing that can be done first and move up to the most challenging. There are a few things that you can try if your Photoshop is not opening.
End Photoshop in Task Manager
Restart the Computer
Update Photoshop and your computer
Reset Photoshop Preferences
Repair or uninstall and reinstall Photoshop
Use Creative Cloud Cleaner Tool
1] End Photoshop in Task Manager
Fixing the issue with Photoshop not opening can be done simply by ending the Photoshop task in Windows Task Manager. You can go to task manager by clicking the shortcut Ctrl + Alt + Del . A window will appear just click Task Manager. When you click task manager a window will appear showing the tasks that are currently running. You can look for Adobe Photoshop, it will have your version, click on it and press End task. You may also find Task  Manager by pressing the windows logo or the magnifying glass and typing Task Manager, the Task Manager window will open. Look for the Photoshop task and end it.
You may be asked to confirm that you want to end the task, just confirm and Photoshop will close. You can then restart Photoshop and see if it will open. If this solution does not fix your problem then move on to the next one.
The reason you end the task is that there may be cases where Photoshop is running in the background. If it is already running in the background, it will not open. This is the reason you would need to end the task and try to reopen Photoshop.
2] Restart the Computer
Restarting the computer when there is a problem sometimes solves issues. This can be a result of everything stored in RAM being dumped and the computer will come up fresh. This may not be the case if you shut down the computer. If Quick Start is enabled in Windows, the computer will not empty RAM. This happens because the computer wants to start up fast. When you shut down and start again, the problems you had may still be there. If you want to completely shut down and start fresh, hold Shift and click Shut Down. This will make sure that you are doing a full shutdown. If you do not want to have to be holding shift each time you shut down. You can choose to disable Fast startup in Power and Sleep Option.
3] Update Photoshop and Your Computer
Many issues with Photoshop can be avoided or fixed, if they arise, by simply keeping the software updated. Check with the Adobe website and see what is the latest version. If you do not have the latest version, update to the latest version. When the update is finished, restart the computer and then try to open Photoshop and see if the problem is resolved.
You should also keep your Windows operating system and computer drivers up to date. Go to Setting and then Windows Update to make sure that you have the latest updates. Check the website of your computer's manufacturer to see if there are updates for your computer. If you have a custom-built computer, you can check the website of the manufacturer for different parts (graphic card, processor, etc). see if they have updates for your computer parts.
Windows will update the driver for your computer when you do an update, and you can check for optional updates as well. Some computer manufacturers will also have software that you can install that will check periodically for updates. Some of this software will only check when you search. Whatever the case is. Make sure that your computer is updated, this is also good for keeping your computer secure. Outdated drivers and other software can make your computer vulnerable to viruses, hackers, and other malware.
Read: How to move Adobe Presets, Actions, and Settings to another computer
4] Reset Photoshop Preferences
Unexpected behaviors in Photoshop may be an indication that the preferences may be damaged. Restoring preferences to their default is a great way to troubleshoot to see if the preferences are causing the unexpected behavior.
Be sure to backup your preferences before resetting preferences.

To reset Photoshop's preferences using the keyboard quit Photoshop, hold down the Ctrl + Alt + Shift key and launch Photoshop. Click Yes in the dialog that asks, "Delete the Adobe Photoshop Settings file?"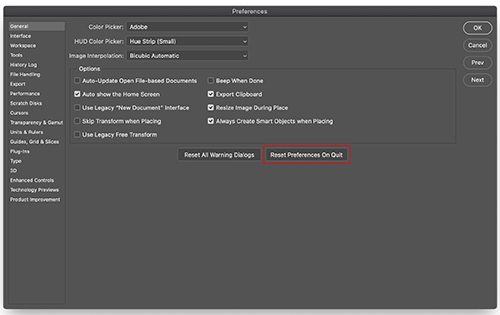 You may reset Photoshop's preference using the Preferences dialogue window. Go to Edit then Preferences then General or press Ctrl + K and choose General. You then press Reset Preferences on Quit. Click OK in the dialog that asks, "Are you sure you want to reset preferences when quitting Photoshop?" Close Photoshop then reopen Photoshop. New Preference files will be created in the original location.
Note – This method is for newer versions of Photoshop, the older version does not offer the reset button on the Preferences dialogue window.
You may manually reset preferences by removing the preferences folder. This method ensures all preferences and any user presets which may be causing a problem are not loaded. To try this method close Photoshop and then navigate to the location of the preferences folder. They are located at:
 Users/[username]/AppData/Roaming/Adobe/Adobe Photoshop [version]/Adobe Photoshop [version] Settings.
If you do not see the files, they may be hidden so you may have to make Windows show Hidden files.
Remove the entire Adobe Photoshop [Version] Settings folder to somewhere safe for a backup of your settings. Open Photoshop and new preferences files will be created in the original location.
5] Repair or Uninstall and reinstall Photoshop
Whenever you have tried all the easier steps and they do not resolve the Photoshop not opening issue, it may be time to repair or uninstall and reinstall Photoshop. This will fix corrupt or missing Photoshop files and may resolve the Photoshop not opening problem.
Depending on the version of Photoshop that you have, the procedure may be different. You can simply repair the desktop installation by starting the reinstall procedure.
You will be asked if you want to reinstall or repair it. For the first try, repair the installation then restart the computer and try to open Photoshop. If the problem is not fixed by repairing the installation, then it is time to uninstall and reinstall Photoshop.
6] Use Adobe Creative Cloud Cleaner
The Adobe Creative Cloud Cleaner tool is intended for advanced computer users and can fix many common problems (such as removing old Adobe software, cleaning corrupt installation files, and fixing your host files to establish a connection with Adobe servers).
The Creative Cloud Cleaner tool is a utility for experienced users to clean up corrupted installations. This tool removes or fixes problem files and resolves permission issues in registry keys.
Use the Creative Cloud Cleaner tool with the necessary precautions. Before using the Creative Cloud Cleaner Tool, back up your preferences, custom swatches, third-party add-ons, and any other custom settings that you want to keep.
You have already tried repairing or uninstalling the Creative Cloud desktop app, but still can't update or install your Creative Cloud app.
You want to remove older Adobe software completely.
Your Creative Cloud app fails to launch even though you have already tried uninstalling and reinstalling the app.
You cannot sign in to Adobe apps even after multiple attempts even after trying these common solutions.
You cannot connect to Adobe servers and have limited access to Adobe apps and services even after trying these common solutions.
You can download the Adobe Creative Cloud Cleaner Tool from the Adobe website and follow the instructions there to use it.
Why is Photoshop unresponsive?
If Adobe Photoshop has frozen and become non-responsive, this means that your computer does not have the available system memory or processor resources available to run the program efficiently. This can happen if you have opened many additional programs opened.
Where is the Adobe Photoshop Preferences folder located?
The photoshop Preferences folder is  located at Users/[user name]/AppData/Roaming/Adobe/Adobe Photoshop [version]/Adobe Photoshop [version] Settings. This folder may be hidden, so if you do not see it, go to View, then Show Hidden Items.