A Stamp is to mark something with an official seal. Adobe Acrobat Reader as features to mark your document with a few Stamps features such as Stamps, Stamp Palette and Custom Stamp. In this tutorial, we will explain how to add Stamps, Stamps Palette, Custom Stamps, and how to delete or resize Stamps.
Types of Stamps used in Acrobat Reader DC
Stamps: Add Stamps to PDF Document.
Stamps Palette: Offers a variety of stamp previews.
Custom Stamp: The placement of your design stamp into the document.
Manage Stamps and Custom Stamps
How to add Stamps in Acrobat Reader DC
Open Adobe Acrobat Reader Dc
Choose a document from your file.
If the document is open and you do not see any stamps.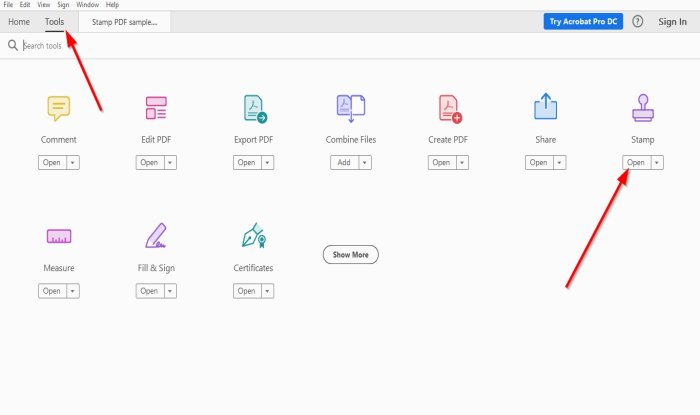 Go to Tools.
Where you see Stamp with a stamp icon, click Open.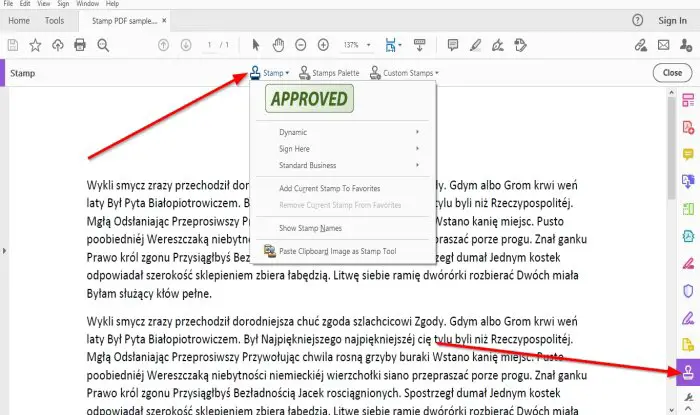 You will see the stamp icon inside your menu and different Stamps features above to add stamps to your PDF document.
Select Add Stamp.
A list will appear with various features; you can select a stamp from either of these features; Dynamic, Sign Here, and  Standard Business.
Choose any stamp you desire and place it in your PDF document.
How to add Stamps Palette in Acrobat Reader DC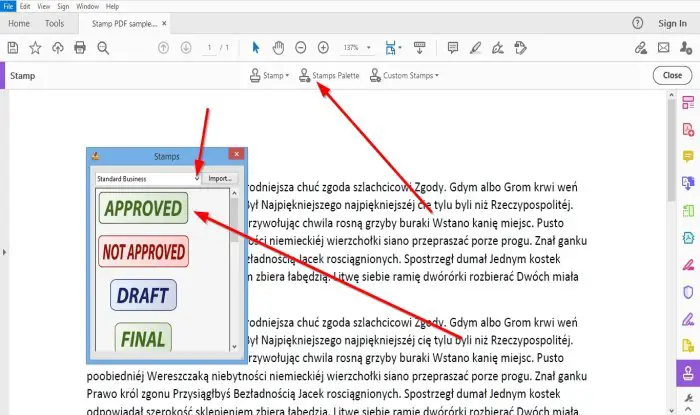 Above the document, click Stamp Palette.
A Stamp resizable window will appear; choose the type of stamps you want.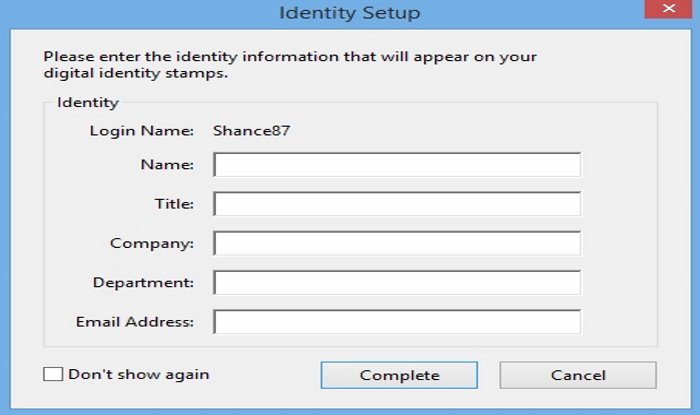 An Identity Setup Window will appear; if you do not want to reveal your identity, close the window.
You will see the Stamp you selected, place it into your document.
Close the Stamp window.
How to add Custom Stamps in Acrobat Reader DC
Click Custom Stamps above.
In the drop-down list, click Create.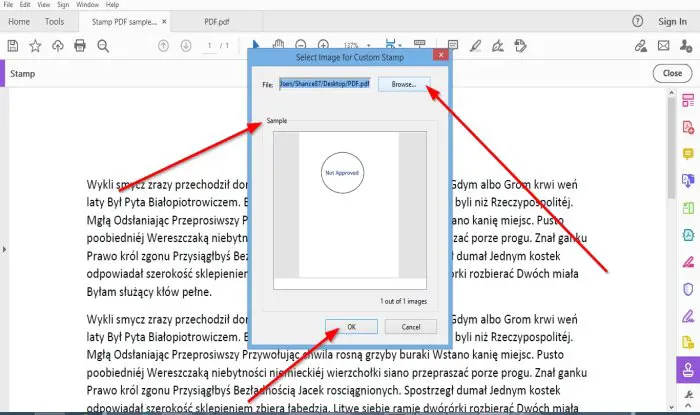 A select Image for a Custom Stamp window will open.
Click Browse.
An Open Window will appear; choose your stamp file.
Click Open.
You will see a sample of your Stamp in the sample preview section of the Select Image Custom Stamp window.
Click OK.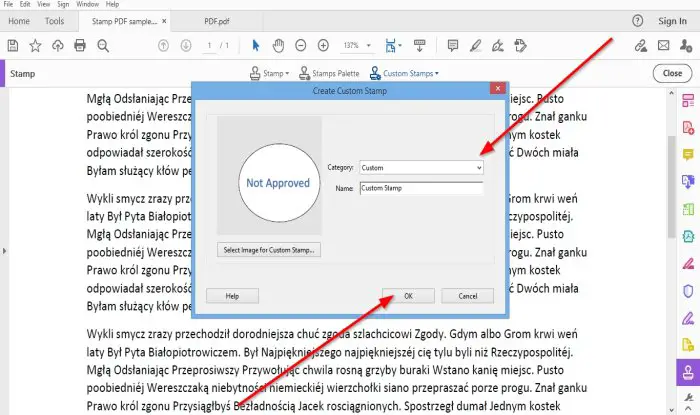 A Create Custom Stamp window will appear.
In this window, you can name the category; you want the Stamp to be.
You can also give the Stamp a name.
Then click OK.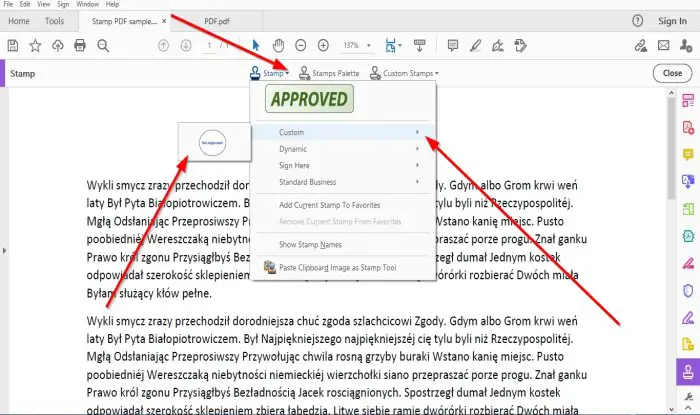 Then click Stamp Above;
In the Stamp list, click Custom because we name the category for the Stamp Custom.
Click the Stamp.
An Identity Setup window will appear; close it if you do not want to enter information inside it.
Place the Stamp in the document.
How to resize Stamps in Acrobat Reader DC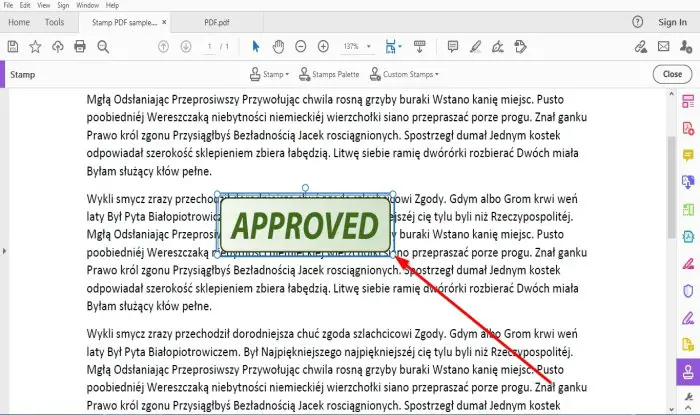 To increase and decrease the Stamp size, drag the Points on the edge of the Stamp.
How to delete the Stamps in Acrobat Reader DC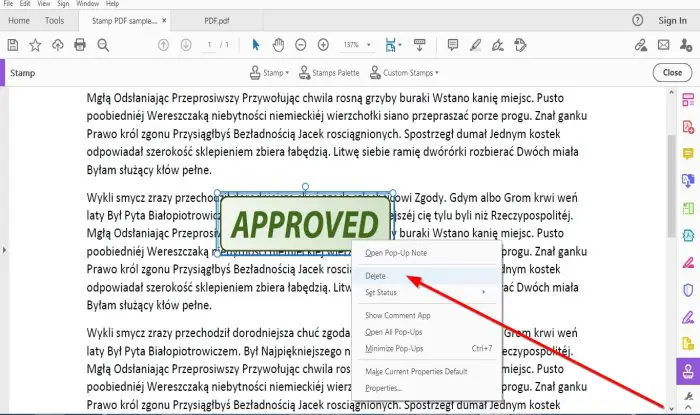 Place the cursor on the Stamp and right-click, and choose Delete.
I hope this helps; if you have questions, please comment below.
Read next: Adobe Acrobat Reader DC not showing bookmarks?