Graphics tools are essential to manipulate visual models and pictures on a computer. If you are working on images like PNG or JPG, an editing tool like Adobe  Photoshop is one that surely flashes your mind. However, Photoshop and other tools like GIMP, Picasa, and CorelDRAW are used for editing raster images only, such as JPG or PNG. If you want to manipulate a more scalable format like vector graphics, you may want to use more advanced graphics tools for editing and creating vector images.
In the world of visuals, vector graphics play an important role in the print industry as the vector format produces high-quality printed materials with fine lines and shapes. Along with producing a crisp and clear image, vector graphics are easy for graphical designers to manipulate images and saves a lot of time on editing. This will allow the designer to complete the design project in less time.
Free Vector Graphics Design software
While vector graphics play an important role in the graphic design globe, vector images are mostly less preferred by the everyday user.  If your design work needs vector files, there are plenty of online graphics editors for creating vector images. Users can make use of web-based editors to create small designs and quickly make some edits to choose a professional vector editor to get the benefit of the wide range of features. In this article, we round up some of the best graphics editing tools for creating and manipulating vector images in Windows 11/10.
SVG-Edit
Inkscape
Vectr
RollApp
Fatpaint
LibreOffice Draw
Scribus.
Let's take a look at them.
1] SVG-Edit
SVG-Edit is an open-source graphics editor used for creating images with a more scalable format. It is a cross-browser web-based tool driven by JavaScript. SVG-Edit allows users to directly create and manipulate vector graphics online without installing any additional software. The SVG-Edit is supported by all the major browsers like Edge, Firefox, Opera, Safari, Chrome, and Internet Explorer.
2] Inkscape
Inkscape is a cross-platform professional vector editor to create vector imagery. It is an open-source tool designed to work for Linux, Mac OS X, and Windows.  The Inkscape allows its users to draw freely with its amazing and flexible drawing tools. It also provides one of the most powerful text tools and has a wide range of file format compatibility. Additionally, Inkscape can also be used to edit raster images. This is undoubtedly one of the best free graphics editor tools for your desktop.
3] Vectr
Vectr is a powerful free online vector graphics software for creating exclusive graphic designs. It is both a  desktop and web cross-platform vector editor that allows the user to create vector graphics on the web as well as download Vectr to your desktop. Users can create vector graphics easily with the help of their intuitive tools. Vectr users get the benefit of real-time collaboration that would allow users to send a Vectr document  URL to colleagues without a hassle. Vectr is used to make crisp and clear presentations, cards, websites, logos, and others. It is compatible with Linux, Mac, and Windows.
4] RollApp
RollApp is an online version of Inkscape. If you plan to use  Inkscape for creating vector graphics but don't want to install Inkscape software on your desktop, Roll App is a great online tool that is quite similar features to Inkscape. This is one of the excellent online editing tools for professionals as well as everyday users, provided that you have strong and reliable internet connectivity. Roll App users can store their designs on cloud storage like Google Drive, Dropbox  OneDrive, and other cloud storage providers and can easily transfer them for collaborations.
5] Fatpaint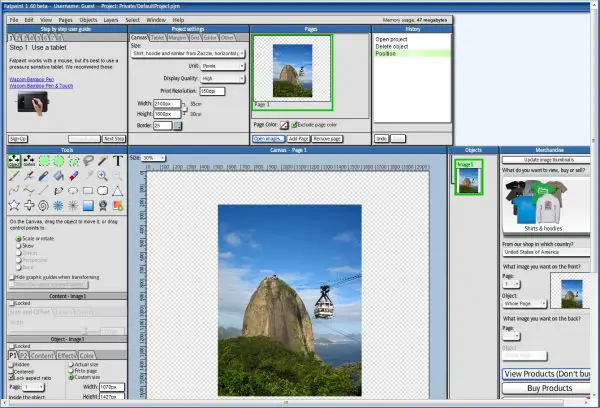 Fatpaint is an online graphic design software used for creating amazing logos, presentations, banners, cards, websites, etc. Fatpaint can be used as graphics editing software for both raster images like JPG or PNG as well as vector images. Fatpaint has some limited features as compared to Inkspace, and  It is suitable for designing small vector graphics, logos, etc. If you want more features for your complex design project, Inkspace is the best choice else Fatpaint is undoubtedly one of the easy-to-use online tools for creating and editing small graphic designs.
6] LibreOffice Draw
Draw is a powerful vector graphics editor. It lets you create your picture galleries and can be used to create any sketch, from small vector graphics to complex graphic designs. It is a powerful diagramming tool used to create brochures, flowcharts, posters, and other technical drawings. LibreOffice Draw lets you easily manipulate your vector sketches and use the objects in 3D as well. It is designed to support Mac, Linux, and Windows.
Read: Best Graphic Design Online Tools for beginners
7] Scribus
Scribus.net is an open-source desktop publishing software used to create vector graphics as well as raster images. It is designed for Windows, Linux, and macOS X desktops. It allows a user to create professional graphics with advanced features. It is a reliable software used to create magazines, brochures, logos, etc. for free.
Take a look at this post if you are looking for some more free Windows software for your PC.
That's all.