If you want a free alternative to Adobe Illustrator, you can undoubtedly check out Inkscape on your Windows 11/10 computer. This article explains all the features, options, and image edits you can do with Inkscape. You can edit an existing photo or create a new image from scratch!
Inkscape supports AI (Adobe Illustrator) format files and opens them without any issues. Apart from AI files, Inkscape supports EPS, SVG, PDF, and gzipped SVG files. It can also import VSD (Visio) and CorelDraw natively. You don't need to use some extensions for importing all such format files.
Inkscape features and options
Inkscape has countless options and features that you cannot be listed down in one place. You need to start using it to explore all. However, here is a list of all the highlighted features you may find interesting.
Layer: It is probably the most important feature that you are going to use for professional editing. You can add various effects with the help of layer functionality.
Lock/Unlock layer: If you do not want a layer to be edited or removed accidentally, you can lock the layer. It will stay there until you unlock it manually.
Shape: You can include almost any shape as per your requirements. From stars to polygons, you can add anything with the help of this option.
3D: Not many tools have this option. However, Inkscape allows users to add 3D shapes within moments.
Spiral: At times, some pictures require you to add spirals to demonstrate something.
Draw curves: If you need to draw a straight line or curves, you can do that using this option.
Freehand drawing: Illustrator and Photoshop can be used as digital painting apps. If so, you can do the same with the help of Inkscape as well.
Calligraphic brush
Object manipulation: If you need to replace an object from your picture, these options are there for you. You can use the moving, scaling, rotating, etc., options to get it done.
Paths: In Illustrator, you can edit every point, path, etc. However, if you are looking for the same option, you will get it in Inkscape. It comes with multiple options to edit the paths of a shape to make it even better.
Color picker: If you need to pick a color from your image and use it further, you can do that with the help of this option. The best thing is that you can find the CSS value of any color.
Save as template: Sometimes, you might need to apply the same dimension, effects, shapes, etc., to multiple images. If so, you can save a template to get it done.
Inert selection: Although it is a basic option, it becomes handy at times.
Layer mask: If you need to apply various effects on a layer, the best way is to use a layer mask. Whether it is Photoshop or Illustrator, both have the same feature, and so does Inkscape.
Transform: You can transform, rotate, resize, and zoom in/out an image or a specific object easily with the help of this option.
SVG Font Editor: Along with a regular font management tool, you can find the SVG Font Editor.
Filters: It includes almost all the effects and options that Photoshop and Illustrator have for you. For example, you can find Blur, Distort, Morphology, Scatter, Texture, Shadows, etc.
Extensions: It is one of the best features that Inkscape has. If the preset options are not enough for you, you can enrich it by installing extensions from the official repository.
As said earlier, there are other options. However, you need to start using it to get to know about them all.
How to use Inkscape on Windows 11/10
To use Inkscape on Windows 11/10, follow these steps:
Visit the official website and download the app.
Tick the Extensions and Extensions Manager while installing.
Choose a canvas, theme, and click the Save button.
Click the New Document button.
Open the image if you want to edit.
Click the Layer > Add Layerto add a layer.
Press * to add shape.
Click on the Filters option to add a filter.
To learn more about these steps, continue reading.
To get started, you need to download and install the app on your computer first. While installing, it is recommended to tick the Extensions and Extensions Manager.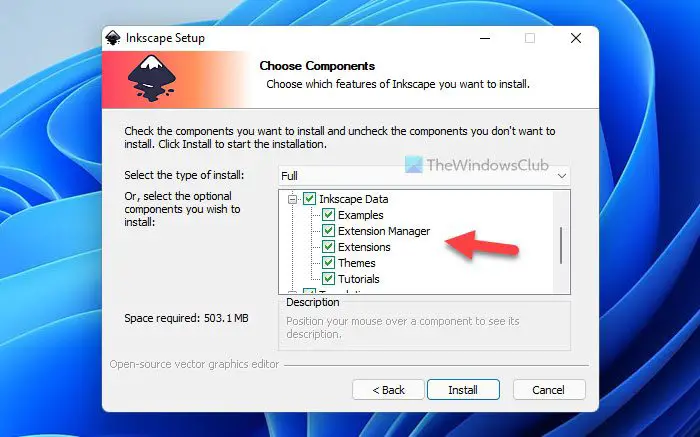 After installing and opening, you can find a window like this: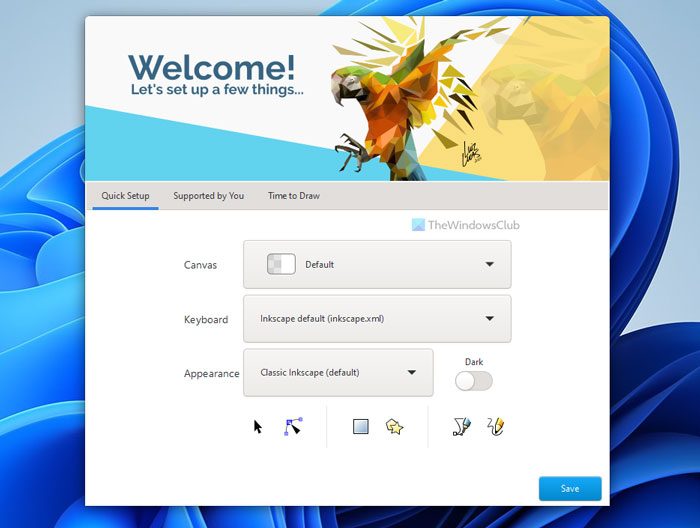 As I said, you can either open an image to edit or create something from level one. If you want to edit a picture, you need to press Ctrl+O and select the image.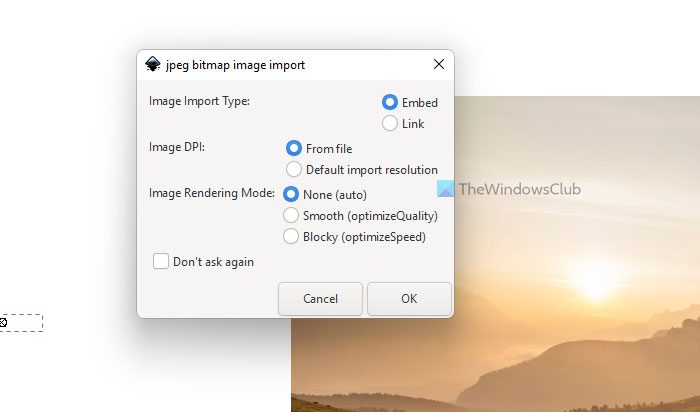 Next, you can use all the features and options as mentioned above. If you want to add a layer, you can go to Layer and select the Add Layer option.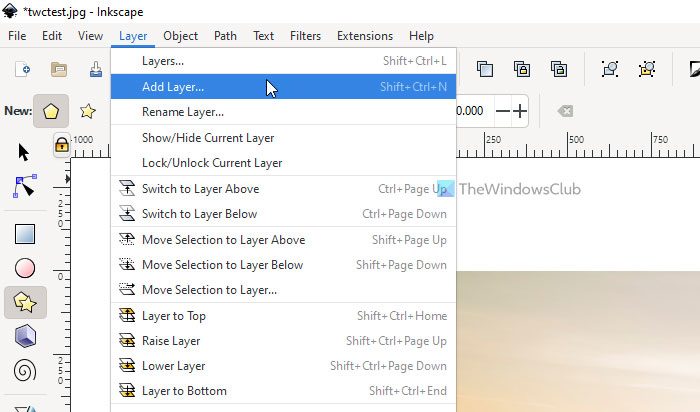 Next, you can press the star(*) key to start adding shapes. On the other hand, if you need to apply various effects, you can head to the Filters section and choose an effect as per your requirements.
As said before, it is possible to install and use extensions. For that, go to Extensions and choose the Manage Extensions option.
Then, you can select and install extensions as you like.
You can also Batch Convert SVG to PNG file format with Inkscape.
Hope this app helped. If you like, you can download Inkscape from inkscape.org.
Related: Free Photo Editing Software for Windows PC
Which is better Inkscape or Adobe Illustrator?
If you need a free alternative to Adobe Illustrator that does almost everything, you can undoubtedly opt for Inkscape. If you need the entire package and are ready to spend money, there is nothing better than Adobe Illustrator. Nonetheless, it depends on various editing aspects, work, skill, etc.
Read: