You may get the Your GPU memory is full error notification when working with high-resolution content in DaVinci Resolve on your Windows 11 or Windows 10 computer. This post offers the most practical fixes affected PC users can apply to resolve the issue.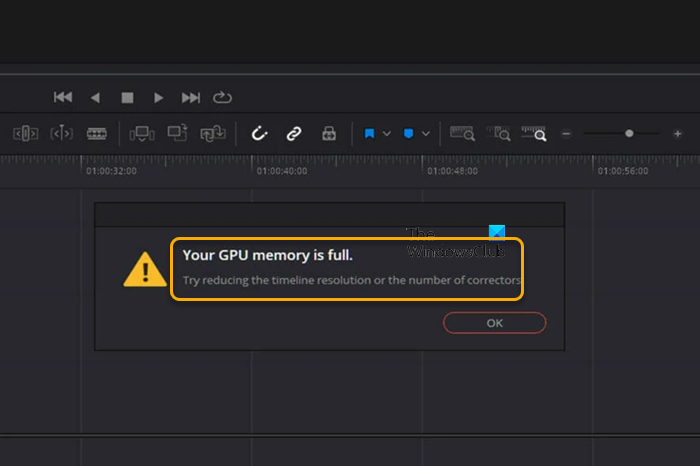 The error means that all the VRAM on your GPU is being used; you have met your graphics card's limitation. The full error message that is displayed when this issue occurs reads as follows:
Your GPU memory is full
Try reducing the timeline resolution or the number of corrector.
Some other common GPU-related issues you may encounter while using the DaVinci Resolve program on your PC include:
The GPU failed to perform image processing
GPU Configuration Warning
Unsupported GPU processing mode
These GPU errors can occur whenever there are compatibility issues with the graphics card, video driver and the version of DaVinci Resolve installed and in use on your system.
Your GPU memory is full in DaVinci Resolve
If you get the Your GPU memory is full error notification while working on DaVinci Resolve on your Windows 11/10 computer. Our suggested fixes presented below should be sufficient enough to help you resolve the issue on your system.
Initial checklist
Change your GPU Configuration Settings
Clear your GPU/CPU cache/memory
Reduce the Timeline Resolution
Update GPU driver
Increase or Disable Paging File
Update or rollback DaVinci Resolve
Let's these applicable fixes in detail.
1] Initial checklist
Unlike other video editors that rely heavily on the CPU, DaVinci Resolve is GPU intensive because the GPU does all the image processing heavy lifting as per BlackMagic Design. The application needs a discrete GPU with a minimum of 16GB of RAM – if you want to use Fusion, you will want to equip your PC with 32GB of RAM – and in both cases, a minimum of 2 GB VRAM (4 GB and above is preferable). Both NVIDIA (CUDA) and AMD Radeon (OpenCL) are good – the most commonly used are the following NVIDIA GPUs:
GeForce GTX Series like 970, 1080, 1650 Ti. etc, – for Consumers
Quadro series – for Professionals
Tesla series – Data Center
Due to NVIDIA and Radeon graphics card variants offered, it becomes necessary that you need to make sure your graphics card is supported, and your computer is updated with the right and the latest version of drivers for your GPU (like NVIDIA Studio driver) and also, the DaVinci Resolve is updated to the latest version.
The minimum requirement specifies Windows 10 Creators Update, CUDA 11.0 or OpenCL 1.2, and NVIDIA driver version 451.82 with a minimum compute capability of 3.5. You can check the compute capability from the NVIDIA website at developer.nvidia.com/cuda-gpus.
Read: How to find and fix a Memory Leak in Windows
2] Change your GPU Configuration Settings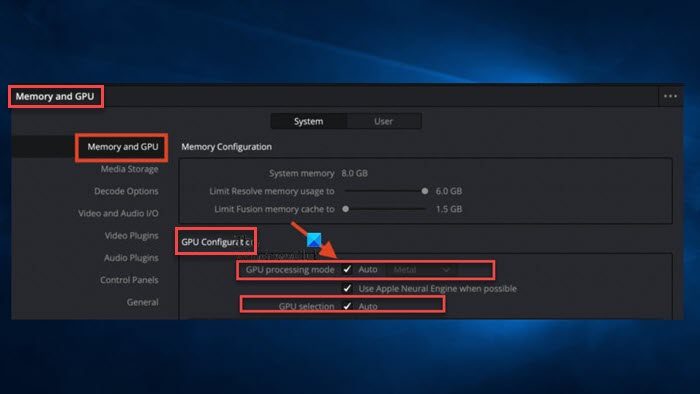 If the compute capability for your card is greater than 3.5, then good. But if it is less than 3.5, then you won't be able to use CUDA in Resolve. Instead, in this case, you'll have to go to the menu DaVinci Resolve > Preferences > System > Memory and GPU > GPU Configuration > GPU Processing Mode, uncheck Auto, and select OpenCL instead of CUDA. On the other hand, if you get the Your GPU memory is full even though the compute capability is greater than 3.5, then in this case, you need to select CUDA instead of OpenCL and in addition, uncheck the Auto option for GPU Selection and then manually select the available NVIDIA card on your system. Once done, restart your PC.
Read: How to check GPU health on a Windows computer
3] Clear your GPU/CPU cache/memory
This is a general fix that should work for PC gamers as well that may encounter the GPU memory full issue while gaming. You can do any of the following.
Close and relaunch the game or app. In addition, open Task Manager, and click Memory in the Processes section to sort the list of running programs from most RAM-hungry to least RAM-hungry. Terminate applications by clicking End task for apps you are not using but still, use a considerable amount of RAM in the background.
Turn off the PC and unplug the power (to know for sure it's off) all cache/RAM in the system (including that in the CPU, GPU, memory, storage drives, etc.) will be cleared — wait for about 30-60 seconds and then plug back the power cord and boot your system.
Disable and re-enable the GPU in Device Manager to clear the memory cache on your Windows 11/10 computer.
Read: How to clear NVIDIA, AMD, or AutoCAD Graphics Cache
4] Reduce the Timeline Resolution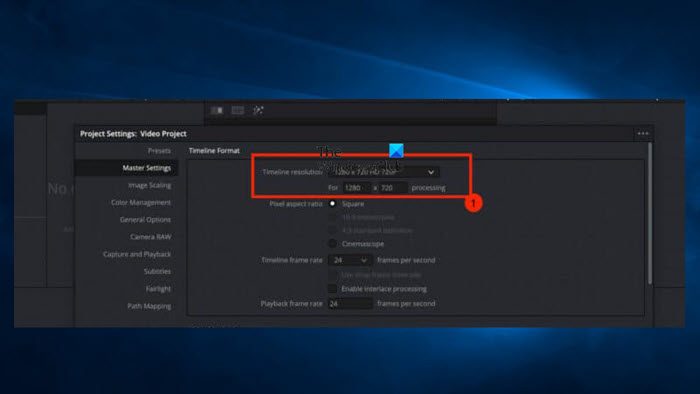 This solution requires you to reduce the timeline settings to prevent DaVinci Resolve from using too much RAM and VRAM on your PC and consequently throwing the error. By reducing the timeline settings, your PC starts using fewer resources allowing you to edit and render at the video resolution of your choice.
Do the following:
Click on the Settings icon (cog wheel) in the bottom right-hand corner to open the Project Settings.
Next, click Master Settings > Timeline Resolution.
Select a lower video resolution from the drop-down menu.
Try to reduce the timeline resolution to 1920 x 1080 HD or 1280 x 1080 HD – before delivering, you can render in 4K UHD = 3840 x 2160).
5] Update GPU driver
The issue could be due to DaVinci Resolve not communicating with your graphics card properly because of an incorrect or outdated driver. In this case, you can fix this issue by updating your graphics card driver to the latest version using any of the methods listed below.
Read: Your GPU driver version does not meet the minimum requirements
6] Increase or Disable Paging File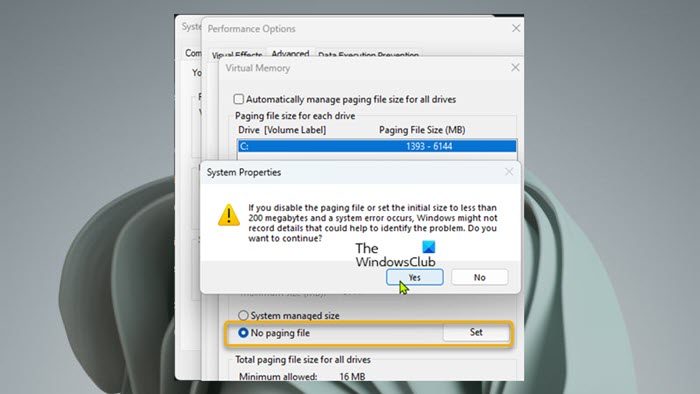 Although you may think there is enough memory in your computer to handle all the programs it runs, you can still exceed that limit, which may cause program errors and system crashes. This solution requires you to increase the Paging file size on your computer and see if that helps resolve the issue. If not, you can follow these steps to disable the paging file.
Press the Windows key + R to invoke the Run dialog.
In the Run dialog box, type sysdm.cpl and hit Enter to open System Properties.
In System Properties, click the Advanced tab.
Next, click the Settings button in the Performance section.
In Performance Options, click the Advanced tab.
Next, select the Change button under the Virtual memory section.
Now, uncheck the Automatically manage paging file size for all drives option.
Next, select your system drive if you have more than one drive.
Now, select the radio button for the No paging file option.
Click the Set button.
Click Yes on the prompt to confirm.
Click the OK button to close the window.
Restart Windows.
Read: Windows keep using HDD instead of SSD for Page File when the RAM is full
7] Update or rollback DaVinci Resolve
If the issue persists after you have exhausted the solutions above, then you can either update Resolve to the latest version or roll back to the previous version (like 16.2.6) to see if your existing card is getting supported in Resolve or not. It is most likely the latest version should have bug fixes and could support your GPU without any issues.
Hopefully, this post helps you!
Why is my GPU memory usage so high?
One of the reasons for the GPU high memory usage by Chrome browser on your Windows 11/10 PC could be that you have some web pages with heavy graphics or videos open in multiple tabs. These pages require more processing power and can cause the GPU process to use more memory. Also, incorrect Chrome settings are another reason that can cause high memory usage.
Can you increase GPU memory?
The GPU does not have dedicated memory as it uses shared memory that will be allocated automatically depending on various factors. Although not available for all systems, the option to adjust the maximum memory is usually available in the BIOS. If your GPU usage is very low, it could be because you're using integrated graphics, there's a driver issue, you have a CPU bottleneck, or the game you're playing isn't optimized. In this case, you can fix the issue by reinstalling drivers, upgrading or overclocking your CPU, and adjusting certain game settings.
Read: How much Computer RAM, Graphics Card/Video memory do I have?