Roblox is a very popular and fun game platform that gives access to several games. So if you are trying to launch Roblox to play games but are getting the Your computer graphics card is not compatible with Roblox's minimum system requirements error, there are a few workarounds. This error mostly comes up when you use an outdated graphics driver or your PC doesn't have some software (like DirectX 10 or DirectX 11) required to run Roblox. Regardless of the reason for the issue, we've compiled a list of solutions you can use to troubleshoot the error on Windows 11/10 computers.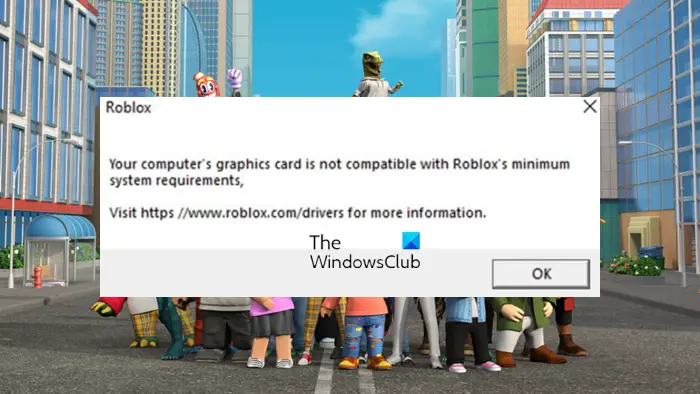 What graphics card does Roblox support?
Basically, Roblox wasn't specific on the graphics card the platform requires to run. However, your computer needs to have DirectX 11/10 or higher level feature support for it to be able to launch Roblox. Also, Roblox recommends using a less old computer to get the best performance.
The Roblox application requires DirectX 10 or higher feature level support. For the best performance we recommend either a computer less than 5 years old with a dedicated video card, or a laptop less than 3 years old with an integrated video card, says Roblox.
Others thing you might want to take note of as the cause of this issue includes:
Wrong graphics card settings.
Outdated graphics driver
Fix Your computer graphics card is not compatible with Roblox error
If you see Your computer graphics card is not compatible with Roblox's minimum system requirements error on Windows PC, here are some suggestions to help you:
Update Graphics Driver
Check in Compatibility mode
Install the latest version of DirectX
Lower display's color quality
Reset Roblox Graphics
Reinstall Roblox.
1] Update Graphics Driver
As mentioned earlier, when using an outdated graphics driver on your computer, you may encounter compatibility issues with Roblox. To be free of this issue, you should update your graphics driver to the latest version by using any of these methods.
Download directly from the official website
Use Windows Update
Make use of driver update software
Use Device Manager
Some of you may want to use free Driver Update software or tools like AMD Driver Autodetect, Intel Driver Update Utility or Dell Update utility to update your device drivers. NV Updater will keep NVIDIA Graphic Card Driver updated.
If this solution doesn't fix the issue, move to the next one.
Read: How to find out which Graphics Card you have?
2] Check in Compatibility mode
Another way to fix compatibility issues on Windows computers is to run in compatibility mode. This feature makes your computer OS run like an older version, and see if that helps with the Roblox compatibility issue.
Here is how to do it:
Right-click on the Roblox icon on your PC.
Select Properties on the drop-down menu.
On the Properties window, switch to the Compatibility tab.
Then check the Run this program in compatibility mode for box.
Choose the Windows version you want to use for the program and click on Apply.
3] Install the latest version of DirectX
You should also check the version of DirectX your graphics card supports. If the version is lower than "10", you should know that Roblox won't work with such a card. However, if it can support more than " 10″ and above, then make sure those versions are installed on your computer.
Here is how to check the version:
Press Windows + R to open the run command box.
Type "dxdiag" (quote inclusive) and hit Enter.
Click on Display 1 or Display 2 on the DirectX window.
For Windows 8 and above users, check the Feature Levels.
For Windows 7 users, check the DDI Version.
The Feature Levels and DDI Version will show you the versions of DirectX your computer can take.
Again, if your computer can install DirectX 10 and above but it isn't installed already, read this to learn how you can install DirectX.
4] Lower display's color quality
In some cases, your graphics card may not support Roblox at the current color quality of your computer. It is t, therefore, recommended that you lower the display's color quantity.
Press Windows + I keys to open Settings.
Click on System and select Display.
Scroll down and select Advanced display settings.
Navigate to Display adapter properties and click it.
In the Adapter tab, select List all modes.
Then select the Mode with the lowest quality display and hit OK.
Read: Best Roblox Browser Extensions for Chrome, Edge, Firefox
5] Reset Roblox Graphics
This is suggested if you can start Roblox without crashing:
Open Roblox Studio
Open the File menu
Click on Settings
Click OK
Click the Reset All Settings button.
6] Reinstall Roblox
If all the previous solutions are ineffective, which is always in rare cases, you should uninstall and reinstall Roblox on your computer. To uninstall Roblox, do this;
Go to the Control Panel and click on Program and Features.
On the resulting page, click on Roblox and select Uninstall.
Afterwards, go to Roblox website and install the program again from there.
Related: Best Free Games like Roblox for Windows PC
What causes the Roblox graphics card issue?
If you face graphics card problems when launching Roblox on your PC, you are probably using an outdated graphics card or driver. So it is best to ensure your computer fulfills all Roblox requirements before using the problem, as that's the most general cause of Roblox graphics card issues.
Apart from this, a 2GB graphics card is enough for Roblox to run on Windows computers as long as the graphics card is not too old. Besides, other Roblox requirements must be met to enjoy the program without error.
Can I play Roblox for free now?
Roblox is a free-to-play game that can be played on PC, Xbox One, iOS, and Android. You must download it on your device to start enjoying the game. That said, on PC and Xbox One, the achievements will easily sync; however, when it comes to iOS and Android, they will be locked to the platform and not synced.