If you are a gamer or a graphics artist, the graphics card is the first thing you will check on a Windows 11/10 laptop. So clearly, gamers and video/graphic artists know where to look for the Graphics Card on a PC, but if you are a regular PC user and trying to find out how to check your graphics card on the PC, this post is just for you.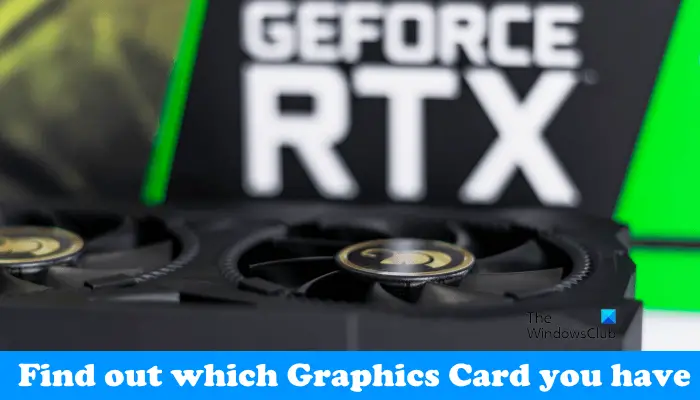 I being a regular PC user had no clue about the graphics card; in fact, I have no answer if someone asks me what graphics card my laptop has. So, here is what I did to find out the exact name and brand of the graphics card and its driver on my PC.
Which Graphics Card do I have on my PC
There are quite a few ways to find that; I am listing all those ways here, you can use whichever seems convenient to you.
Using the DirectX Diagnostic Tool
Using Task Manager
Using the Display Settings
Using Device Manager
Using freeware.
Let us take a look at these methods in detail.
1] DirectX Diagnostic Tool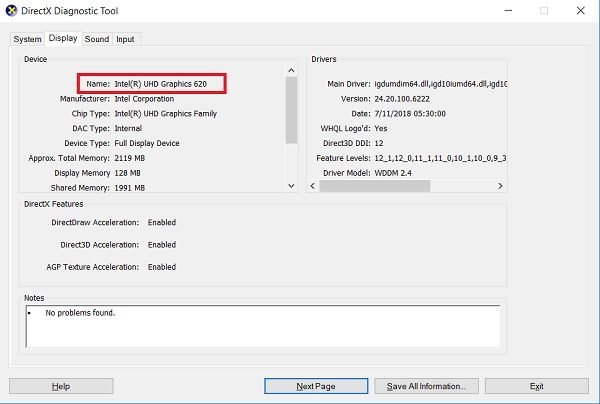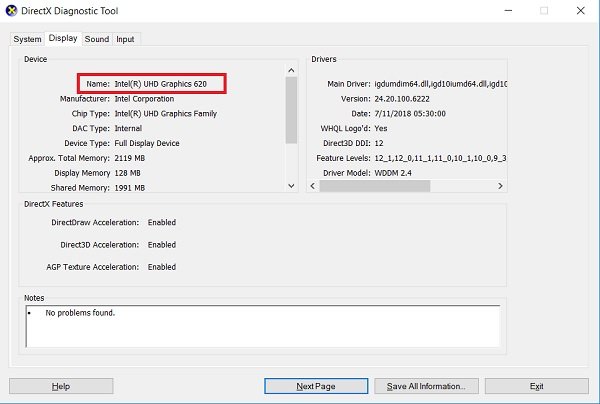 You can get all the details information about your graphics card and the driver through the DirectX Diagnostic Tool.
Open Run by pressing Win+R, type dxdiag, and press ENTER.
This will open a new window which shows detailed information about your system.
Under the Display tab, you will find your graphics card details.
You can check the exact name and brand of your graphics card, the driver, its version, date, and much more.
2] Task Manager
Yes, you can check your graphics card through the Task Manager too. Press Win+X and select Task Manager. You can alternatively open it by pressing CTRL+Shift+ESC to open it.
Go to the Performance tab and under the GPU tab; you can check your graphics card, its driver, the version, and the performance details too.
Read: DDR3 vs DDR4 vs DDR5 Graphics Card.
3] Display Settings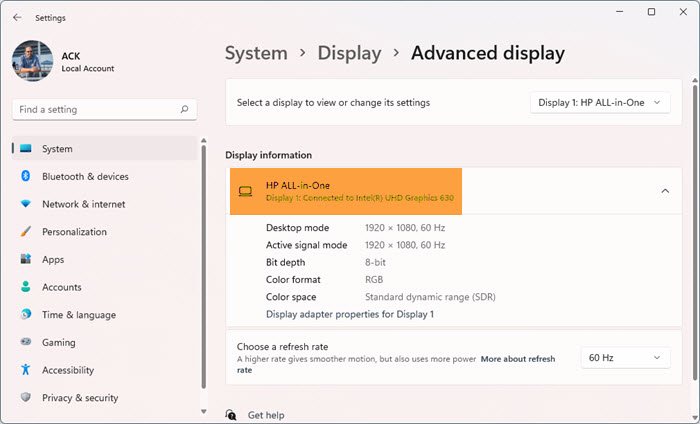 On the Desktop, right-click and go to the Display Settings. Scroll down and select 'Advanced Display Settings'. There you will find the graphics card installed on your PC.

Your graphics card may also have its own control panel, and you can reach there by right-clicking on your desktop.
Right-click on your desktop and click on the graphics card name and you can check its properties in detail. Click on Options and Support, and you can check the entire details like the physical memory, processor and its speed, version of your OS and much more.
4] Device Manager
From the Winx Menu, open Device Manager. Expand Display adapters, and you will see the Graphics Card details mentioned.
In the above image, you see two entries:
Intel(R) HD Graphics 630
NVIDIA GeForce 930MX.
This means that the Intel one is the integrated graphics card and the NVIDIA one is the dedicated graphics card. If only one is mentioned, it means that you have only 1, i.e., the integrated graphics card installed.
Right-click on them, and select Properties to get more details.
Read: Integrated or Dedicated Graphics card – Which do I need?
5] Using freeware
You can also use third-party software or tools to view your system's hardware information. Some of the free software to view system's hardware information on Windows 11/10 are given below:
CPU-Z
Speccy
1] CPU-Z
If you are looking for a freeware to do the job for you, you can download CPU-Z. This tool gathers information about the main devices of your system. It will not only give you information about your Graphics card but also other important system information. Go to the Graphics tab. If you see one entry, it means that you have only the integrated graphics card installed. In the above image, you will see that a dedicated NVIDIA card is also installed.
2] Speccy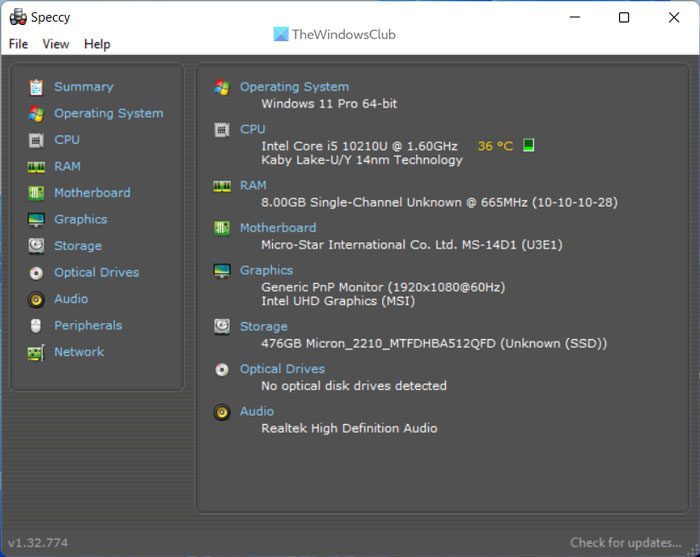 Speccy is a free software that lets you view your system's hardware information. It is a product of CCleaner. Therefore, you can download it from the CCleaner's official website. When you launch it, it analyzes your system's hardware and displays the information of different hardware components. You can view the overview of your hardware components on the Summary page of the software. If you want to view detailed information of a particular hardware component, select it from the left pane.
In the File menu, you will find the options to save your computer's hardware information as an XML and a text file. Apart from that, the Print option is also available in the File menu.
How do I check my graphics card on Windows 11?
You can check which graphics card is installed on your Windows 11 computer by opening Device Manager. Open the Device Manager and expand the Display Adapters node. There, you will see all the graphics card drivers. By viewing this information, you can know which brand's graphics card is installed on your PC. We have explained some ways to check which graphics card is installed on your system in this article.
Will more RAM improve Intel HD Graphics?
Adding more RAM to your system will result in increased system performance. More RAM will also give you a better FPS in your video games. But the quality of graphics depends on your graphics card. Therefore, if you want to improve your graphics quality, you need to upgrade your graphics card.
These were a few ways to check what graphics card your PC has.
This post will show you how to find out Computer RAM, Graphics Card, Video memory & other hardware specs of your PC.