We suspect many folks have heard of Roblox, the popular video game for computers and mobile devices. But there is something else called Roblox Studio, and we find it rather interesting. If you're into creating video games but not very good at coding, then this could be a good choice.
What is Roblox Studio?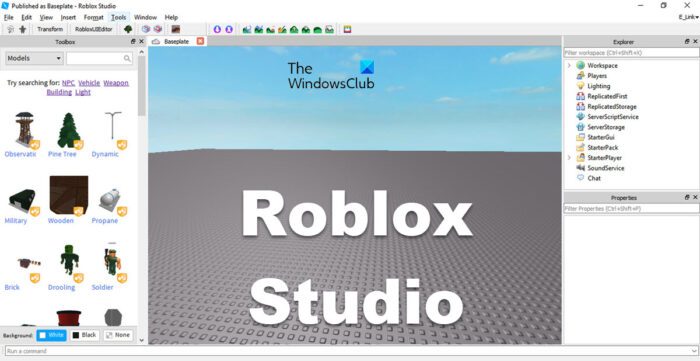 YRoblox Studio is basically a publishing tool, asset package, and development framework all baked into a single package. With this program, users can develop a game and have it ready for publishing in a short time frame, and while that's good, many of us have no idea how it works.
With that said, let us talk a little bit about Roblox Studio because it could become the next great thing for indie developers in the distant future.
Roblox Studio explained
The details below will explain what Roblox Studio is along with how to set it up:
What is Roblox Studio all about?
Can developers create whatever game they want with Roblox Studio?
Do developers require coding experience?
Can folks make money from developing games for Roblox?
How to set up Roblox Studio on your computer
What is Roblox Studio?
Roblox Studio is a framework that was designed specifically for creating video games. The titles created with this platform can only be published on Roblox, and these types of games are limited to both computers and mobile devices where Roblox is already supported.
Games made with Roblox Studio cannot be sold and must always be available to players for free.
Now, folks are drawn to this framework due to its ease of use. It comes packed with several different types of templates and free art assets to aid developers to begin their journey.
How to set up Roblox Studio on your computer
If you're interested in playing around with Roblox Studio, then let us explain how to get moving in the right direction.
Download the Roblox Studio tool from the official website.
Click on the Button that reads, Start Creating.
From there, you must select Download Studio.
Once downloaded, please install the program on your computer.
Now, you must sign up using the create an account section.
Log in with your official credentials.
You should now see several templates, to begin with. Choose the one you want, then you can begin creating your first of many video games.
Can developers create whatever game they want with Roblox Studio?
Here's the thing, developers are limited to what they can make with this platform. Yes, a few with immense skills can get more out of it, but at the end of the day, this is a framework that is built atop an established video game, so it must follow the rules set by that game.
This is why most Roblox Studio games are focused on obstacle courses and multiplayer, and they tend to not look too different from each other. Still, there are several games with unique gameplay, so there's that.
Do developers require coding experience in Roblox Studio?
One does not need to have extensive coding skills to create video games with Roblox Studio. By using the templates available, your game will be quite basic. But if you know how to code in Lua, then you can take your game to the next level, with limitations, of course.
And since Lua is not hard to learn, we suspect even beginners will try their hands at doing some real coding work in a bid to become a true video game developer.
Can folks make money from developing games for Roblox?
The option is there for anyone to make some funds by creating their games within the Roblox Studio framework. Now, we made it clear that games here must be made available for free, but it is possible for players to purchase cosmetics and upgrades with a virtual currency known as Robux.
For those who aren't aware, players can only acquire Robux by spending real money, so as it stands, game developers can earn a little bit on the side. But as expected, it will depend on the popularity of the game and how much it stands out in a crowded place.
Still, developers should not view Roblox Studio as a means of earning a lot of money because we highly doubt that'll happen for many. We view the best option here is to use this framework to improve game development skills rather than anything else.
Read: Best Roblox Browser Extensions for Chrome, Edge, Firefox
Is Roblox content suitable for all ages?
Yes, the content available on Roblox is suitable for all ages. Some games include violence, but nothing containing gore or anything that goes against the ESRB rating.
Does Roblox work with Windows 11?
Yes, Roblox works with Windows 11. Although some people often get various problems while launching Roblox Studio on their computers, it works fine on many other PCs. You can download and start using this framework to make video games. However, your computer must meet the minimum system requirements to install this application.
Read: Enhance code on Visual Studio Code with the help of Extensions.