While trying to join a Roblox gaming session, you might get an error reading – The status of the game has changed, and you no longer have access, Error Code: 523. Here's a guide to help you fix this Roblox Error Code 523 problem quickly.
What is Error Code 523 on Roblox?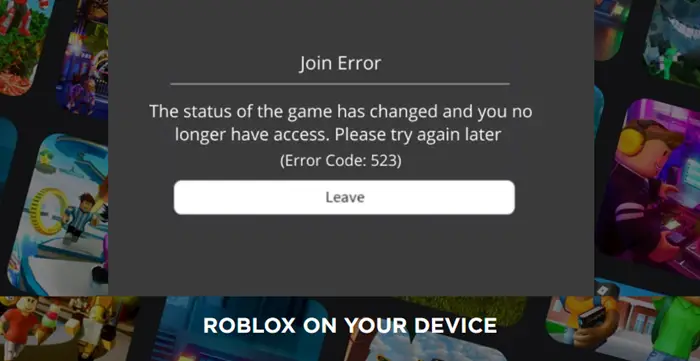 Join Error – The status of the game has changed and you no longer have access, Please try again later (Error Code 523)
Roblox Error Code 523 is a server-side error that you receive when you try to join some unknown servers or servers that haven't yet accepted your request to join. For example, when a server admin closes the server or changes its permissions settings to 'Private' you are stopped from accessing it. To fix it follow these steps.
Allow Roblox through Windows Firewall Defender
Remove ad-blockers.
Clear Roblox Log Files
How do I fix Roblox error code 523
Roblox has become a popular online gaming platform. It develops games and provides them to the services like Steam and other game providers.
1] Allow Roblox through Windows Defender Firewall
Firewall system is designed to monitor, and controls incoming and outgoing network traffic based on preconfigured security rules. This security framework can sometimes interfere with the game servers and block them, resulting in Roblox Error Code 523.
To add Roblox as an exception, go to Control Panel and locate Windows Defender Firewall.
Now among the many options, carefully select the Windows Defender Firewall option.
This will open your Firewall settings. Towards the left side of the Firewall window, click  'Allow an App or Feature Through Windows Defender Firewall' link.
Find Roblox program (C:/Program Files) and select it.
Check the boxes marked next to Public and Private networks.
Hit Ok to apply the changes and restart your computer.
2] Remove Ad Blockers
Another possible reason for getting Roblox Error Code 523 can be an annoying Ad Blocker. It can prevent a game from loading. The simplest solution to this problem would be to disable the AdBlocker before starting any game in ROBLOX.
3] Clear Roblox Log files
Sometimes, Cache and Log files that are required to preload Game files from the web can get corrupted. As such, it can stop you from accessing the game, generating the Roblox Error Code 523. You can fix it by deleting the Roblox log files.
Press Win+R to open the Run dialog box
Type the following in the empty field of the box –
%localappdata%\Roblox\logs.
The action when confirmed will open the temporary file caches of the Roblox app.
Select all files in the folder.
Right-click them and choose the Delete option.
When done, open the Run Dialog Box and enter the command:
%USERPROFILE%\AppData\LocalLow\RbxLogs\
Like earlier, select all the files under the Roblox Logs folder and delete them.
Try joining the game again.
That's all there is to it!