Roblox gaming platform allows gaming enthusiasts to chat, play, and even design some games of their own. It has huge fan base but like others, has its own share of problems too. Like, you might come across Roblox Error Code 267 when trying to register and start using the service. Read to find what you should do to fix the issue completely.
Disconnected, You were kicked from this game, Error Code 267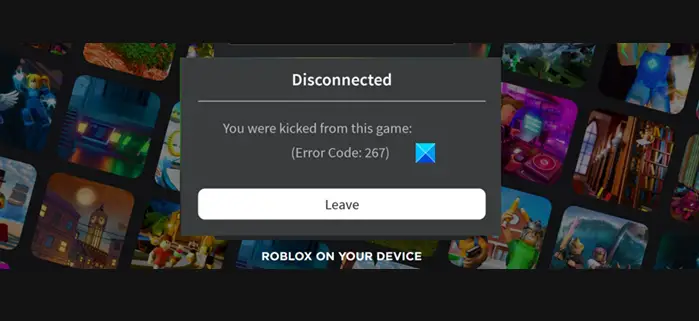 How to Fix Roblox Error Code 267
The nagging issue with Roblox error code 267 is that it refuses to disappear and gets stuck in the local cache which makes it all more irritating. A script injection causes this client-sided error but other vulnerabilities in the game can also result in the same. So, whenever the game detects suspicious activity from a player, it tries to stop that event by simply kicking that player out of the game. Here's how to fix it!
Switch to another browser.
Disable AdBlockers.
Check your browser's security settings.
Delayed Internet Connection.
Blank Game.
The error code bears the following message – Disconnected. You were kicked from this game (Error code: 267). Follow these troubleshooting steps to fix the problem.
1] Switch to another browser
If you are using a third-party popular browser then you can try switching to Microsoft Edge and see if that helps. Make sure you are running the latest version of the browser as older versions are known to cause faulty errors while launching ROBLOX. Simply click Settings and more > Help and Feedback > About Microsoft Edge. The browser will automatically check for updates and will install the latest version.
2] Disable AdBlockers
This happens to be one of the most common reasons for getting Roblox error code 267 as an annoying ad blocker can prevent a game from loading. The best bet then, is to disable the AdBlocker before starting any game in ROBLOX.
3] Check your browser's security settings

At times, there's no harm in bypassing some security warnings and other errors if you trust the website and want to add it to your browser's list of Trusted Sites or Exceptions.
So, depending on the browser you are using (Chrome, Firefox or Edge), click the lock icon to the left of the web address. Choose Site Settings (Chrome) or Permissions for this site (Edge) and set your browser's security settings to allow ROBLOX to start.
4] Delayed Internet Connection
If the game is resource-intensive and you are playing it over a low bandwidth connection or a slow internet service, the game may take an unusually long time to download. A quick working solution for this problem is to download the best VPN and connect it to a stronger network connection zone.
5] Blank Game
Lastly, in case the developer of a game has created a game that is incomplete and shows no sign of loading then, you may receive Roblox error code 267. Since this mistake is from the developer's end you cannot do anything about it but wait until the game is completely built.
Hope something helps!