We request you to kindly allow TheWindowsClub.com to display ads in your web browser when you visit our site. I use only Google Adsense for displaying ads currently on my blog since Google is very strict about its ad quality and takes security very seriously. As a result, you are unlikely to see bad ads or malvertising on this site. The Terms Of Use for this website require you to allow advertisements on this website to load and hence you are requested to kindly whitelist TheWindowsClub.com, please.
Why you should whitelist TheWindowsClub.com
TheWindowsClub.com incurs the costs for the following purposes:
Payments to authors who write posts
Hosting charges which we have to pay to the Hosting company to host our website on their server
We also use the Business plan of Sucuri Web Firewall & Antivirus to protect our website and consequently protect our users too
Our developers have developed over 75 useful freeware like Ultimate Windows Tweaker, FixWin, and many others, which are completely free to use and do not bundle any crapware.
Website development and maintenance expenses
Other related expenses to cover promotions, attending events, etc.
I started this website as a hobby since I had a passion for the Windows OS, but it's now a multi-author website.
But I understand – you may have a few questions …
Why should I care about your hobby?
I assume that readers like you are liking this site and finding the content interesting. I am grateful to you for visiting my website and feel happy when you find my content useful or if some post helps you fix some Windows problem.
What started as a hobby has turned into a website with over 10 million page views a month. We also have a forum where we try and help users with their Windows problems.
All this costs money!
I hate ads and what appears on my computer is my business!
Newspapers are cheap because they are supported by ads. Open your TV, and you see ads. Walk down the street, and you see huge billboards and hoardings. There are no ad blockers for this media! Sure you may ignore them, but you can't block them. :)
We have spaced out our ads so that they do not appear close to each other or try to steal your attention. You may turn off the adblocker now and refresh this web page to see how our ads are placed.
If my authors were not to charge me for the posts they write or my hosting company, MaxCDN or Sucuri were to give me their services free of cost; I would rush to remove the ads. But unfortunately, they don't work for free and so I have to pay for them all!
The content as explained above does cost money to generate… But it still comes to you free!
So how do I manage it? Google displays its ads on my blog, and when readers see or click the ads, I get paid. So allowing our ads to appear helps meet these costs. We also display software affiliate links and earn a commission if a sale is made.
Having said this, if you were to consider my request and whitelist this domain in your ad blocker software, it would be helpful – and I would be obliged. All it takes is a click or two!
I disabled the adblocker by still see the notification
Please check if you have multiple software installed on your PC, like say, your antivirus,  security, browser extension or VPN software. You will have to disable their adblockers or whitelist this site in all of them. Once you have done this, press CTRL+F5 to hard refresh the web page.
For instance, if you are using DuckDuckGo with Privacy Essentials on Chrome, open More Tools > Extensions and look for the DuckDuckGo extension and click on Details. This will bring up a new window, go to Extension Options, click on it and it will open another new window. Go to Whitelist Sites and click on Add site to Whitelist. Enter the URL for TheWindowsClub like this: https://www.thewindowsclub.com.
With warm regards,
Anand C. Khanse.
How to whitelist a website
Adblock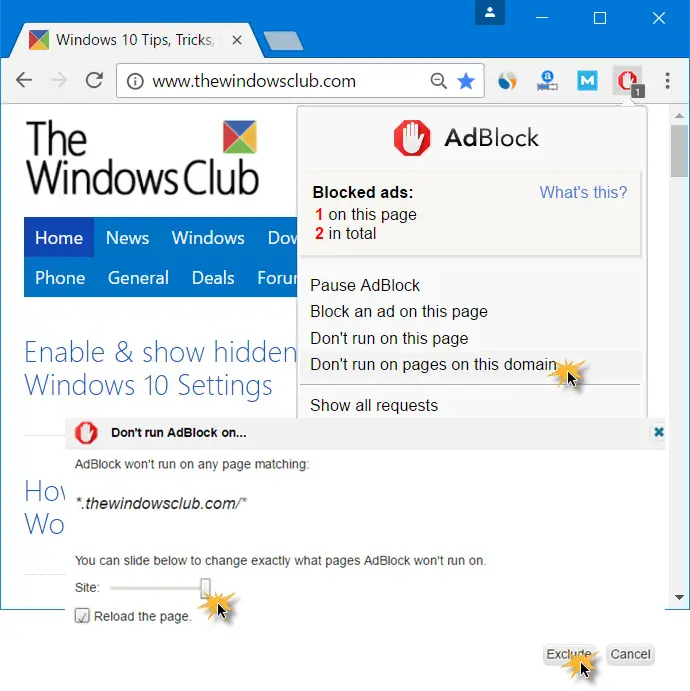 If you are using Adblock in your Chrome, Firefox, Internet Explorer, Edge or any other browser, simply click on the red Adblock icon in the top right part of your browser. From the menu that opens, click on the Don't run on pages on this domain link. That is all there is to it.
Adblock Plus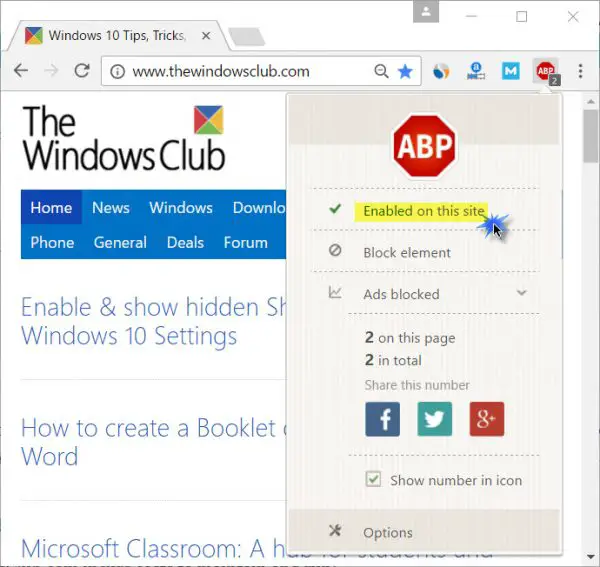 If you are using Adblock Plus on your web browser, simply click on the red ABP icon in the top right part of your browser. From the menu that opens, click on the Enabled on this site link to Disable your ad blocker. When the link changes to Disabled, ass will be allowed on our site.
uBlock
Click on the icon in your browser toolbar. Then click on the Blue Power icon.
uBlock Origin
Click on the uBlock icon and the click on the blue circular Power icon to allow ads on TWC.
Adguard AdBlocker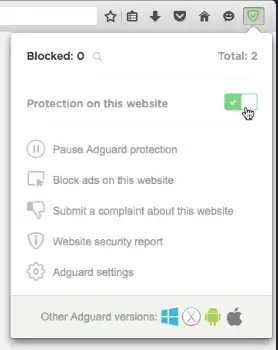 Click on the icon in your browser toolbar and then toggle the Protection on this website button.
Adremover
Click on the AdRemover icon in the extension bar and then on 'Don't run on pages on this domain'.
Adblock Genesis
Click on the Adblock Genesis icon in the extension bar and then on 'Whitelist Website'.
Ad Aware
Click on the AdAware icon in the extension bar and the on the orange power button
Super Adblocker
Click on the Super Adblocker icon in the extension bar > Don't run on pages on this domain > Select Exclude button.
Ultrablock
Click on the UltraBlock icon in the extension bar and then select 'Disable UltraBlock for 'domain name here'.
Opera browser
Open your Opera browser and click on the Menu button in the top left corner. Select Settings.
Under Basic you will see Block ads. Click on the Manage Exceptions button and in the box that opens add [*.]thewindowsclub.com in the site field. Click on Finish.
Restart your Opera.
Brave browser
Click on the orange Lion icon to the right of the address bar and then the toggle on the top right, shifting from Up to Down.
Tracking Protection feature in your browser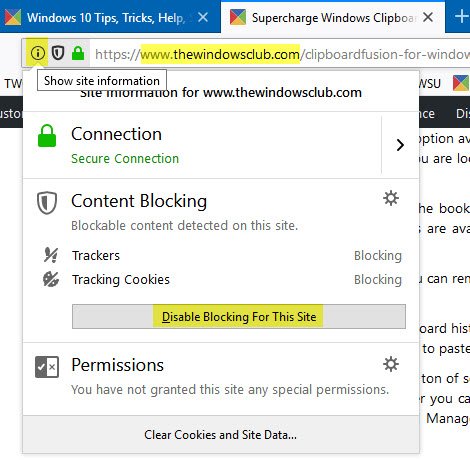 If you use the Tracking Protection feature in the Mozilla Firefox web browser , you may have to disbale it for this site.
Click on the "i" icon and select Disable blocking for this site.
Malwarebytes Browser Guard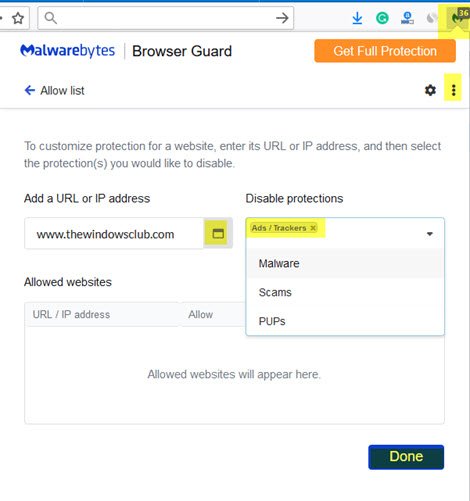 Click on the Malwarebytes Browser Guard logo, then click on the 3 vertical dots to open its settings. Here add the URL viz. www.thewindowsclub.com and under Disable protection, select Ads/Trackers. Click Done and refresh the webpage.
Ghostery
Click the Ghostery icon.
Click on "Trust Site" or add thewindowsclub.com to your Trusted Site list.
Privacy Badger
Click on the Privacy Badger icon in the extension bar and then select 'Disable Privacy Badger for this site'.
DuckDuckGo
Click on the Duck Duck Go icon in the extension bar and then toggle the 'Site Privacy Protection' switch.
Kaspersky Internet Security Suite
Some Internet Security Suites clock ads. If yours does, you may want to get into its Settings and disable it for our site. For instance, if you are using Kaspersky, open its Settings > Protection and click on Anti-Banner.
Next click on Websites with allowed banners link as shown above and add  http://thewindowsclub.com in the given field.
Click Add and exit.
VPN software
If you are using a VPN software, you may have to enter its Settings and then disable ad blocking there.
I have given the example of CyberGhost above, but it should be similar in all VPNs.
You disabled the adblocker but still see the notification
It is possible that you have some other software/tool installed that is blocking the ads. Could be your antivirus, VPN, privacy addon or some browser extension as well.
You will have to find out which one. Start the browser in safe mode and see. If it works, then it's a browser addon. Also check the setting in your antivirus software.
Once done, Hard-refresh the web page. That is, press Ctrl+F5.
Thank you for whitelisting TheWindowsClub.com and supporting us.