In case you receive Destination Folder Access Denied, You'll need to provide administrator permission to delete this folder error message on Windows 11/10/8/7 machine; here is a simple fix that will let you solve the error and delete the folder within moments. Whenever a new file or folder is created, Windows will assign a set of default permissions to it. These are called Effective Permissions. If a user does not have the requisite permissions, Windows OS will throw up that error. This method will also work if you receive You'll need to provide administrator permission to rename this folder error message.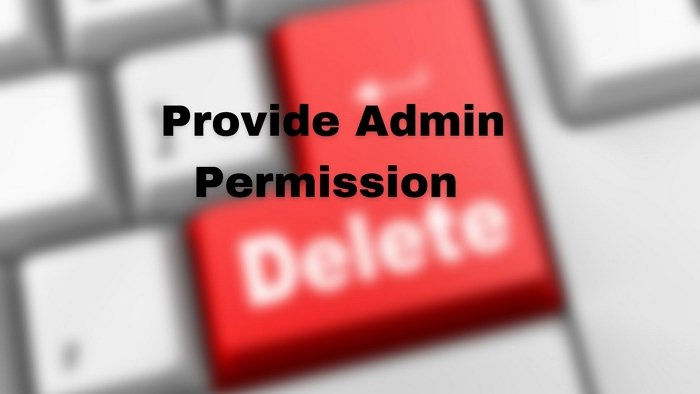 Destination Folder Access Denied
Let's say that you have uninstalled a software using Control Panel. When you uninstall software using the Control Panel, the configuration files and Registry keys get stored in some locations. In most cases, the uninstaller can remove all the files and registry entries.  But at times, some folders remain, and you may get an error You'll need to provide administrator permission to delete this folder while trying to remove these folders. And then again, sometimes you may see this error message when deleting any other folder too.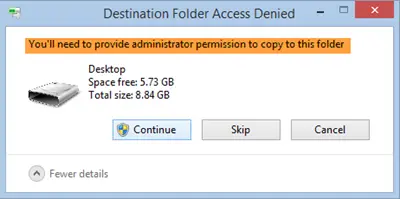 In the error dialog box, you will Continue, Skip & Cancel buttons. If you click the "Continue" button, you will receive another message – You require permission from [username] to make changes to this folder. Ultimately, you will not be able to delete the folder in any way.
You'll need to provide administrator permission to delete this folder
To fix this issue, you have to gain the Permission to delete it. You will have to take ownership of the folder and here is what you need to do.
Right-click on the folder that you want to delete and go to Properties. After that, you will see a Security tab. Switch to that tab. Here you will find an Edit button. Click on it.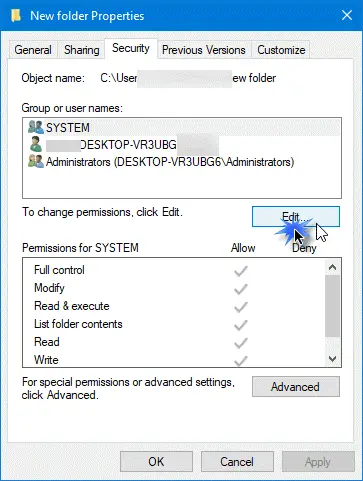 After that hit the Add button, you will get an empty box with a text called Enter the object names to select. Write down
Write Everyone in the empty box and then click on the Check Names button.
Now, select Everyone under Group or user names section and allow Full control in the corresponding box.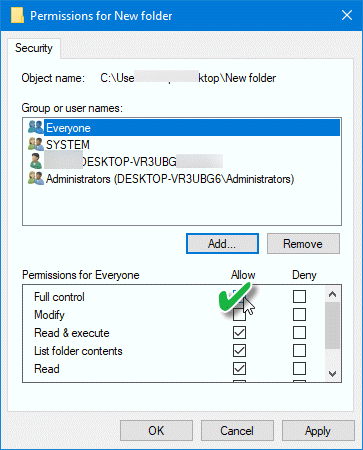 Finally, click on the Apply button.
TIPs:
How do I delete Undeletable files?
Usually, these files are locked by another application, and you are not able to delete the file. Hence the term UIndelerable. The best way to remove these files is to Restart Windows PC using the Safe Mode and delete them. However, if the file is a system file, you should not delete it. And if you manage to delete such files, it will break the system in one way or the other.
How do I fix I need administrator permission?
There is no fix for it except that the admin of the PC makes you an Admin, and you can delete or perform actions for which you need administrator permission. If you try to add or remove a user with a normal account, you will be prompted with UAC, and it will ask you to enter the administrator account PIN or password.
Other similar errors you may receive on a Windows machine: