Sometimes it happens that due to incorrect permissions, you're not able to read or modify the contents of a file or folder. In some cases, if you're not the owner of content from a permissions point of view, you're may receive the Location is not available, Access is denied message whenever you try to open the item.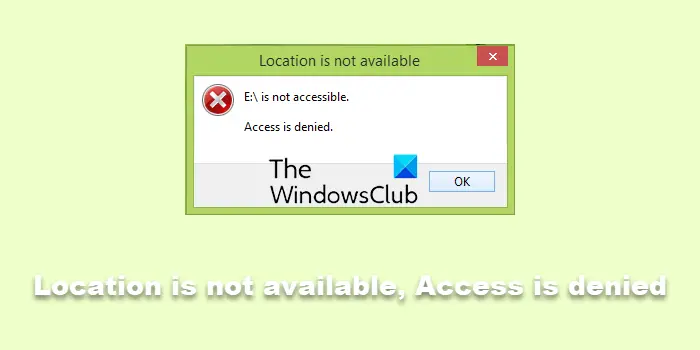 Location is not available, Access is denied
If this is happening to your system, then first you can try to remove the File access denied message in this article. Well, this problem can be easily tackled by re-confirming the permissions for yourself. Here are the three checkpoints, you must confirm for yourself in order to fix this issue. Before you begin, create a system restore point first.
1] Take Ownership of the file or folder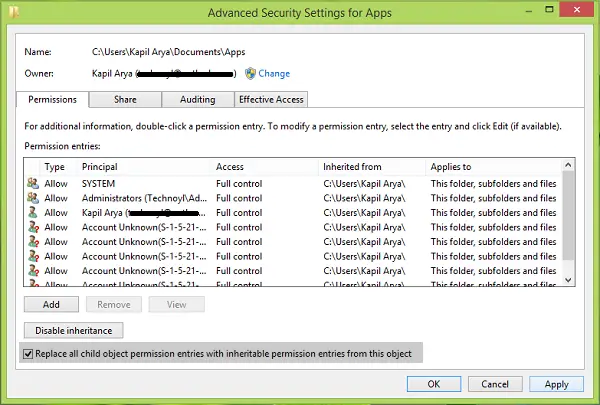 Take ownership of the file or folder with which you're getting Access is denied message.
Right-click the same folder now, select Properties.
In the Properties window, switch to Security tab and click Advanced.
Then in the following window, since you're now the owner of the content, check Replace all child object permission entries with inheritable permission entries from this object option at the bottom.
Click Apply followed by OK.
Check if the issue is resolved, else move to FIX 2.
TIP: Our Ultimate Windows Tweaker will let you add the Take Ownership of Files and Folders easily to the Windows context menu.
2] Give Full Control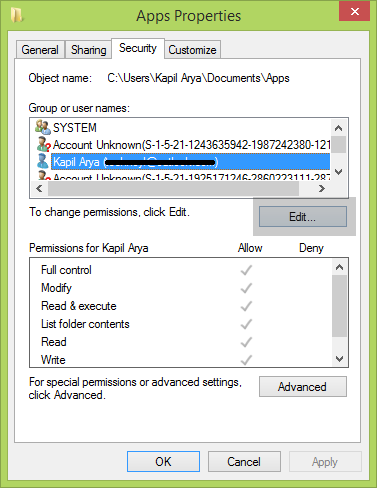 Right-click the problematic folder or file with which you're facing the issue, select Properties.
Next, switch to Security tab, under Group or user names, highlight your user account name. Click Edit.
You need to make sure that all options like Full control, read, write, modify, etc. are having a checkmark under Allow.
Once you make sure about this, click Apply followed by OK. Recheck the status of the issue, if you have ticked an option that wasn't checked earlier.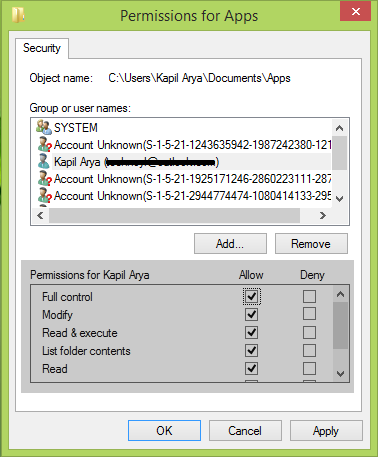 The above two steps should together solve your problem.
Read: Drive is not accessible, The parameter is incorrect.
3] Enable Encrypt contents to secure data
In case you're folder or file content is encrypted, then also you may face the Access is denied error.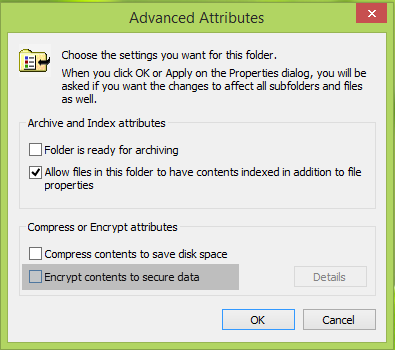 To deal with this, right-click the file or folder and select Properties.
In General tab, click Advanced.
Now, you'll see the following window, where you need to uncheck Encrypt contents to secure data option simply.
Now once the data is decrypted, you'll be able to see the stuff inside your file or folder.
Read: Encrypt contents to secure data option is disabled.
Hope this helps!