If you cannot delete a file and you see an error message Error 0x80070570, The file or directory is corrupted and unreadable, on Windows 11/10, then this post is sure to help you. The error message is self-explanatory. It means that the file or directory you want to access has been corrupted. When a file gets corrupted, it becomes unreadable. A virus infection is one of the possible causes of file or directory corruption. If your system is infected, it can cause corruption to multiple files; hence, you should scan with an antivirus. Another cause is disc errors.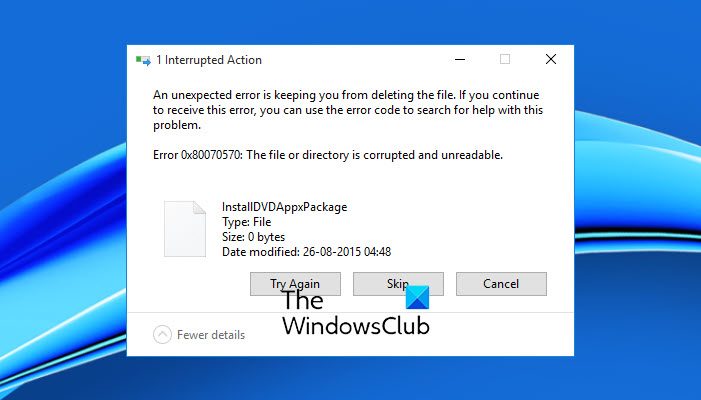 Error 0x80070570, The file or directory is corrupted and unreadable
Error 0x80070570 mainly occurs due to disk file directory (FAT, MFT) problems, especially when you are attempting to move files from an external hard drive or a USB flash drive. A damaged or faulty drive can also cause the 0x80070570 message to flash on your computer screen. You can use any of the following methods to fix this issue.
Restart your computer and try again
Run CHKDSK Command in CMD
Scan for the virus
Try to delete in Safe Mode
Create a new user account.
1] Restart your computer and try again
Restart your computer and then try to carry out this operation. In all likelihood, this simple step can help.
2] Scan for Virus
If your hard disk or USB drive is infected with malware, such errors can appear while attempting to move or delete files.
Run Windows Defender or a standalone on-demand scanner to scan your computer and remove any traces of viruses or malware.
3] Run CHKDSK Command in CMD
File system corruption can lead to this issue. Running the following CHSKDSK command in Command Prompt can fix it.
chkdsk

 /f C:
When initiated, the Check Disk operation will start on the drive, and repair any errors, if found. Depending on the number of files, the size of the hard disk, the number of errors on the hard drive, and the options you choose, CHKDSK can take anywhere from minutes to hours to complete.
Related: Cannot delete items from Recycle Bin.
4] Boot into Safe Mode
Try accessing the drive or the folder in Safe Mode as apps you are trying to run on your system in normal mode may be causing certain issues with the directory.
You can boot into Safe Mode and then try to carry out the delete operation.
Read:  Cannot delete icons, files or folders on Windows Desktop.
5] Create a new user account
If all the above methods fail to work or do not yield the desired results, create a new user account. System file corruption can extend to a point where running the CHKDSK Command in CMD or booting into safe mode may not be able to repair it. Creating a new user account will help you bypass this problem.
More suggestions here: How to delete undeletable & locked files, folders in Windows.
Read: Free File Deleter software to delete locked files and folders.
Are corrupted files a virus?
A corrupted file is not a virus but it can be an indication of a virus or malware infection. If the files on your system are being corrupted without any reason, you should immediately run antivirus and antimalware scans. A power surge can also corrupt files on your system. That's why it is always recommended to connect your desktop with a UPS.
Hope it helps!
Similar error codes: