At times, you may run into the problem of being unable to open or access or work with files and folder. The simple message that flashes on your computer screen when you try doing so reads – 'Access Denied'. This can occur for one or more of the following reasons:
The folder ownership may have changed
You do not have the proper permissions
The file may be encrypted
The file may be in use
The file may be corrupt
The user profile may be corrupt
In such a case, you may be unable to open, work with, access, edit, save or delete files and folders. Such problems are usually caused due to permissions issues, corrupted user accounts or even corrupted files. We have already seen a few troubleshooting steps and what to do if you get the Access Denied error while deleting files or folders. This post throws up a few more troubleshooting steps. Here's what you can try to address the issue and get back to work.
Access Denied error when accessing files or folders
1] Run Disk Error Checking
Run CheckDisk or Disk Error Checking in Windows 10/8. Microsoft has redesigned chkdsk utility – the tool for detecting and fixing disk corruption. In Windows 11/10, Microsoft introduced a file system called ReFS, which does not require an offline chkdsk to repair corruptions – as it follows a different model for resiliency and hence does not need to run the traditional chkdsk utility.
2] Take ownership of a file or folder
If you have upgraded your machine to a different or the most recent OS such as Windows 10, chances are some of your account information may have changed during the process. If it is so, you may no longer have ownership of some of your files or folders. So, take ownership in the first place. If this does not help, you may want to troubleshoot File and Folder Permission Issues in Windows.
3] The file or folder may be Encrypted
The encryption method is best to ensure protection against any unauthorized access to files and folders. If you do not have access to a file or folder, it is possible the file is encrypted.
Try the following steps to check the same.
Right-click the file/folder and select the Properties option. Next, hit the 'General' tab, and press the 'Advanced' button.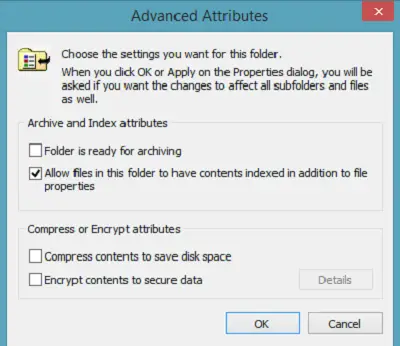 Uncheck the 'Encrypt contents to secure data checkbox. If you find 'Encrypt contents to secure data' checkbox is checked, you will need the certificate to decrypt the file and open it. You can get it from the person who had encrypted the folder.
See this if you see An Unexpected Error is keeping you from renaming the folder message.
Related reads: