If you get stuck with ans Access Denied message when opening a particular website, then its probably because there is some network-related issue in the browser only. The full error message would say "Access Denied, You don't have permission to access on this server" along with URL which you cannot be accessed with a reference number. I recently faced this issue when I tried to visit microsoft.com with my Firefox browser. Let's see how to resolve this issue.
Access Denied, You don't have permission to access
The issue occurs when Firefox uses different proxy settings or VPN instead of what is set on your Windows computer. Whenever a website figures that there is something wrong with your network or browser cookies, etc, it blocks you.
Here are a few things to do if you face this issue in Firefox. The similar things can be done in any other browser too.
1] Clear Everything about the website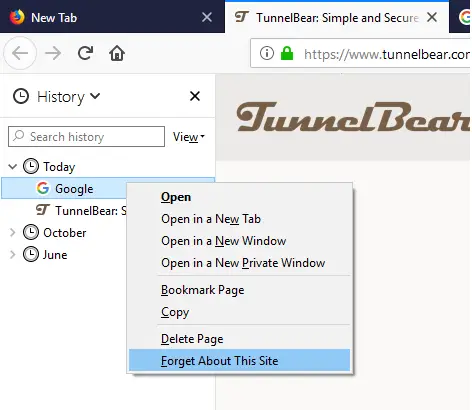 Launch Firefox, and press CTRL + H
Find the listing of the website in history, and right click on it.
Select Forget about this site.
This option deletes all data including history, cache and cookies and passwords. So if you have a password or any important data of the website, save it – else use another method to clear the browser cache.
2] Turn off VPN

If are using a VPN software or have installed any third party VPN extension in Firefox, turn it off. Once it's turned off, Firefox will pass through whatever is configured on the computer and you should be able to access it. These extensions should be easy to turn on and off to help you figure out the problem.
3] Disable Proxy
If you do not have any VPN extension, then we need to check on the proxy settings of your browser.
Launch Firefox, and then click on the menu button (three lines)
Select Options. You can also type "about:preferences" in the address bar to open it.
Under General > Network Proxy > click on the Settings button.
This will open Connection Settings, and select "Use system proxy settings".
This will make sure that Firefox now uses the same network settings which are configured on your Windows computer.
If it does not help, use another browser to access the website.
Related read: Remove Access Denied error when accessing files or folders.