Windows 11/10 includes a new feature that lets you reset your network and fix connectivity issues with the click of a button. You can use the Network Reset button in Windows 11/10 to reinstall Network adapters & set networking components to default settings if you face connectivity problems.
Reset networking components & reinstall Network adapters
Windows 11/10 already offers the Network Troubleshooter that can help you, if you cannot connect to the Internet. But if this tool is unable to fix your connectivity problems, you need to reset all networking components & settings to their default value and reinstall your Network adapters – and you can do all this by simply using the Network Reset feature.
Network Reset feature in Windows 11/10
If you need to use this Network Reset feature in Windows 11, take the following steps: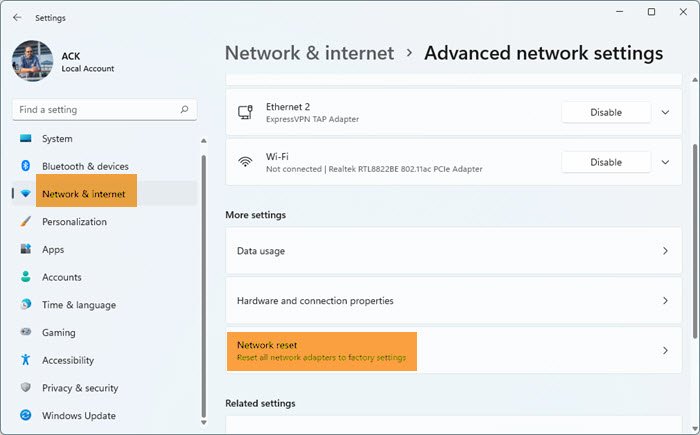 Open Windows 11 Settings
Click open Network and internet settings
On the right, scroll down till you see Advanced network settings and then click on it
Again scroll down on the next screen till you see More settings
Here click on Network reset
On the next screen, click on the Reset now button and wait for the process to complete.
Restart your computer.
In Windows 10, open the Start Menu and click on the Settings icon. Next, click on Network & Internet. Next, click on the Status link on the left side. Here you will be able to see the status of your Network. You will also see a link her that lets you open the Network Troubleshooter.
Scroll down till you see the Network reset link.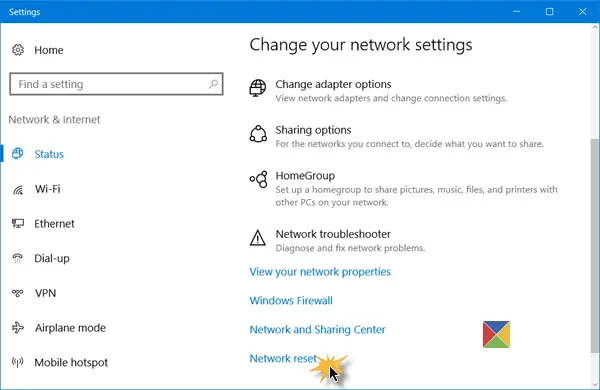 Clicking on it will open the following window.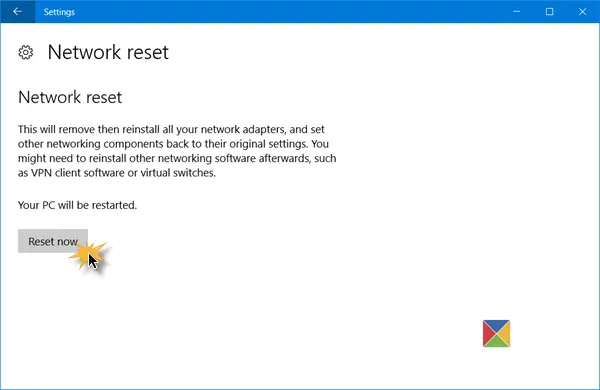 The Network Reset feature will first remove and then reinstall all your network adapters and set other networking components back to their original settings and default values.
After your run this tool, you may have to reinstall your networking software like VPN or Virtual switches, if you are using them.
Once you are sure and ready, click on the Reset now button, You may be asked to confirm. Click on Yes to proceed, and wait for the task to complete, after which your Windows 10 computer will be restarted.
Let us know if this feature helped you.
Related reads: