Microsoft Office Outlook maintains everything in a data file, also called PST or OST file. It is an offline copy of mailbox data stored on a local PC. In case of issues, you must delete the data file and reconfigure everything. However, when doing so, you may receive an error saying You cannot delete this Outlook data file. This post looks at possible solutions that can help you delete the file.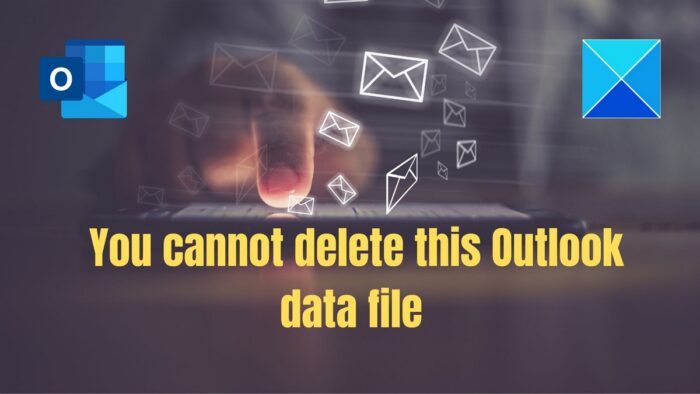 The entire error message says:
You cannot delete this Outlook data file. Configuration information in the file is being copied to your new default data file. You can delete the file after this information is copied.
The error message is clear: Outlook is trying to fix the problem on its own when it detects an issue. When you try to delete it while recovering, the error shows up. While ideally, you should wait, the process may be stuck forever. That's where you need to resolve it.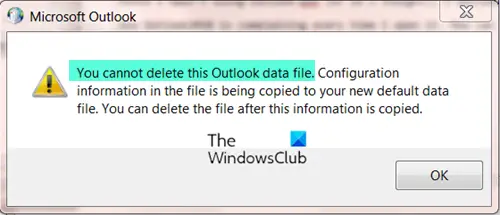 Fix You cannot delete this Outlook data file error message
If the process doesn't complete, and you cannot delete the Outlook data file, then follow these methods o resolve the problem.
Repair Outlook Data Files
Terminate Outlook using Task Manager
Delete & Recreate Outlook profile
Delete Outlook profile folders
You will need admin permission and a clear understanding of using Registry editor.
1] Repair Outlook Data Files
The Outlook Data File (.ost and .pst) contains your Outlook messages, emails, and other items. If your Outlook Data File becomes corrupted, it may lead to various issues. And this could be why you cannot access emails in your Outlook desktop client. Therefore, you should repair your corrupt Outlook Data File. For this, you can use the built-in Microsoft Outlook Inbox Repair tool that helps to repair corrupt Outlook PST and OST personal data files.
Before doing that, you should also back up your data files first so that you can restore them if needed. For this, open File Explorer and access the Outlook folder. Here is the path:
C:\Users\%username%\AppData\Local\Microsoft\Outlook
In that folder, copy the .ost and .pst data file(s) available for your Microsoft Outlook account(s), and paste them to another folder on your Windows 11/10 computer.
2] Terminate Outlook using Task Manager & Relaunch Outlook
Assuming that Outlook is stuck trying to complete the process, a normal exit will not work. Outlook will keep running in the background. So it's best to kill the process using the Task Manager.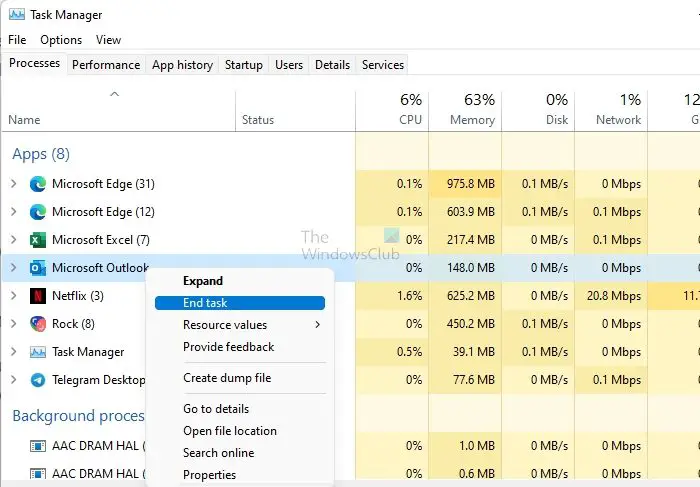 Press Ctrl + Shift + Esc to open the Task manager
Sort the running process by name, and locate Outlook
Right-click on it, and click on Kill task
Once it is not visible on the list, manually delete the Outlook file. Restart Outlook, and things should be fixed.
2] Delete & Recreate the Outlook profile
Instead of directly deleting the Outlook file, you can also choose to recreate it. Before we go ahead, you should know that deleting an Outlook profile will also delete all email accounts stored in that profile. If you can open Outlook, then follow these steps: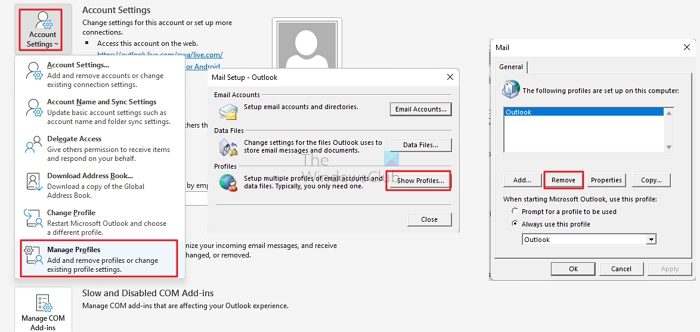 In Outlook, click File > Account Settings > Manage Profiles
Select Show Profiles.
Select a profile, then select Remove.
You may get a warning that removing the profile will also delete the offline data. However, it will not remove anything from your online accounts.
If you can't start Outlook, use the command you can also use outlook.exe /manageprofiles in the Run prompt (Win + R), and press the Enter key to access the Show Profiles dialog by typing
3] Delete Outlook profile folders
Outlook stores some of the configuration data in the Windows Registry. The issue should be resolved if the profiles are deleted from the registry. However, before going ahead, first, create a system restore point.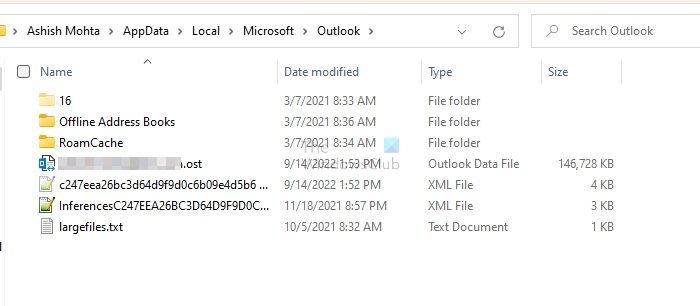 Open Run prompt using Win + R; type regedit and press the Enter key to open the Registry editor.
Navigate to the following path:
HKEY_CURRENT_USER\Software\Microsoft\Office\15.0\Outlook\Profiles
This key stores your Outlook profile folders. The default Outlook profile is "Outlook." Right-click on Outlook and delete it.
Note: If you have created multiple Outlook profiles, then delete only the profile with which you have the issue. If it doesn't work, then delete all of them.
If you are deleting the Outlook file because your email account is not syncing, then you may want to repair that Outlook email account and see if that helps you.
Conclusion
I hope the post was easy to follow and you were able to delete the Outlook data file and get rid of the error. We have explained multiple ways to get this done. Ensure that Outlook is closed when you are doing this.
Can I delete Outlook AppData?
Yes. You need to go to the following path C:\Users\ashis\AppData\Local\Microsoft\Outlook\RoamCache and then delete all the files inside it. Make sure Outlook is not running when deleting the cache. Restart Outlook, and it will recreate the cache files.
Read: How to Auto Delete email in Outlook selectively
How to repair Outlook PST files?
You can use the SCANPST.EXE file available in Outlook to repair the PST file. The tool can recover the Calendar, Contacts, Deleted Items, Inbox, Journal, Notes, Outbox, Sent Items, and Tasks.