Sometimes when you turn on your computer, you get your Windows 11/10 login screen, but then it gets frozen, maybe reboots on its own, or it stops and does not respond to your command. You may get the login screen, but nothing happens after entering the password. Another situation is where you can log in at times, but after that, Windows freezes, requiring manual rebooting. This post will look at possible solutions that help you resolve the situation where Windows is stuck at the lock screen before login.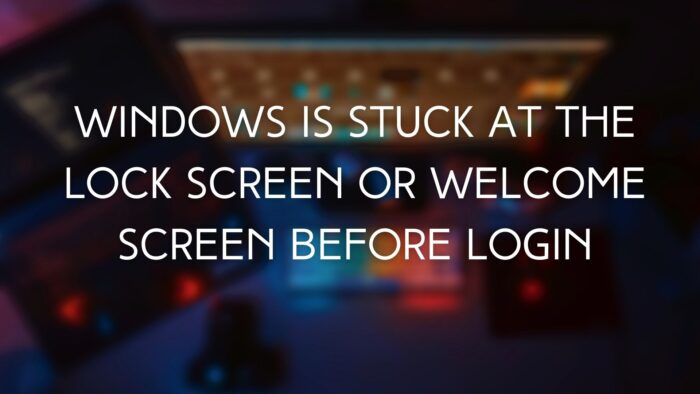 There is an even worse scenario that relates to this problem. Windows seems to start, but the desktop doesn't show up, and all you can do is move your mouse on a back screen. The reason behind the problem could be many. A faulty hard drive that cannot load files, incompatible software that takes a lot of time to load, corrupt system files, and more.
Windows is stuck at the Lock Screen before login
If you are stuck at the Lockscreen before login, it may be because of startup issues, incompatible software, driver issues, outdated software, corrupted files, etc. The most common fix people do to resolve this concern is to press the CTRL+ALT+DEL keys together or reboot the system. But what if this doesn't work? Follow these suggestions.
Repair Using SFC Tool
Fix Corrupt File using DISM Tool
System Restore
Startup Repair
Perform Clean Boot
Run Disk Surface Test.
You will need admin permission for some of these suggestions.
Since you cannot proceed to your desktop, you will have to restart your computer in Safe Mode or access the Advanced Startup Options screen or use bootable media to boot.
If you had already enabled the F8 key earlier, things are easier as you press F8 while booting, to enter Safe Mode. Else, press Shift and click Restart to boot you into the Advanced startup options screen. Open Settings > Update & Security > Recovery > Advanced startup > Restart now. Type shutdown /r /o in an elevated CMD prompt to reboot your computer into Advanced Boot options or Recovery console.
If you cannot enter Safe Mode, then you may then have to boot into Windows 11/10 with your Windows Installation Media or Recovery Drive and select Repair your computer to enter Troubleshoot > Advanced Startup Options > Command Prompt. You can now use CMD to run commands. You may use a Windows 11/10 DVD or a bootable USB drive, or you can burn Windows 10 ISO to a USB drive using another computer.
Well, in either case, you have the following options:
1] Repair Using SFC Tool
Windows System File Checker (SFC) tool checks errors or corrupted System Files and fixes them. It scans to check the integrity of system files and check if there are missing, corrupted, or damaged files, and replaces them with updated ones. If your system crashes, sends an error and has problems, you can use the SFC tool.
Open Command Prompt or  Windows Terminal (Administrator) to launch it.
On this window, type sfc /scannow and press Enter.
Wait while Windows is scanning your system files for errors and tries to fix them.
It can take 10 to 20 minutes for a complete scan. If the SFC scan results did not find any integrity violations or find corrupt files and repairs, suppose corrupted files are located but can't fix it. Then you need to take the help of a DISM tool to resolve the issue.
Related: Windows is stuck on Welcome screen
2] Fix Corrupt Files Using DISM Tool
Deployment Image Servicing and Management or DISM is a command-line tool to combine separate Windows platforms into a single, collective tool for servicing Windows images. DISM can fix Component Store Corruption known to prevent SFC scans from working properly on your system.
Click the Start button and type Command Prompt
Once it appears, launch it with Admin permission
Then type DISM /Online /Cleanup-Image /restorehealth and press Enter.
Let the DISM tool check your system for errors and fix them.
This process takes 10 to 15 minutes or more. After this DISM process is finished, restart your system and rerun it to replace the remaining corrupted files (if any) with the updated ones.
3] System Restore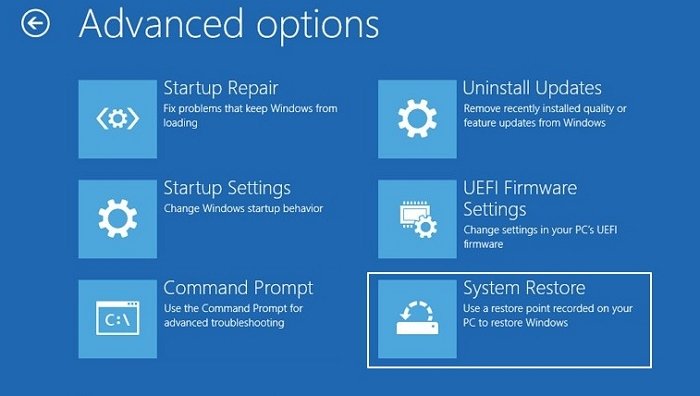 Since you cannot get into the Windows account, you can force repair mode by recreating the crash mode scenario.
Reboot your system a few times until the Automatic Repair message pops up.
Then go to Troubleshoot, look for Advanced options, and select System Restore.
Choose your username and enter your password. (Admin account)
Click Next, select the desired restore point and follow instructions on the screen to restore your system.
After the system restores, check if the problem still exists.
4] Startup Repair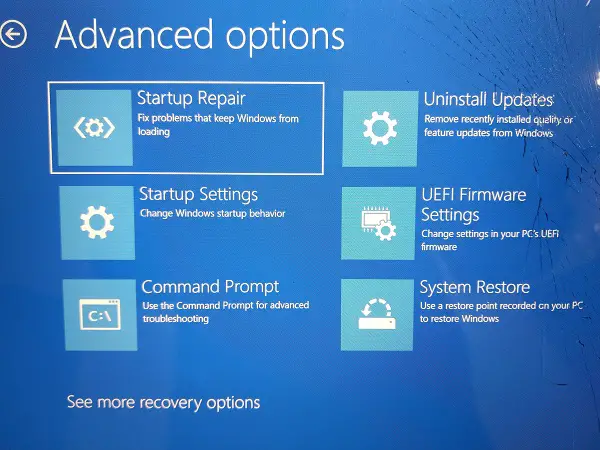 You will need a bootable USB drive to perform this method on another computer. Prepare the USB, and change the first boot drive as USB in the UEFI or BIOS. Reboot the computer, and it will display the usual Windows install screen, but at the bottom left, you can click on the Repair this PC option.
Next, you should see the Advanced Recovery Option. Click on Troubleshoot > Advanced options > Startup Repair.
Startup Repair will scan your computer and check the various settings, configurations, and system files. Startup Repair will try to look for the following issues.
Missing or corrupted or incompatible drivers
System files that are missing or corrupted
Missing or corrupt boot configuration settings
Corrupt Registry settings and disk metadata.
Remove problematic updates
Now Restart windows normally and log in to the user account. If you are not stuck, the problem is resolved.
5] Perform Clean Boot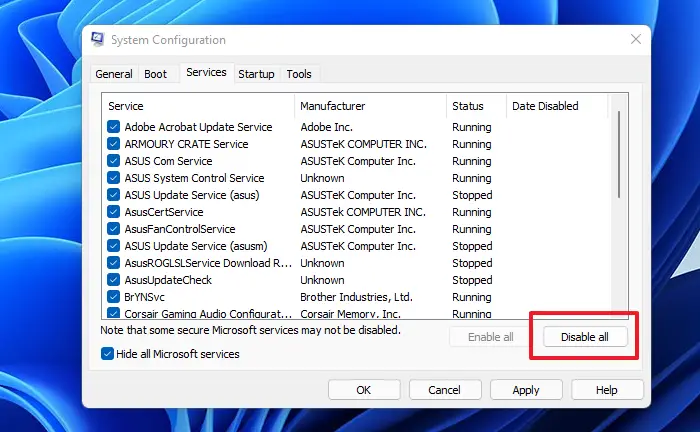 Third-party software on Windows may cause this issue. It can prevent Windows from normally starting, especially those which load with the Windows Startup. To resolve this, you need to perform a clean boot which will load only required services.
Use Win key + R to open the Run prompt.
Type msconfig and then press Enter to open System Configuration
Switch to the Services tab and select Hide all Microsoft services and click on Disable all button.
Restart and check the status of the issue.
The best way to pinpoint the rouge applicant is to repeat this step-wise. Enable each program one by one, reboot. Check when it gets stuck, and you will find the application which caused the problem.
6] Disk Surface Test
If there is an issue with your hard drive having bad sectors, you are likely to encounter this issue. You may use CHKDSK or third-party freeware to perform disk surface tests and shield the bad sectors. After this, you can reboot your system normally. Since you cannot log in, you can connect the hard drive to another PC and perform such tests.
Hopefully, at least one of the above fixing methods works for you. Otherwise, else you have to reinstall Windows. Installing Windows from scratch will erase your system data. So, we suggest you take regular backups with third-party backup and recovery software.
Taking backups will save you from inconvenience someday that too, without losing data. At times there is no solution, and all you could do is reinstall Windows. That's where it comes in handy.
7] Uninstall Latest Update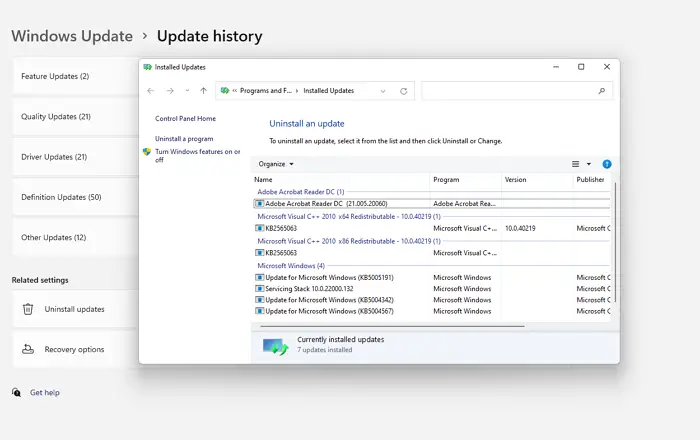 If one of the recent updates is behind this problem, you can boot into Safe Mode and then uninstall such update(s).
Use Win + X, followed by R to open the Run prompt.
Type msconfig to open System Configuration Utility.
Switch to Boot tab, and then under Boot Options, check Safe Boot with minimal option.
The next restart will allow you to work in Safe Mode.
To uninstall the updates, go to Settings > Windows Update > Update History > Uninstall Updates
It will take to the classic Control Panel Installed Update section.
Based on when the update was installed, you can choose to uninstall
Reboot, and check if it works for you.
More suggestions: Windows is stuck on loading some screen.
How do you unfreeze a Windows lock screen?
Here is the list of the methods you can try in Safe Mode:
Run system file checker
Update all of the device drivers
Run memory check
Adjusting virtual memory
Turn off the link state power management
Turn off the fast startup
Reset Winsock catalog
Try to diagnose hard drive issue, if any.
If nothing works, you can try System Restore, and if that also doesn't work, you will have to reinstall Windows. Also, make sure to check if there is a problem with your hard drive.
I hope this troubleshooting guide helped you resolve the issue.