In this post, we detail the description of the setup and also known issues as it relates to the Windows 365 Cloud PC, as well as troubleshooting steps or fixes that can be applied that can help resolve these issues across devices.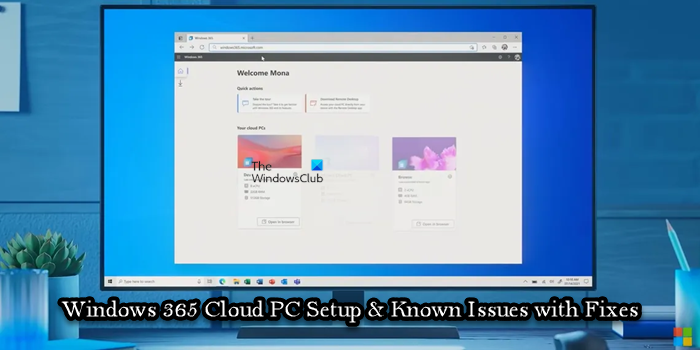 Windows 365 Cloud PC setup issues with fixes
If the setup for the Windows 365 Cloud PC for a user takes longer than 90 minutes after a license has been assigned to the user, or the user gets the Setup failed error, then the fixes presented below can be applied to resolve the issue.
Make sure the MDM authority configuration is set up correctly
Reset your Cloud PCs
These suggestions have been sourced from Microsoft. You must be a Global admin to carry out most of these tasks or be assigned other admin roles that can be used for a specific procedure. If you don't have permission to log in to or access parts of the Azure portal, you will need to contact your IT admin.
1] Make sure the MDM authority configuration is set up correctly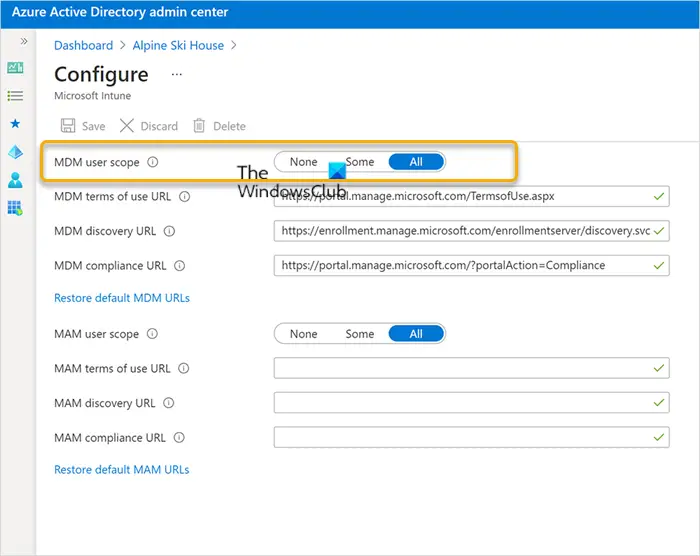 If the MDM authority configuration in your environment is incorrect, setup failure may occur. In this case, depending on whether you plan to use Microsoft Intune to manage the Cloud PCs or not, you can, as detailed in Microsoft documentation at learn.microsoft.com do either of the following:
Make sure the Mobility (MDM and MAM) settings are correctly configured
Turn off automatic MDM enrollment and Intune enrollment in Organization Settings
Read: Microsoft Intune not syncing? Force Intune to sync in Windows
2] Reset your Cloud PCs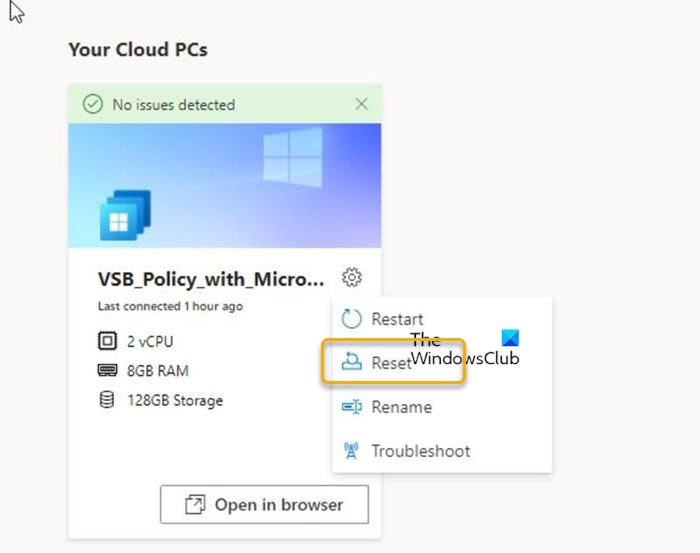 Now, after you complete the troubleshooting steps outlined above, all users that received the Setup failed error are required to restart/reset their Cloud PC setup by following these steps:
On the Windows 365 home page, select the gear icon for any Cloud PC with the Setup failed status.
Select Reset to restart the setup process.
If after the reset, the "Setup failed" error is still shown, you will have to complete the step above (if you skipped it) that requires you to make sure the Mobility (MDM and MAM) settings are correctly configured, then reset the Cloud PC again. Otherwise, in the left navigation pane, select New support request to open a support ticket.
Read: Windows 11/10 devices can't sync with Intune after enrollment
Windows 365 Cloud PC Known issues with fixes
The following are known issues (with the applicable fix) users may encounter in Windows 365 Cloud PC after setup must have completed successfully for the users.
1] Microsoft 365 Business Standard not activating on Cloud PCs
A user may get the error below when trying to use a Microsoft 365 Business Standard license on their Cloud PC:
Account Issue: The products we found in your account cannot be used to activate Office in shared computer scenarios.
In this case, the user should uninstall the version of Office installed on their Cloud PC and install a new copy from Office.com.
Read: How to troubleshoot Office Activation problems and errors
2] Some websites might display the wrong language
Some users might see content based on where the Cloud PC was created, instead of content based on where the user is located. This is because some websites that are accessed from a Cloud PC use its IP address to determine how content is displayed.
To work around this issue, either of the following is applicable:
Users can manually change their language/locale in the URL for most websites. For example, in the URL, change the language/locale from en-us to fr-fr to get the French version.
Users can manually set their internet search engine's location. For example, users on Bing.com can access the Settings menu on the top right of the site to manually set the Language, Country/Region, and Location.
Read: Disable Language Translation; Change Display Language in Edge
3] Microsoft Narrator screen reader is not turned on
The Microsoft Narrator screen reader may not be turned on for some users when they sign into their Cloud PCs from the Windows 365 homepage. To turn on Narrator when accessing your Cloud PC from the web interface, once you sign into your Cloud PC on windows365.microsoft.com, on your keyboard, press the Alt+F3+Ctrl+Enter key combo.
Read: Narrator & Magnifier keyboard shortcuts in Windows
4] Sending outbound email messages using port 25 isn't supported
For security reasons, communication over port TCP/25 is blocked (isn't supported) at the Windows 365 Business network layer. So, users will be unable to send outbound email messages directly on port 25 from a Windows 365 Business Cloud PC.
To work around this issue, either of the following is applicable:
If your email service uses Simple Mail Transfer Protocol (SMTP) for your email client application, you can use their web interface, if available.
Ask your email service provider for help with configuring their email client app to use secure SMTP over Transport Layer Security (TLS), which uses a different port.
Read: Cannot send Email when connected to VPN
5] Virtual Private Network support
Microsoft can't confirm which services work with Windows 365 Business due to there being many Virtual Private Network (VPN) solutions available. You will need to consult with your VPN provider for more information. However, Windows 365 Enterprise is recommended for organizations with advanced networking needs. For more information on the network requirements, head over to learn.microsoft.com.
6] Missing start menu and taskbar when using iPad and the Remote Desktop app to access a Cloud PC
The Start menu and taskbar might be missing from the Windows 11 user interface when non-local admin users sign into a Cloud PC using an iPad and the Microsoft Remote Desktop app. To resolve the issue in this case, make sure that you have the latest version of the Remote Desktop Client. In addition, you can also sign into the Cloud PC via windows365.microsoft.com.
7] Restore and automatic rolling credentials
Many devices registered with Active Directory might have a machine account password that is by default automatically updated every 30 days. This automation applies to hybrid joined PCs but not Azure Active Directory Native PCs. The machine account password as referenced on techcommunity.microsoft.com is maintained on the Cloud PC. If the Cloud PC is restored to a point that has a previous password stored, the Cloud PC won't be able to sign onto the domain.
8] Cursor visible location offset from the actual position
In a remote desktop session, when you select one position in a text file, the cursor in the Cloud PC has some offset with the real position. This issue/conflict occurs because in high DPI mode, both the server and Cloud PC browser scale the cursor which results in an offset between the visible cursor position and the actual cursor focus. The applicable fix, in this case, is to turn off high DPI mode.
Read: Fix High DPI issues with Remote Desktop on Windows 11/10
9] Outlook only downloads one month of mail
Outlook only downloads one month of previous mail, and this can't be changed in Outlook settings. However, you can modify the registry to set the default to one month so that you can now be able to change the download period in Outlook settings per your requirement. To perform this task, do the following:
HKEY_CURRENT_USER\SOFTWARE\Policies\Microsoft\office\16.0\outlook\cached mode
HKEY_CURRENT_USER\Software\Microsoft\Office\16.0\Outlook\Cached Mode
Read: How to make Outlook download all emails from the server
Hopefully, you find this post informative and helpful!
Now read: Windows 11 version 22H2 Known Issues and Problems
How long does it take to set up Windows 365 Cloud PC?
Windows 365 will provision/create a Cloud PC for a user as soon as a license is assigned to the user. This process can take up to 30 minutes. You can remotely manage Cloud PCs by using the Microsoft 365 admin center by following these steps:
Sign in to the Microsoft 365 admin center.
In the left navigation, select Users > Active users.
Select the user whose Cloud PC you want to manage.
Select Devices.
Select the Cloud PC you want to manage.
Select the action that you want to perform.
Read: Use the Set up School PCs app to set up Windows PCs in Schools
What are the issues with Office 365?
Below are the 8 Common and Known Issues with Office 365. To fix most Office 365 problems on PC, you can use the Office 365 Repair Tool. To do so, go to the Control Panel > Programs and Features. Select Office 365 and click Repair. You will be presented with two options: Quick repair, and Online repair.
Cloud Availability Roadblocks.
Performance Degradation.
Login Access and Timeout.
Synchronization Errors.
Network Jitter.
Bandwidth, Throughput, and Connection Problems.
Packet Loss.
Failed Program and Migration Update.
Read: Sorry, we are having some temporary server issues – Office 365 apps.