Unwanted emails can take up a large space of your computer memory. To avoid this, Microsoft offers a parameter in Microsoft Outlook that determines how much mails should be available for download on your local PC. So, if your mail account is linked to Microsoft Exchange Server like Office 365 or Hotmail then, the configured parameter will automatically set the mails limit for your computer. If required, you can change this setting and make Outlook download all emails from the server.
Make Outlook download all emails
If you're using a mail provider service other than the one provided by Microsoft Exchange Server, like Google then, Outlook will simply ignore the parameter and download all mails.
To download all emails from Exchange Server in Outlook-
Connect to Microsoft Exchange via Link
Change Exchange Account Settings.
1] Connect to Microsoft Exchange via Link
The simplest way to download all your emails from Exchange server is to scroll down to the bottom of a folder. If there are more items in that folder on the server, you'll see a 'Click here to view more on Microsoft Exchange' link.
Hit the link and in seconds Outlook will begin to download all the emails to your computer.
2] Change Exchange Account Settings
For this, open Microsoft Outlook and go to the 'File' menu and choose 'Account Settings'.
Next, select 'Account Settings' again from the drop-down menu.
When directed to the 'Account Settings' window, select your account and hit the 'Change' button.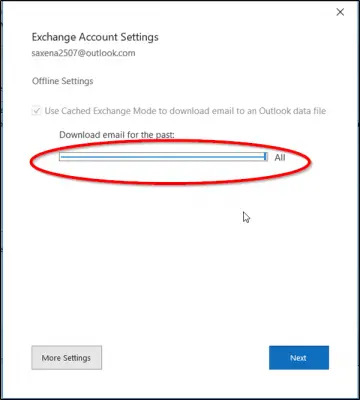 Thereafter, in the 'Offline Settings' window that opens up, check if 'Use Cached Exchange Mode' is enabled. If yes, slide the 'Mail to keep offline' slider to the desired time limit you want.
By default, options ranging from 3 days up to 5 years and All are available. Choose 'All' if you would like Outlook to download all of your mail to your computer. Before choosing 'All' option, make sure you have enough Disk space available on your computer.
When done, click 'Next' and restart Outlook, when prompted.

Once the process, is complete, you'll notice a message at the bottom of Outlook saying 'All folders are up to date'. This indicates that you have downloaded all your emails from Microsoft Exchange Server to your Outlook account.
Related: Leave a copy of messages on the server option missing in Outlook.
Hope you find this tip useful.