Microsoft Outlook isn't just all about making it possible for users to view their emails and respond to them. The application, whether it be the desktop or web version, is more than capable of allowing its users to download emails to their computers with ease. This is a good idea because some folks prefer to have important email messages on their computer or uploaded to their cloud storage provider of choice. The question is, how can we get the job done using Outlook?
How to download Outlook emails to Windows computer
As stated above, the feature is there, it's just knowing how to go about taking advantage of it, so let us explain how to download Outlook emails to your Windows computer
Download emails from Outlook 365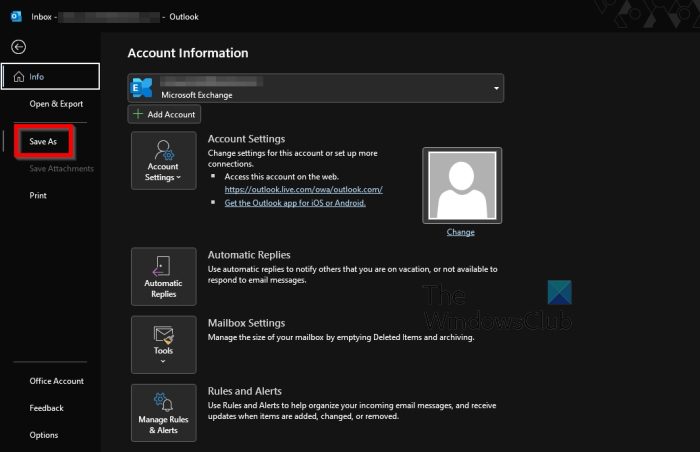 First, we want to discuss how to download emails from the desktop version of Microsoft Outlook, or Outlook 365.
Open the Outlook app on your Windows computer.
Select one or more emails you wish to download.
After that, click on File.
From the left panel, then, you must select Save As.
Choose the folder where you want the emails to go.
Add a name for the content.
Select a file format.
At the moment, you can only use MSG, .TXT, .OFT, HTML, or .MHT file format.
Hit the Save button, and that's it.
Download emails from Outlook on the web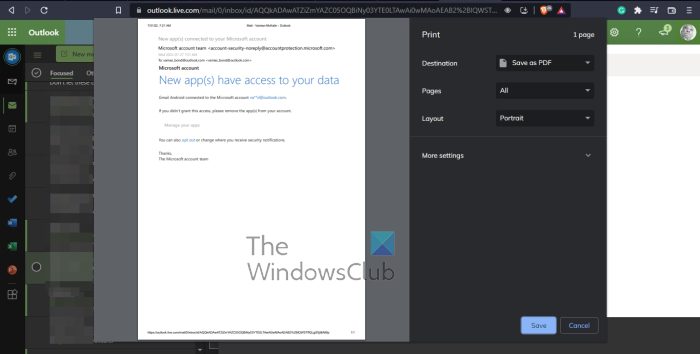 OK, so in terms of downloading emails from Outlook on the web, the task is just as easy, if not, easier. Now, we must point out that it is not possible to download multiple emails all at once.
Launch your favorite web browser.
Navigate to outlook.live.com
Click on the email you wish to download.
From there, you must click the three-dotted button located within the email itself.
From the dropdown menu, select Download, then hit Save.
If you do not see the Download button, then your next bet is to save the email as a PDF.
From within Outlook.com, click the preferred email.
Select the three-dotted menu button.
Next, click on Print via the dropdown menu.
Atop the Print window, click on Print once more.
From the Destination area, release the dropdown menu and select Save as PDF.
Finally, hit the Save button, and that's it, you're done.
Read: How to enable and use the Crop to Shape button In Outlook
Do I need Office 365 to use Outlook?
There is not a standalone version of the Outlook desktop app. You will have to subscribe to Microsoft Office 365 or choose to use the web version. Bear in mind however that the web version of Outlook is primarily there for sending and receiving emails. It does not contain advanced features found in the desktop version.
Does Outlook require a Microsoft account?
Since the year 2013, a Microsoft account is needed to install Office on your computer, so yes, such an account is required for Outlook. But if you already have an Outlook.com, or even OneDrive, Skype, or Xbox, then all you have to do is sign in with the same account used for those apps.