Microsoft has released Windows 365 Switch which allows its users to switch between Windows 365 Cloud PC and the local desktop using some simple-to-use commands, gestures, and clicks. In this post, we will see how you can switch between Cloud PC and Desktop using Windows 365 Switch.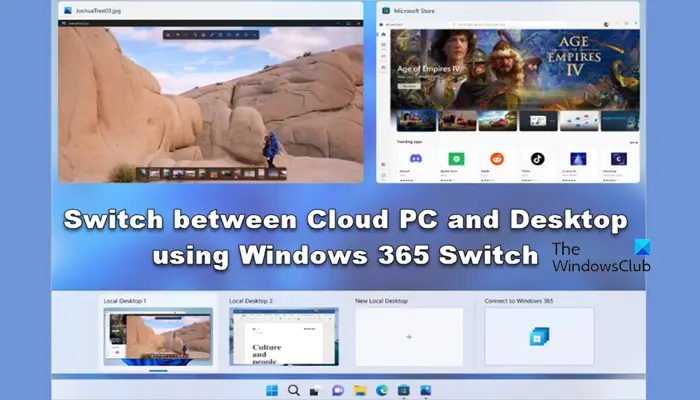 Switch between Cloud PC and Desktop using Windows 365 Switch
To switch between Cloud PC and Desktop using Windows 365 Switch, you need to get hold of a few things. The computer on which you intend to use this feature must be Windows 11 Pro or Enterprise. You also need Windows 365 Cloud PC license.
Since the feature is currently available on Insider builds, you must be enrolled in the Windows Insider Program and have Beta Channel. 
Let us learn a step-by-step guide on how to get everything and start switching desktops.
1] Get Windows 11 Beta channel for your cloud and local PC
As mentioned earlier, endpoints, be it your cloud PC or the local one must have Windows 11 Beta channel. In order to get one, you need to enroll in the Insider Program and select the Beta channel. Follow the steps mentioned below to do the same.
Open Settings > Windows Update > Windows Insider Program.
Now, click on the Get Started option.
Here, you need to log in using your Microsoft or Azure account.
From the list of versions, you need to click on the Beta Channel option and click Continue.
Now, restart your computer.
Finally, check for updates and install Beta updates.
It would be best to have Build 22631.2129 or higher running on both Cloud and Local computers, although this feature also works in Dev Channel. You can follow the steps mentioned above for both systems.
Read: How to deploy Windows 365 Boot to your endpoints?
2] Download and install Windows 365 app
If you already have Windows 365 app, you can skip this step. But if you don't have the app in question, there are a few ways by which you can download it; however, in this guide, we will talk about the easiest of the bunch, that is, via Microsoft Store. To install Microsoft 365 app from Microsoft Store, follow the steps mentioned below.
Open Microsoft Store.
Now, search for "Windows 365 app".
Click on the Get button.
Alternatively, you can download the app from  windows365.microsoft.com.
3] Use Windows 365 to switch experience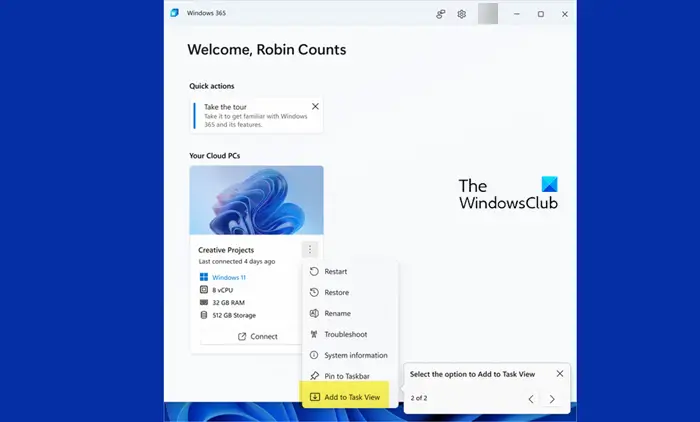 Once you got all the prerequisite steps in check, it's time to start switching. However, first, you need to configure Windows 365, open the app and follow the on-screen instructions and you will be good to go. After completing the initial setup for Switch, you will get a prompt in the form of a tool tip above the Task View icon on the Windows 11 taskbar. If you already have Windows 365 subscription and are on the correct version of Windows Insider, you will be taught how to use the switch.
If you want to enable Switch, go to the user action menu, and from there, click on Add to Task view option. Now, you can switch between cloud and local computers from the Task view button. Just hover over the Task view button and click on Connect. Windows 365 Cloud PC, through the Windows 11 experience, will be launched. Now, you can switch between the two machines by clicking Task view.
Hopefully, now you can use Windows 365 to switch between Cloud PCs and Local Desktop.
Can a user have multiple Windows 365 cloud PCs?
Yes, you can have multiple Windows 365 cloud computers. Let's say you are a freelance worker, who works for various companies, and you need access to multiple PCs; you can do that. However, Microsoft doesn't allow you to share Cloud PCs and work on one user per license policy.
Read: How to enable Hyper-V on Windows 365 Cloud PC?
What is the difference between Azure Virtual Desktop and Windows 365 cloud PC?
Even though both Azure Virtual Desktop and Windows 365 Cloud PC are products from Microsoft, there are some key differences between the two. On the one hand, Azure VD grants a flexible environment where you can manage VDs and applications and control many more things. Whereas on the other, Windows 365 goes for a simple and minimal approach. You will be granted a lot of SKUs and tailors user experience.
Also Read: Windows 365 Cloud PC Setup & Known Issues with Fixes.