Microsoft Edge is equipped with a native feature that brings translation features to the browser. In this post, we will show you how to disable or enable website language translation, how to add a language & how to change the display language in the new Microsoft Edge browser.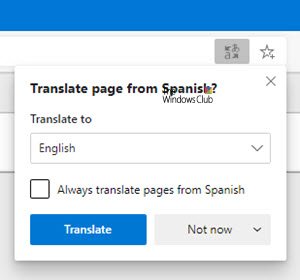 The built-in Microsoft Edge translation tool is similar in function and works pretty much the same as Google Chrome. We will see the method to:
Disable language translation
Add a language
Change Display language for Edge
Please note that you should have the latest version of the Edge (Chromium) browser installed.
Disable Language Translation in Edge
Launch Edge browser. When the browser window opens, click the 'Settings and more' button (visible three dots) in the upper-right corner.
Select the 'Settings' and choose 'Languages' option.

Under the 'Languages' section, turn on the 'Offer to translate pages that aren't in a language you read' toggle switch.
Once done, close the Settings of the browser and Exit.
Hereafter, whenever the Edge browser detects a language other than the one you read, it will flash show a prompt to translate the page. The prompt will include a menu to allow you to select the language in which you would like the content to translate. By default, the option will be the default language configured for the browser.
Thus, with these simple steps, you can easily enable website language translation in the Microsoft Edge browser.
Add a Language to Microsoft Edge browser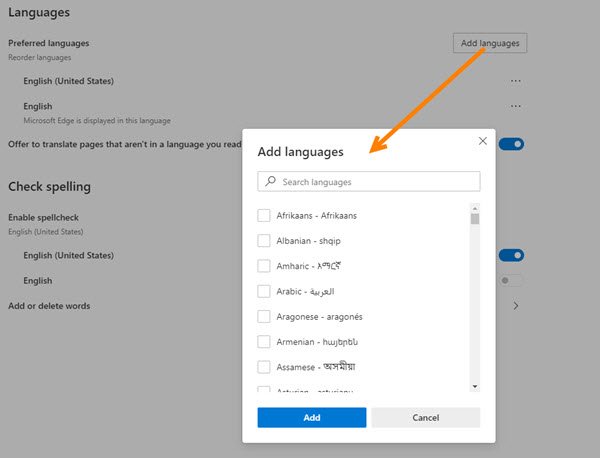 To add a new language to your Microsoft Edge browser, go to Settings> Languages. Under the same Languages setting, you will see a Add languages button.
A box will appear displaying the list of languages in alphabetical order. Select a Language that you want to add by checking the box marked against it and hit the 'Add' button.
Change Display Language for Edge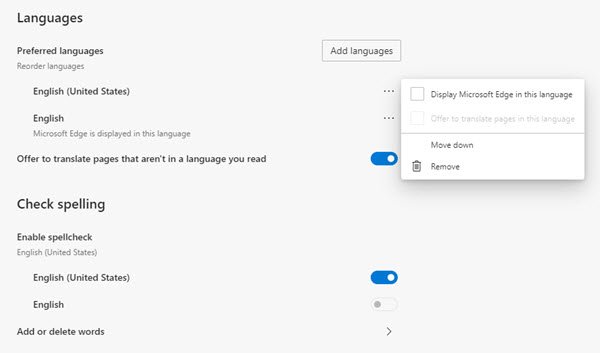 Click 'Settings and more' and choose 'Settings' from the list of options displayed there.
Next, scroll down to 'Languages' section.
Then, switch to the right-pane and under 'Languages' description, choose 'More actions' (visible as 3 horizontal dots).
A box will open, check the box marked against 'Display Microsoft Edge in this language'.
You can even reorder the language chosen by simply by pressing 'Move to the top' or 'Move up' option.
Hope this helps.