The new version of Microsoft Edge, which is based on Chromium, is quite different from the original, therefore, some things might not be easy to find. For example, if you were looking to change the language, you would probably be left wondering how to do it.
Luckily, were going to discuss changing the language in the new Microsoft Edge, so keep reading because you're going to learn something today. Now, the reason for wanting to change the language for your browser could boil down too many things, and well, it's not our concern to question your motives. However, we will say the option is there to translate web pages automatically if you so wish.
We assume such a feature could come in handy if you're in another country that isn't a native speaker of your language, and you would love to browse the local websites with much fuss.
How to change the Language in Edge browser
To change the Language in the new Chromium-based Microsoft Edge browser, do the following:
Launch Edge browser
From the top-left, open Settings
Select Language settings from the left panel
Add or change the language here, among other things
The first thing one must do is enter the Settings area because that's where you will find all the awesome goodies.
OK, so when its time to change the language, scroll down to the section that says Language and click on it right away. You should now see two sections in the form of Languages, and Check Spelling.
To select your preferred language, then, please click on Add Languages, and choose from there.
Then you can set your preferred language.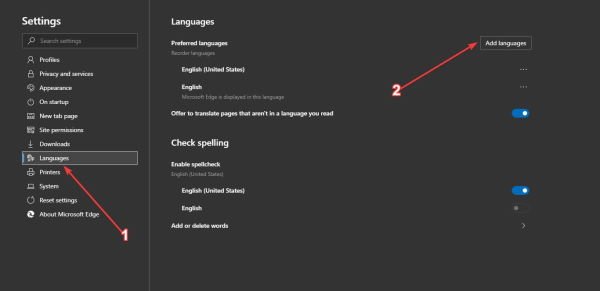 Additionally, toggle the button beside Offer to translate pages that aren't in a language you read to translate any webpage into your language of choice. This relies heavily on Microsoft Translate, so if you're not a fan of the service, then you probably won't find the results as pleasing enough.
In terms of checking the spelling whenever you type on websites, the tool can do this automatically. Go to Check Spelling and toggle the button to turn it on or off.
We will be releasing more tips on how to use the new Microsoft Edge sooner rather than later, so look out for those, folks.