Most programs, apps or browsers prefer to use English as their default language. However, not all of us are native English speakers. As such, we like to use apps in our language. If you are interested in knowing the method to change the user interface language of a browser, read this post and follow the instructions given below.
Change User Interface language for your browser
If your browser of choice is Google Chrome or Mozilla Firefox and you do not know how to change its user interface language, check this guide. It can help you get your browser to work in any language you prefer. This post covers the following:
Change Chrome browser user interface language
Change Firefox browser user interface language
1] Change User Interface language for Chrome browser
By default, Google Chrome configures your OS's locale as its user interface (UI) language. However, you can readily change it. The simplest way to change this setting in Google Chrome for Windows is via browser settings. So, to begin,
Launch Google Chrome browser, click on 'Menu' (visible as three dots) and select 'Settings' from the list of options.
Now, scroll down to the bottom of the page to locate 'Advanced' link. When found, click the link.
After that, click on the 'Language' button and choose 'Add languages' if the desired language is not listed.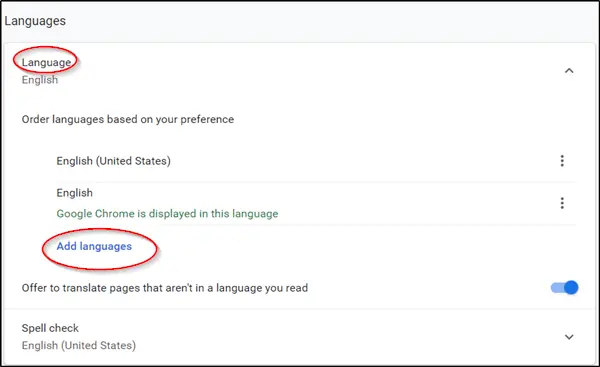 Select the language which you would like to add from the list.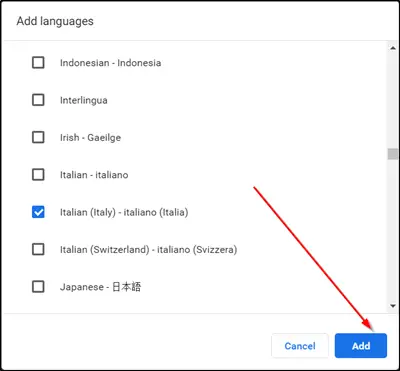 Finally, check the box marked against 'Display Chrome in this language' option and restart your browser to allow the changes to take effect.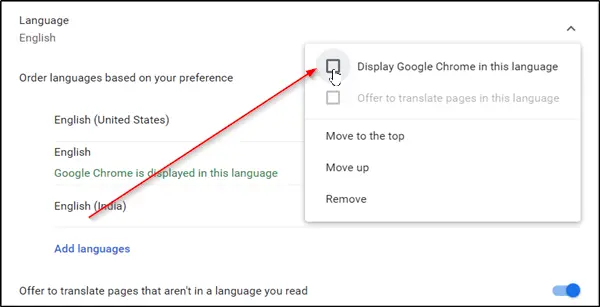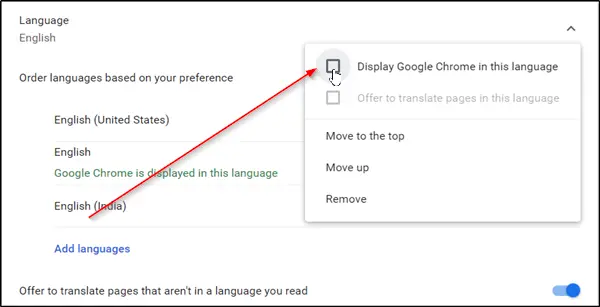 2] Change Firefox browser's User Interface language
Unlike Chrome, Firefox supported two options earlier to change the language of the browser's interface:
Download and install language packs
Re-install Firefox using the installer of the desired language.
Both these options were considered as inferior to how Google Chrome handled similar changes. Why? The browser enabled its users to directly change the interface language without having to install a language pack or the entire browser.
Firefox now has changed this as the browser settings itself integrates language switching options.
To change the user interface language in Firefox, load about:preferences in the browser's address bar. As you might be aware, the page allows you to reset Firefox preferences settings, if needed.
When the page opens, scroll down to the 'Language and Appearance' section.
There, you will find the current interface language displayed under language. Also, you will see a 'Set Alternatives' button to change this setting.
When visible, click on 'Set Alternatives' to add additional languages to Firefox.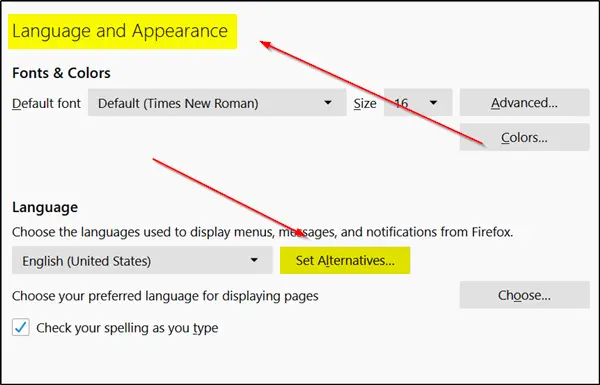 Select 'Select a language to add' and then 'Search for more languages'.
Firefox will instantly start retrieving the list of supported languages from Mozilla.
Click on 'select a language to add' and pick one of the available interface languages to add it as a language in Firefox. (Note: To jump to a letter in the listing, simply enter the first letter of the language's name).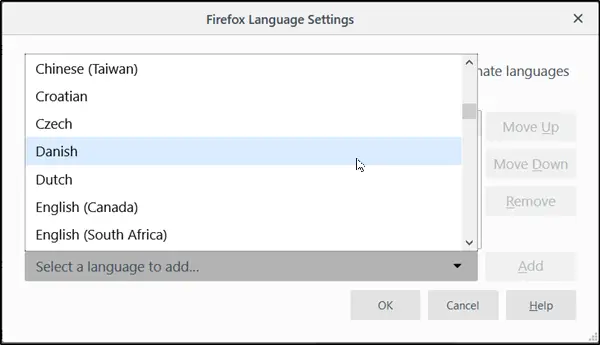 Next, select 'Add' to add the language. Your browser shall download the language pack and automatically add it. Also, if a dictionary is available for the same, it too will be downloaded.
Repeat the steps mentioned above for other languages that you would like to add.
Once the order of languages is determined, the priority in which they should be used will be set. You can change it anytime by simply moving up or down buttons. Primarily, the preference intl.locale.requested determines the priority of languages in the Mozilla browser. However, it is only seen or visible if two or more languages are installed in the browser.
Lastly, click on the 'Ok' button to allow Firefox to save the changes made. When it is done, Firefox will display a restart notification. Choose 'apply and restart' option to restart Firefox and get started with the new interface language.
Related reads:
How to change the language in Firefox to English
That's it!