Chrome offers a choice to search the web in the language you like. So, you can use any language. However, if you accidentally changed the browser language and wish to change Google Chrome language from Spanish, French, German, Hindi, or any other language to English, use this guide.
How to change Google Chrome language to English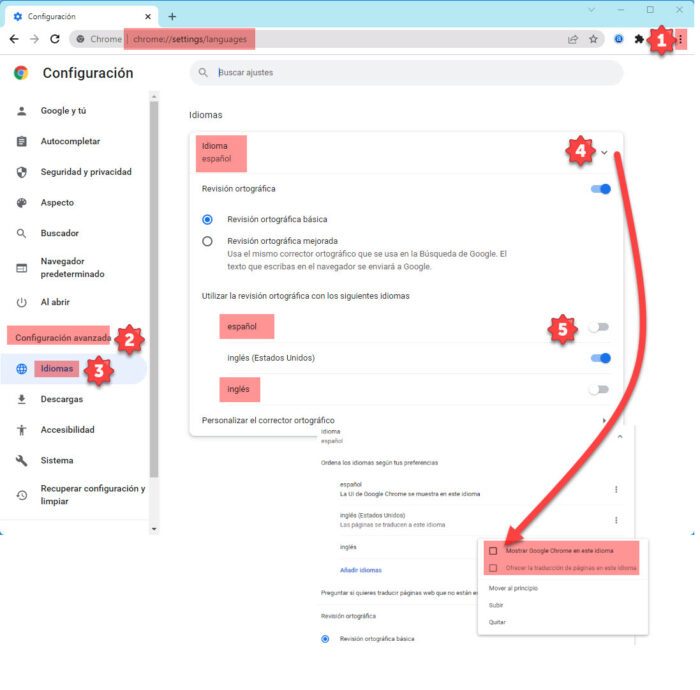 Irrespective of the language Chrome is displaying, launch your browser copy-paste the following in the address bar and hit Enter – chrome://settings/languages
Switching the language in Chrome will make the interface elements in the browser such as menus, toolbars, etc appear in the new language. If a webpage you are trying to open is in some other language Chrome will offer to translate the page into the English language.
Firstly, make sure you've updated Chrome to the latest version. Next, launch the browser and click the 3 vertical dots in the upper-right corner of your browser window.
Choose the third option from the bottom that's the Settings screen.
When a new screen appears, hit the drop-down button adjacent to the 8th entry from the top in the side panel on the left.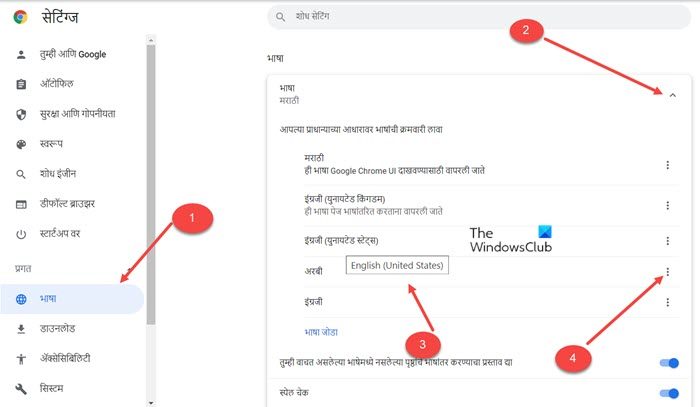 Now, switch to the right and hit the drop-down button that is visible to you. This will open the list of languages.
If you cannot understand what's written there, hover your mouse cursor near the language entry to see if it displays the language name in English (look for the one that reads English (United States) or English (United Kingdom).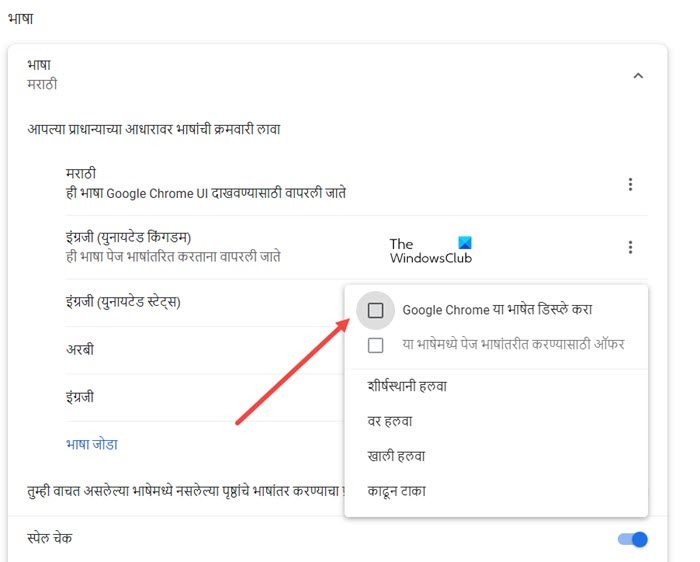 When seen, click the 3 vertical dots button next to it and check the first box to change Google Chrome language to English.
Hit the text (highlighted in blue) next to that language entry to relaunch the browser and allow the changes to take effect.
Once done, relaunch the browser to allow the changes to take effect.
TIP: If you have accidentally changed your Windows PC language to another language that you are not familiar with and want t change it back to English, then this post offers instructions on how to change Windows language back to English.
Why is my Chrome in a different language?
When you open Chrome for the first time after downloading it, the browser will select a language that matches your operating system's language. Google's browser also configures other settings automatically for you. However, if you wish to change it, you can do it as described in the post above.
Related read: How to change the language in Firefox to English
How many languages are supported by Google?
As of 2022, Google Translate supports 109 languages at various levels. Its Chrome browser even allows you to add more languages to it or use them to search the wide world of the web.
Related: How to enable voice-typing in Chrome.