An average individual can write around 40 words/min but can speak over 150 words/min. It is a unanimously accepted fact that we can speak much faster than we can type. Furthermore, in the empire of smartphones with assistants like Google Assistant and Siri following our voice commands efficiently, one thing is quite evident – Voice Typing is the new trend and is taking over hastily.
You can power your Google Chrome browser with Voice Typing control and carry out a range of diverse functionalities. Read on to know the what's and how's.
The benefits of using voice typing technologies on Chrome
Speech-to-text technologies allow users to write emails and documents in Google Chrome. Also, these can accurately transcribe the user's speech to text instantaneously. One can add paragraphs, punctuation marks, and send smileys using simple voice commands. Few of the benefits of using these voice typing technologies on Chrome are:
Fast turnaround time
Flexibility to work
Saves time as it produces documents in less than half the time it takes to manually type a document
increased efficiency
Streamlined and simplified workflow
Allows multitasking
Accurate searches
Users don't need software installations to reap the benefits of Speech-To-Text Technologies. Instead, they can use simple Chrome Extensions.
Control Chrome using your voice with these extensions
Building on what's already written, users can use voice control with Google Chrome to carry out a series of functions. But before that, it is important to understand what these extensions do.
These extensions use "Speech Recognition" technology to transcribe spoken words into text format.  It can recognize and transcribe many popular languages including, English, Arabic, Italiano, Español, Français, Português, and many more. The converted text is stored on the web browser locally, i.e., Chrome.
Now let's look at one such incredibly popular extension and how to use it:
VoiceIn Voice Typing for Google Chrome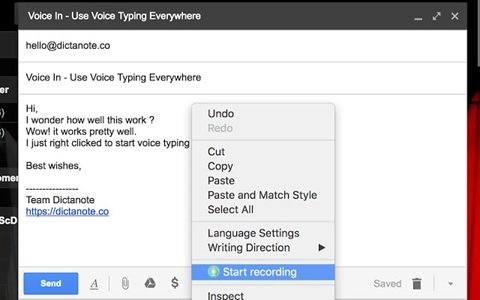 One of the most popular, hence on #1 is VoiceIn Voice Typing. This extension uses Google's speech recognition engine, i.e., one of the most accurate and precise "Speech-To-Text" technology available today. VoiceIn allows the users to type into popular websites like Google, Gmail, Zoho Mail, Hacker News, and Outlook.
How to install VoiceIn Voice Typing extension
1] Add the extension to Chrome.
You add this Chrome Extension from here. Click Add to Chrome.


Now Click Add extension.
2] Allow microphone permissions
When asked, allow Microphone permission to VoiceIn Voice typing.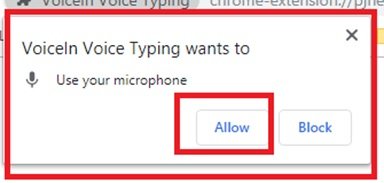 Note: If this permission window doesn't pop up, click on the video camera icon in the address bar.
3] Select Dictation Language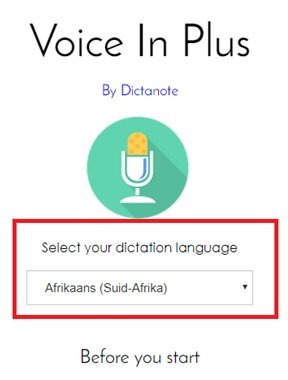 Select your dictation language from the drop-down menu.
Note: To switch language again, users will need to come back to this page. Tip – Bookmark it for instant access.
Two chief buttons to use VoiceIn Voice Typing
VoiceIn adds two key buttons the Chrome browser. Both these buttons can be used to start and stop voice recognition. These buttons are as follows:
Microphone button
Drop-Down Menu "Start Recording"
1] Microphone button
Microphone button is displayed on the right side of Chrome's address bar.


2] Drop-Down Menu "Start Recording"
In any text-field of any website, "right-click" on the mouse, further, in the drop-down menu: Start / Stop Recording.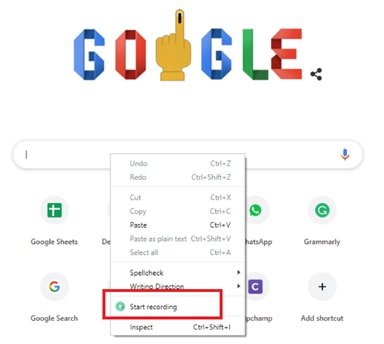 To start or stop voice recognition, the users will need to click on one of these two buttons introduced above.
Note: The microphone button next to the address bar turns red when the dictation is on.
Start Dictating On Chrome Now!
Functions of VoiceIn Voice Typing works everywhere on Chrome
The primary functions of VoiceIn Voice typing on Chrome are as follows:
Dictate emails or search on Google
Dictate your posts on social media
Other Websites – Wikipedia, WhatsApp, YouTube and many more
Let's see how VoiceIn Voice typing works on each of these websites.
1] Dictate emails or search on Google
Go to your Gmail account,  click on text-field (i.e., search for emails or type a new email by hitting compose) and right-click and hit Start Recording from the drop-down menu.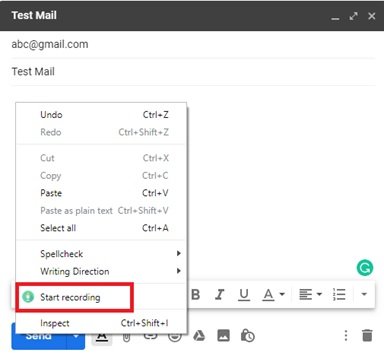 Now start dictating. Once done, Right-Click again and Stop Recording. Similar way, you can even search on Google.com
2] Dictate your posts on social media
VoiceIn Voice Typing makes it much easier to type post on Facebook or look for friends or groups. Just click on the text-field Search or Create Post and hit Start Recording on the drop-down menu.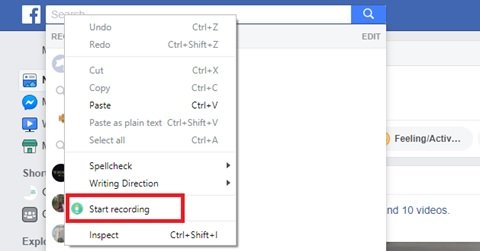 To stop recording, right-click once again and click Stop Recording.
3] Other Websites – Wikipedia, WhatsApp, YouTube and many more
VoiceIn Voice Typing works exactly in a similar way like others mentioned before for many other websites. We have shared images below.
A] Wikipedia:

B] Website version of WhatsApp: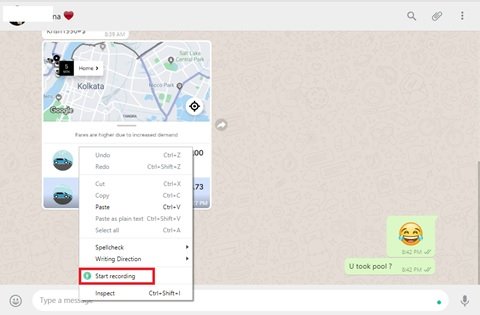 C] YouTube:

Users can search for videos as well as write comments on the videos using this feature.
So, just go to the text-field and right-click to go to the drop-down menu; from their click "Start Recording".
Our take on VoiceIn Voice Typing
VoiceIn Voice Typing does the simple stuff of inputting text on different websites well. But, its speech recognition doesn't facilitate opening websites, typing on google docs, or adding more advanced functionality like paragraphs, or punctuations, hence users might have to do a little bit of editing.