Many users connect to the internet on Windows 11/10 PC using a VPN. This means your region could be different from your actual Windows 11/10 region. If you are facing issues updating your PC in this kind of environment, then this definitive fix will help you resolve error 0x800F0922 on Windows 11/10. You need to follow the tips as suggested. The exact error message could be:
There were some problems installing updates (0x800F0922)
Windows failed to install the update with error 0x800F0922
Windows could not search for updates, Code 0x800F0922 Windows Update encountered an unknown error.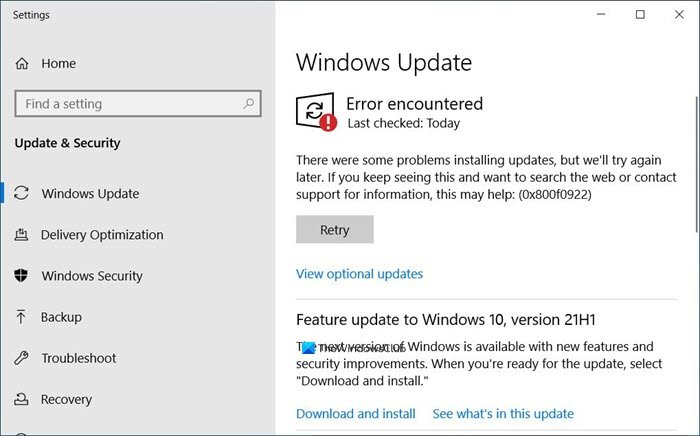 What is error 0x800f0922?
Error 0x800f0922 occurs when downloading Windows Updates. It usually occurs if you download Updates in a VPN environment or if you have less than 500 MB in the system-reserved partition.
Fix Windows Update Error 0x800F0922
To fix Windows Update error 0x800F0922 in Windows 11/10, run the Windows Update Troubleshooter and see and if that does not help, follow these troubleshooting suggestions:
Update UEFI/BIOS
VPN issues
Less space on your System Reserved partition
Corrupted System Image
If you manually removed Edge Chromium.
Let's see how we can resolve this.
1] Update UEFI/BIOS
If you receive this error while trying to install KB5012170 the Security update for Secure Boot DBX, you may wait for Microsoft to release a new update or use this workaround to install the failed Update/s. This issue can be mitigated by updating the UEFI/BIOS to the latest version before attempting to install the Update/s.
2] Disable VPN
The straightforward solution for the VPN environment is to turn off the VPN, and then try to run the update again. If you are using a VPN software that works using their software, just exit it completely or log off from its account. In case you are using Windows inbuilt VPN, just turn it off or delete all the settings you have created. While we do understand that you may have to use a VPN connection to connect to a work network, if the Windows Update is on stuck you need to disable it. I would suggest doing this when you are not working. During that time, the update files will download, and it will complete the installation.
3] Free up Space in the System Reserved partition
System Reserved partition is part of your hard disk which is created when Windows is first installed on it. It stores the Boot Configuration Database, Boot Manager Code, and Windows Recovery Environment and reserves space for the startup files.
The error could also mean there isn't enough free space in the System Reserved partition. So the option is to increase the space on this partition either using a third party disk partition software or if you are good at command-line skills, and know disk manager level stuff, follow our guide on how to expand the System reserved partition.
It's a complex process so make sure you have taken a backup of all your data on the PC. If something goes wrong with this partition, you may not be able to boot into the system at all. Using third-party software is your best option as they offer easy UI to get this problem resolved.
4] Run DISM
Open an elevated command prompt, type the following and hit Enter.
dism

.exe /online /cleanup-image /scanhealth
Once the operation completes successfully, type the following, and hit Enter.
dism

.exe /online /cleanup-image /restorehealth
Restart your computer and run Windows Update again.
5] Delete the (empty) Edge folder
If Edge Chromium has been manually removed, then this error could appear. Users have reported that this helped them fix Windows Update error 0x800f0922:
Open File Explorer
Navigate to C:\Program Files (x86)\Microsoft
Delete the Edge folder – which could be empty.
Restart the system.
In case this does not help, you can try the Windows Update Troubleshooter.
All the best!

How to fix .NET Framework 3.5 error 0x800f0922 in Windows?
To fix the 0x800F0922 .NET Framework installation error, Turn Windows Features on or off, Uninstall Microsoft .NET Framework 4.6 or higher, Use the DISM command to install Microsoft .NET Framework 3.5. Download .NET Framework 3.5 from the official website of Microsoft or Perform an In-place Upgrade.
Similar: Fix Microsoft Print To PDF error code 0x800f0922.