When you install Windows 11/10 or Windows 8/7 on a cleanly formatted disk, it first creates a partition on the disk at the beginning of the hard disk. This partition is called the System Reserved Partition. After that, it uses the balance unallocated disk space to create your system drive and install the operating system.
When you open the Computer folder, you will not see the System Reserved Partition as it is not assigned a disk letter. You will only see the System Drive or the C Drive. To see the System Reserved Partition, you will have to open Disk Management.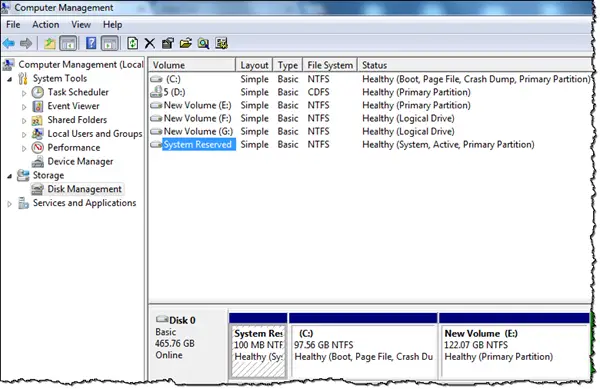 In Windows 10/8.1, open the WinX Menu and click on Disk Management. Once the data is populated, you will be able to see the System Reserved Partition. You can also access it via Computer Management.
What is System Reserved Partition in Windows
The System Reserved Partition holds the Boot Configuration Database, Boot Manager Code, Windows Recovery Environment and reserves space for the startup files which may be required by BitLocker, in case you use the BitLocker Drive Encryption feature.
It is created during a clean, fresh installation of Windows 10/8/7 and Windows Server.
If you wish to view the contents of this partition, you will have to first give this partition a Drive Letter, using Disk Management. Next open Folder Options and allow showing of hidden files, folders, and drives option, as well as protected operating system files. Once you have done this, open your File Explorer to view the partition and the files it contains. You may see files like bootmgr, BOOTNXT, BOOTSECT.bak and folders like Boot, Recovery, System Volume Information, $RECYCLE BIN, etc.
Read: What is the SYSTEM.SAV folder?
Can I delete the System Reserved Partition in Windows 10
On Windows 7, the size is 100 MB whereas, on Windows 8, it is 350 MB. Do you need this space? I would recommend that you not delete this partition. You can instead prevent it from being created during Windows installation. If you are sure that you will not be using BitLocker, then you may go ahead.
To do this, TechNet recommends you use the Diskpart utility from the setup program.
At the beginning of the Windows setup, just before you select the location where you want to install Windows, press Shift+F10 to open a Command Prompt. Type diskpart to enter the Diskpart environment. Use select disk 0 and create partition primary to manually create a new partition. Continue with the Windows installation using this new partition as the setup location.
See these posts if: