If Windows Store is not working in Windows 10, then run this troubleshooter & fixer from Microsoft to reset Windows 10 Store & clear cache automatically. Many who upgraded to Windows 10 are facing several problems and issues. One of those which many are facing is that their Windows Store itself does not work or open. If you face this issue, this automated fix, released by Microsoft may help you.
Read: Windows Store error codes, descriptions, resolution.
Windows 10 Store not working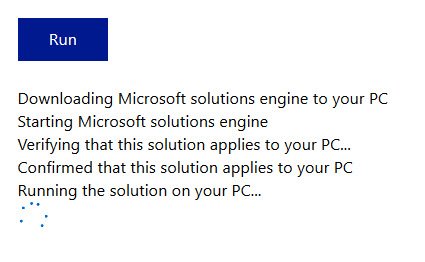 Visit the Microsoft web page and click on the violet Run button. Once you do this, the following thing will be checked:
1] If the registry value in the following location equals 6.3:
HKEY_LOCAL_MACHINE\SOFTWARE\Microsoft\Windows NT\CurrentVersion\CurrentVersion (REG_DWORD)
2] If the solution is found to be applicable to your system, then the following step will be taken to fix the Windows Store issue:
The program

wsreset

.exe

will be run with Command-line

args

.
When you run this automated fix, you will see Windows Store open up and a command prompt window opens up. This will indicate the solution is being run.
So after upgrading to Windows 10, if you find that the Windows Store is not working or opening, create a system restore point first, and then go run this troubleshooter from Microsoft.
UPDATE: This troubleshooter has been retired. Please now see the new Windows Store Apps Troubleshooter for Windows 10 from Microsoft.
Also take a look at this new troubleshooter and fixer released by Microsoft, to address specific issues pertaining to Windows Store apps not launching on Windows 10 having multiple user accounts.
If nothing helps, reinstall Windows 10 Store & and see if it helps.
Related read: Windows Store not opening.