For one reason or another, or after you update your Windows 11 or Windows 10 PC to a new build/version, you may notice that one or more of your storage drives are not detected. In Device Manager, you see an exclamation or warning icon appear on the Serial ATA Controller. In this post, we discuss what it is and how to download the Standard SATA AHCI Controller driver on your system.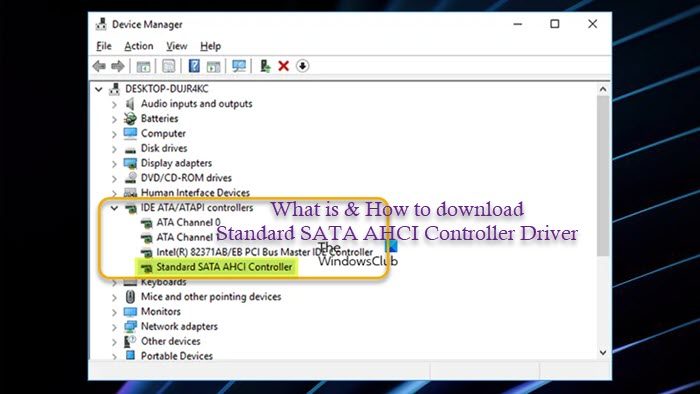 What is Standard SATA AHCI Controller Driver
Essentially, the Standard SATA AHCI Controller driver, just like every other device driver, is also important since the hard disk is connected to your computer through this driver. The SATA AHCI Controller is the way you can control every AHCI-based storage drive connected to your computer via the BIOS interface of your system the driver can help you understand and manage your storage and also provides faster transfer speeds for large files.
If this driver is missing, outdated, or corrupted, you may encounter problems such as SSD not showing up, Intel Rapid Storage Technology Service not working, or the infamous Blue Screen errors like the iaStorAVC.sys, DPC WATCHDOG VIOLATION, or PDC WATCHDOG TIMEOUT on your Windows 11/10 PC.
So, having the Standard SATA AHCI Controller Driver installed and updated on your computer is very important to prevent storage drive's driver related issues and to ensure your computer runs properly as intended.
Read: Where does Windows save or store Device Drivers?
Download, Install or Update Standard SATA AHCI Controller Driver

To download and install/update the driver for the Standard SATA AHCI Controller on your Windows 11/10 computer, you need to find out the processor brand and model on your PC. Once you have confirmed your processor brand and model, you can now download the driver for AMD or Intel, or Qualcomm as the case may be via the Microsoft Update Catalog if you are not able to find the correct drivers on your computer manufacturer's website.
Once the driver package is downloaded, since it's a .cab file, you can go ahead and install the CAB file on your device. If you prefer to extract the CAB file and there's an INF file in the archive, then you can follow the steps below to manually install the driver.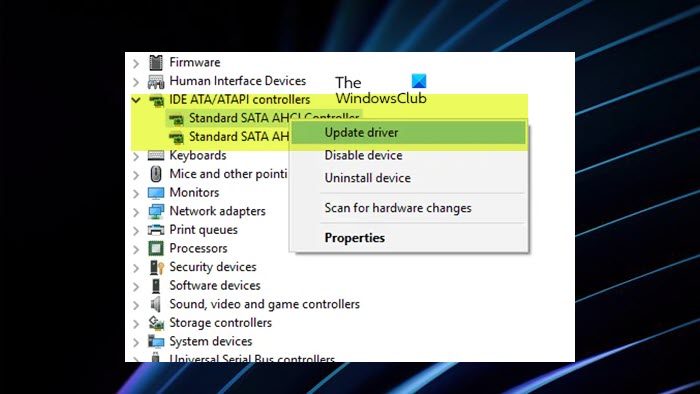 Press Windows key + R to invoke the Run dialog.
In the Run dialog box, type devmgmt.msc and hit Enter to open Device Manager.
In the Device Manager window, scroll down through the list of installed devices and expand the IDE ATA/ATAPI controllers section.
Right-click Standard SATA AHCI Controller and select Update driver.
Next, select the Browse my computer for drivers option.
In the subsequent window, click on Let me pick from a list of device drivers on my computer.
Next, click on Have Disk.
Click on Browse and navigate to the folder containing the driver for the device.
Next, open the folder and select the .inf file.
Click on Open and follow the on-screen prompts to install the file.
If need be, you may have to install the driver in compatibility mode by following these steps:
Right-click the driver setup file.
Select Properties from the context menu.
Tap or click the Compatibility tab.
Checkmark the Run this program in compatibility mode option.
Tap or click the drop-down box and select a previous operating system.
Tap or click OK.
You can now install the driver on the system, and you can run the Program Compatibility Troubleshooter to resolve any driver compatibility issue.
That's it!
Read next: What is a Chipset driver and how do you update Chipset drivers?
What is an AHCI controller driver?
Advanced Host Controller Interface (AHCI) is a technical standard for an interface that enables software to communicate with Serial ATA (SATA) devices. These peripheral component interconnect (PCI)-class devices move data between system memory and SATA storage media. To know if the AHCI driver is installed on your Windows 11/10 computer, in Device Manager, under the IDE ATA/ATAPI Controllers section, check for an entry that contains the acronym AHCI. If an entry exists, and there is no yellow exclamation mark or red "X" over it, then AHCI mode is properly enabled.
Read: How to download and install Google USB Driver in Windows
What is the SATA controller driver?
A SATA controller (serial ATA controller) is a hardware interface that connects a hard drive to a computer's motherboard and manages or directs data flow. Normally, the SATA controller driver can be found on the CD or website of the system, motherboard, or SATA controller card manufacturer. If the SATA controller is recognized during Setup without special drivers, then you can complete the installation.