If you want to perform an Android Debug Bridge (ADB) debugging with Google devices, the Google USB Driver is required for Windows. For all other devices, Windows drivers are provided by the respective hardware manufacturer. In this post, we walk you through the steps on how to download and install Google USB Driver on Windows 11 or Windows 10 computer.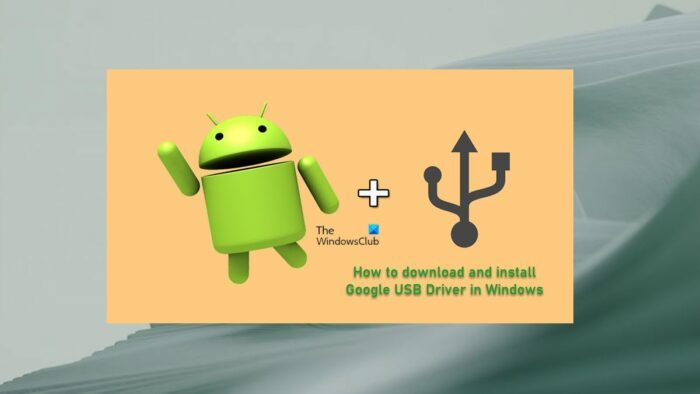 Download and Install Google USB Driver on Windows 11/10
Google USB Drivers are required to connect Google Pixel or Nexus devices to Windows PC using a USB cable. Google USB drivers act as Android ADB and Fastboot Drivers that allow your computer to communicate with your Android device over the Android Bootloader Interface (Fastboot Mode) as well as Android Composite ADB Interface. So, you can install them on your PC to use ADB (Android Debug Bridge) for debugging apps and ROMs, boot your device into Bootloader/Recovery modes, or use Fastboot to unlock the bootloader and flash factory images on your Google device.
In essence, the drivers are useful in various situations, as you will need these drivers to transfer files or sync data on your Google device, especially when working with the Android ADB and Fastboot tools.
We will discuss this topic under the subheadings as follows.
How to download the Google USB Driver

Download the driver manually
Download via Android SDK Manager

How to install Google USB Driver
How to Download the Google USB Driver
You can download the Google USB Driver on your Windows 11/10 computer in either of two ways. You can download the driver manually or use the Android SDK Manager.
To download the driver manually, follow these steps:
To download the driver via Android SDK Manager, do the following: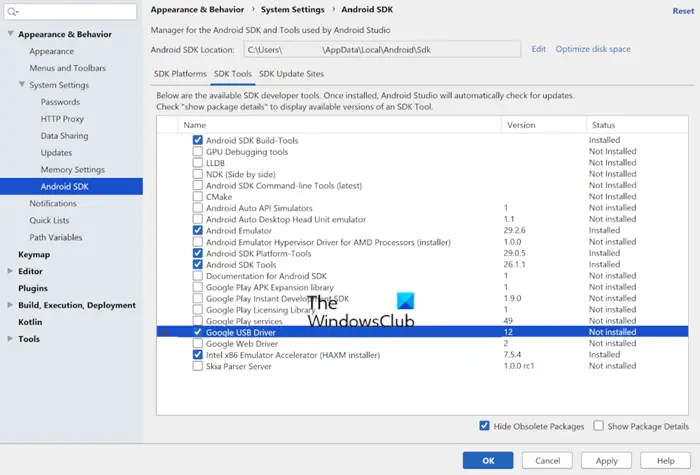 The driver files are downloaded into the android_sdk\extras\google\usb_driver\ directory on your computer. Using the SDK Manager helps you keep the driver up to date by notifying you when your current driver is out of date.
Read: Windows does not recognize or detect Android Device
How to Install Google USB Driver
Once you have the Google USB Driver downloaded to your Windows 11/10 computer, you can proceed to install the driver INF file as follows:
The Google USB Driver comes in the form of an android_winusb.inf setup information file, rather than a Windows executable.
Read: The INF file you selected does not support this method of installation
That's it on how to download and install Google USB Driver in Windows!
Also read:
What is USB Driver for Android?
The Android USB driver on your machine will make it easy for you to transfer files from an Android phone to your computer. However, you'll need to keep the driver properly updated, which you can also do using any third-party Driver Updater Software.
Read: Fix Android file transfer not working on Windows
What is a USB device driver?
A USB client driver is software installed on the computer that communicates with the hardware to make the device function. If the device belongs to a device class supported by Microsoft, Windows loads one of the Microsoft-provided USB drivers (in-box class drivers) for the device.
Why are USB ports not working?
If the USB ports are not working on your Windows 11/10 device, it could be due to the Selective Suspend feature. The Selective Suspend feature suspends the USB device to efficiently maintain battery power by enabling the computer to turn off the USB device. However, sometimes this feature may not correctly wake up the USB device.
Read: Selective Suspend causes USB devices on a USB hub to stop working.