While downloading an app from the Microsoft Store, an error message can appear saying – This app has been blocked due to Company Policy. If you see the same error message, follow this tutorial to get it fixed. This guide is for those who are outside of a domain network but still see this error message while downloading some specific apps from the Microsoft Store.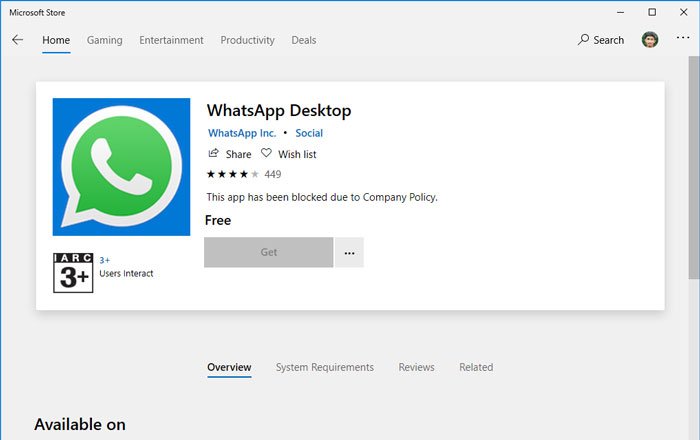 This error message appears when users get redirected from the browser to Microsoft Store for downloading an app. It can be any app or game.
This app has been blocked due to Company Policy
To fix This app has been blocked due to Company Policy on your Windows 10, follow these suggestions:
Reset Microsoft Store
Check Region & language settings
Run Windows Store Troubleshooter
Try using a different user account
Delete the corporate email address.
To know about these suggestions, keep reading.
1] Reset Microsoft Store
It is probably the first thing that you can do when you are getting such an error message. Sometimes it happens due to an internal system file issue, and it can be solved by resetting the Microsoft Store and clearing the cache.
In Windows 10, it is straightforward to reset the Microsoft Store without a third-party software since you can do that from the Windows Settings panel. You should open Windows Settings, go to Apps section, find out Microsoft Store and click on Advanced options. After that, use the Terminate and Reset options, respectively. To know more, you should read this article on how to reset and clear Microsoft Store cache.
2] Check Region & language settings
It is another reason why Microsoft Store can display This app has been blocked due to Company Policy error while downloading an app. In that case, you should check the respective settings t0 be ensured. For that, open up the Windows Settings panel by pressing Win+I button together, and go to Time & Language section. Here you can find Region and Language tabs. Go to each tab, and make sure that the correct region and language are set for your PC. If not, choose the right setting based on your country. You could read this article on Windows 10 Time and Language settings to know more about these options.
Related: Microsoft Store blocked by administrator in Windows 11
3] Run the Windows Store Apps troubleshooter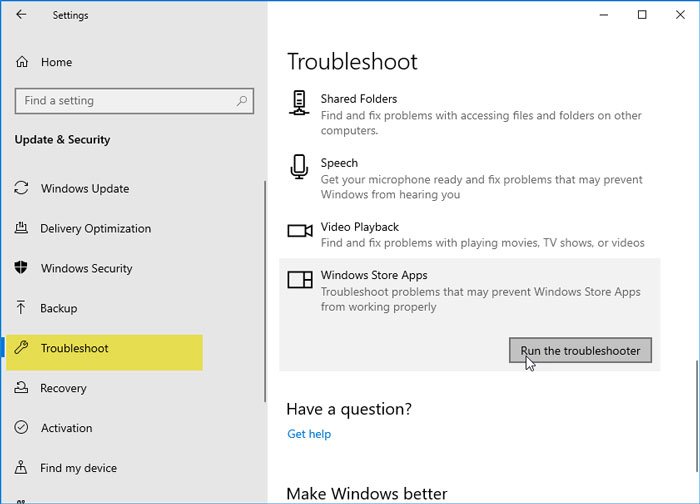 Windows 10 has some in-built troubleshooters that can let you fix common problems like this one. This troubleshooter is called Windows Store Apps, and it can detect and troubleshoot this problem. You can read this article to know how to run a Troubleshooter in Windows 10 to resolve problems.
Read: Install button is greyed out for some Apps or Games in Microsoft Store.
4] Try with a different user account
It doesn't matter if you are using a local user account or Microsoft account to log into your Windows 10 PC. If your account has some internal conflict, there is a chance of getting this issue on your computer. That is why it is suggested to create a new user account in Windows 10 and sign in to your PC with that account. Now you will not see this error message.
Related: Microsoft Store apps blocked in Windows 11/10
5] Delete corporate email address
If you are using a customized email address like [email protected] instead of @outlook.com or @hotmail.com, you could delete that email address from your PC first. This solution has solved the issue for many users.
Related read: This app has been blocked by your system administrator.